Visiting a salon for a spray tan will cost you $25 to $50 per visit. Why not save money by buying your own spray tan machine instead? A complete set-up with spray gun and tent isn't very expensive, and you can use it for yourself, family, and friends.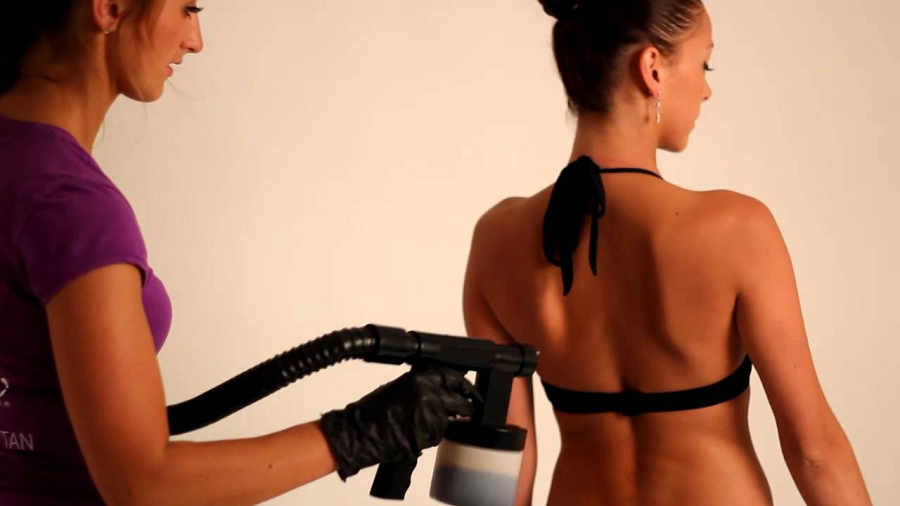 If you are interested in doing your own spray tans at home, you'll have to decide between the different spray guns on the market. We're here to help you decide with these reviews of the best spray tan machines.
The qualities to look for in the best spray tan machines
If you've ever painted a home or a car with a professional spray gun, you may be familiar with how that kind of machine works. Specifically, the HVLP, or high volume low pressure, sprayer is a common choice for spray tan applications.
HVLP sprayers are economical. They produce a fine mist spray that's easy to control and doesn't waste much of the spray tan liquid and doesn't make much of a mess. The guns often have both a speed control and an adjustable spray nozzle.
The adjustable nozzle is essential for precise spraying because some areas (like backs) need a wide spray while others benefit from a narrow stream. Or some users may prefer a thicker application while some prefer a light spray.
Another thing to consider about the spray gun is whether it's cheap and plastic or primarily made of metal and durable enough to last through many applications and cleanings.
Some spray tan machines blow out warm air to make the tanning experience pleasant in winter months. This isn't necessary, but it's a nice touch, especially if you're purchasing a machine that you'll be using in a salon or spa setting.
If you are buying a machine to occasionally apply your own tans at home, it probably won't matter to you if the solution cup can hold enough liquid to do multiple tans without refilling. But do check to see if the cup is pressurized—this makes for an even flow of spray from the gun.
One last point to discover is how loud the machine is. Some sprayers are very loud, while others are quiet enough to hold a conversation while they're running.
Spray tan solutions
Not every sunless tanning lotion can be successfully sprayed through a machine. As part of your decision when selecting a machine, find out what brands of spray tan solution they recommend. Brands that many people use include Norvell and St. Tropez.
Now that you've had a brief overview of what makes a good spray tan machine, let's review the top ones for sale.
The top spray tan machines
One of the most popular spray tan machines comes in a complete kit.
Fascination FX Spray Tanning Kit with Tanning Solution Pack & Black Tent
The Fascination FX Spray Tanning Kit includes everything you'll need to apply a sunless tan as soon as you open the box. It comes with a spray gun, hose, gun, pop-up tent, an assortment of sunless tanning lotions, and a carrying bag.
The lightweight spray gun has a fluid control knob and adjustable spray patterns that makes it possible to spray thick or thin applications, in both vertical and horizontal fan patterns, as well as a general purpose circular spray. The nozzle is easy to clean, too. The only downside is that the gun is mostly made out of plastic.
Out of all the spray tanning machines, this one isn't too loud. The air intake has a removable, washable filter that needs to be cleaned once in a while to keep the machine running cool.
The solution container, AKA spray cup, is large enough to contain enough sunless tanning lotion for more than one application at a time. The manufacturer, Fascination, doesn't just sell this model for home use. They sell to professionals that do mobile spray tan applications at residences as well as salons and spas. As a result, the FX kit is well-designed and easy to use.
The extras like the skylight pop-up tent and the samples of spray tan lotion are very handy right out of the box. The tent protects the room where the spray tan is applied, but has a transparent window at the top so the person receiving the tan can see outside of the tent.
The two lotion samples include the One-Hour Rapid Develop Spray Tan and the Venetian Spray Tan Solution, plus a pre-spray Sunless pH Balancing Spray.
The XLATAN pre-spray increases the amount of amino acids on skin to make sure the DHA in the sunless tanning lotion gives the best and longest-lasting tan possible. The formula is paraben-free and doesn't need to applied with the spray gun.
The Venetian Spray Tan lotion is formulated for use in spray tan machines. It's designed to look good on any skin tone and produce a dark tan. It's paraben-free, gluten-free, vegan, and nut-allergy free.
The One-Hour Sunless solution is packed with DHA for a quick, golden tan. It contains a bronzer so you can see the difference between where it's been applied on skin, and where it has not.
If you're interesting in doing spray tans at home, or even taking care of small groups (like friends and family members, the local cheer squad, and so on), the Fascination kit is a very good deal.
Maxi-Mist Lite Plus HVLP Sunless Spray Tanning Kit
Maxi-Mist's Lite Plus HVLP Sunless Spray Tanning Kit is durable enough to do ten or more applications a day. It comes with a tent and carrying bag, machine, hose gun, solution cups, and three 8-ounce samples of Tampa Bay Tan Premium Solution in light, medium, and dark shades. Each bottle of solution is approximately enough for three to four tans.
The Tampa Bay Tan solution is made to develop for 8 to 10 hours before showering, but the color will continue to darken for 12 to 24 hours after application.
The gun has a SatinAire spray head that lets you adjust it for vertical and horizontal spray patterns. The nozzle has a non-stick, no-clog design so you won't lose time cleaning it in the middle of a session. And each solution cup is shaped so that the last drops of tanning solution aren't wasted.
Maxi-Mist includes a few spare parts in the box in case something wears out or breaks. There is an extra spray cup gasket, a solution pickup tube for inside the cup, a spare turbine air filter, and a spray gun nozzle gasket.
The Max-Mist machine is built with a 300W single stage turbine that handles up to 47cfm of air flow and makes 75dB of noise. For reference, 75dB is louder than an average hair dryer, but quieter than a blender or garbage disposal.
The machine is covered by a one-year warranty on its turbine motor, plus it comes with a detailed instruction manual.
Complete Belloccio Turbo Tan Premium (Model T75) Professional Sunless HVLP Turbine Spray Tanning System; Pint Simple Tan 12% DHA Dark Solution
The Belloccio Turbo Tan Premium Spray Tan System comes in a complete package as well. In fact, in some ways it's even more complete than the two kits we just reviewed. Not only does it come with the sprayer, it has a tanning accessories kit that contains everything you'll need down to the smallest details.
First, the T75 turbine machine is an HVLP sprayer that includes a 9-foot long hose and a sturdy plastic spray gun. Second, there are four solution spray cups—one attached to the sprayer and three extras. Third, it comes with a spray booth tent. Fourth, not only is there a pint bottle of Belloccio Simple Tan Solution, but also a Belloccio 4 solution Variety Pack. Fifth, they include an instructional DVD that explains how to use and maintain the gun and apply the perfect tan. And sixth, the kit has ten pairs of feet pads, disposable panty thongs and bras, hair caps, and nose filter plugs.
All of those disposable accessories are similar to what you would get if you went to a salon for a spray tan. It's very convenient to have items like these for use at home. And once you try out some of the sunless tanning solutions, you can choose which ones you want to re-order.
The Belloccio Simple Tan Solution contains 12% DHA and a bronzer designed for medium to dark complexions. The 4 Solution Pack has solutions for fair to medium skin tones, for most skin tones, and for medium to dark skin tones, plus one more. The last one is the rapid Opulence Tanning Solution for any skin tone. It develops in only 4 hours.
St. Tropez Pro Light Spray Tan
The St. Tropez Pro Light Spray Tan machine holds up to 100ml of solution. It's small and lightweight, designed for home use. The nozzle can be adjusted for vertical or horizontal spray patterns. It works well enough, according to most users, but it's somewhat loud, and it gets hot after ten to fifteen minutes of use.
Accessories for a successful spray tan at home
Here are a few things that help make applying a spray tan at home more convenient.
JMT Beauty Disposable Tanning Feet Pads 25 Pairs
When you don't want to "tan" the soles of your feet, but don't want to track spray tan around the house, use these adhesive pads on the bottoms of your feet.
ReneeTan 100 disposable hair caps
These disposable hair caps are similar to what food service workers use. They keep the spray tan solution off your hair.
Canyon Rose Disposable Sunless Spray Tan Spa Treatment Bikini, Black (25 Count)
To get maximum coverage without spraying delicate areas, try these disposable bikini thong bottoms.
Elera Spray Tan Disposable Nose Filters for Sunless Airbrush Spray Tanning (20pcs,Black)
Nose filters keep spray tan vapors out of your nostrils.
TANNING TIPS Silicone Nipple Covers - 1 pair
Try these silicone nipple covers when you spray tan. Unlike disposable bras, these fit most people, male or female.
Tips for the perfect spray tan
When you want your spray tan to look natural and last as long as possible, follow these tips.
Exfoliate before you tan, no matter if it's a spray tan, an indoor tan, or outdoors. UV rays and spray tan chemicals penetrate better into healthy skin, and not so much into dry, dead skin.
Shave or remove hair the day before the tan, and don't do it again until a day after.
Don't wear moisturizer or deodorant when you spray tan.
Wear loose, dark-colored clothes after you tan until you can shower.
Don't get wet or sweaty for at least 2 to 12 hours after you apply a spray tan. Find out how long to wait according to the lotion you use.
Once you shower, use moisturizer to prolong your tan, and look into wearing a tan extender, too.
Don't panic if you see some of the color washing off in the first shower you take, it's just the bronzer. Your skin should stay looking tan for five to ten days.
Airbrush spray tanning near me
Conclusion
We hope you find the perfect spray tan machine today. It's a great way to save money and maintain a healthy, bronzed look without having to cram salon visits into your busy schedule. Visit us again soon to see new reviews of top products in personal care and cosmetics.