Summer's almost here and you're pale as a ghost. You can get a tan as fast as possible without burning yourself by using a tanning accelerator.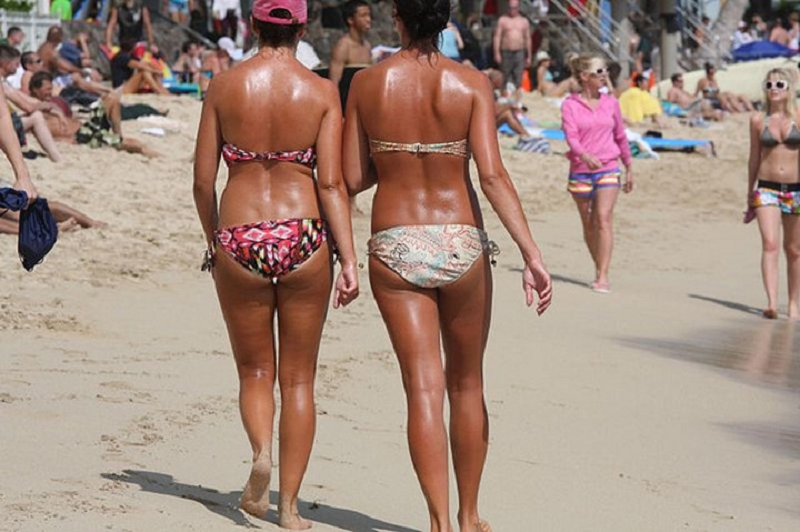 Tanning accelerators moisturize your skin to keep it healthy. They intensify UV rays to speed up the bronzing of your skin. Even after you leave the sunshine or the tanning bed, they continue to develop your tan.
What's in a tanning accelerator?
If you're curious about what ingredients are in your tanning lotion, here are some of them:
L-Tyrosine that makes melanin, the pigment in skin, and melanin itself
Silicone to lock moisture into skin
DHA (dihydroxyacetone) and/or erythrulose, bronzers found in sunless tanning lotions that turn your skin temporarily darker
Benzyl Nicotinate or Methyl Nicotinate, "hot" ingredients in tingling lotions
What you won't usually see in a tanning lotion is sunscreen. That means it's best to tan in short sessions because you won't have much (or any) protection against burning.
There are various types of tanning accelerator lotions, like bronzers that give you a "fake" tan while you bronze your skin naturally. "Tingle" tanning lotions increase blood flow to the surface of your skin to help in the production of melanin to darken your skin.
Now let's take a look at the best tanning accelerator lotions to hurry up that sun-kissed look.
The top tanning accelerators
Just for fun, let's begin with tinglers. FYI: these are for advanced tanners! Like any new skin lotion, cream, or cleanser, it's a great idea to test it on a small patch of skin for a day before you spread it all over your body.
Millennium Insanely Black Hot Tingle Tanning Accelerator Bed w/Bronzer
Millenium's Insanely Black Hot Tingle Tanning Lotion is very popular. It comes with a bronzer so you will look instantly darker after you apply it. People say it feels "hardcore hot" on their skin while they're tanning. They report that their tan looks deeper and lasts longer, plus their skin feels soft, not dry. The lotion's scent hides that burned smell that happens with indoor tanning.
Supre Snooki Hot Skinny Sizzling Super Dark Maximizer
While Supre Snooki's Skinny Sizzling Super Dark Maximizer doesn't have a bronzer in it, it does make you feel a powerful rush of heat when you tan with it. It's also designed to protect your tattoos from fading.
Supre Snooki - Ultra Dark Black Bronzer by Nicole Polizzi
The Ultra Dark Black Bronzer from Supre Snooki has DHA so that your skin will continue to darken even after your tanning session is over. It contains a dark bronzer, so applying this lotion with black walnut and henna will make you look bronzed before your skin sees any rays. (Be sure to wash your hands after applying it.)
It contains sweet almond oil and coconut to soften your skin, and vitamins to protect and nourish it. There's also a tingler to dilate your blood vessels and stimulate melanin production.
Devoted Creations IGNITE NOIR Hot Tingle Bronzer
Devoted Creations warns that their Ignite Noir Hot Tingle Bronzer is formulated with a maximum quantity of DHA to accelerate your tan, plus cosmetic bronzers to give you that sun-kissed look right now. It also has protection against fading tattoos and a formula that fights cellulite.
Designer Skin Ruby Hot Tingle Bronzer Indoor Tanning Bed Lotion
Designer Skin's Ruby Hot Bronzer feels like "being on fire and rubbing Vicks Vaporub on sunburn." There's no erythulose, nuts, or gluten in this lotion. It's loaded with capsaicin, the stuff in cayenne pepper, plus licorice for a refreshing coolness. Designer Skin's Melanink technology speeds up your tan so you look delicious for summer.
Supre Cherry Bomb Red Hot Dark Accelerator Tanning Lotion
If you're looking for a tingle tanning lotion that won't feel like it's torching your skin, try the Supre Cherry Bomb. Users say it's good for speeding up a tan, but it's not intensely hot.
Pink Diamond T2 Tingle Bronzer Swedish Beauty
Swedish Beauty's T2 Tingler is a tan accelerator that will give you a little bit of bronze, and let you feel some heat while you tan. If you're new to tingle tanning lotions, people say this is a pleasant one to try.
Now let's move onto tanning accelerators that don't tingle.
Australian Gold CHEEKY BROWN Accelerator Dark Natural Bronzer
The Cheeky Brown Accelerator from Australian Gold is a sunless tanning lotion as well as an accelerator. It darkens your skin with caramel and henna when you apply it. You can use it indoors or outside because it's based on sunflower and olive fruit oil, plus aloe vera gel, panthenol, glycerin, and vitamins A and E. The tea tree leaf (melaleuca) oil gives you a nice cooling sensation when you apply it.
Australian Gold Sinfully Black 15x Deep Dark Bronzing Tanning Lotion
Australian Gold's Sinfully Black Deep Dark Bronzing Lotion contains hemp seed oil, Monoi de Tahiti, caramel, walnut shell extract, and Kukui nut and sunflower oils. It smells like tropical fruit, goes on smooth, and leaves your skin feeling soft. It adds a bit of color to hide the winter shade of your skin.
Fair-skinned users from around the world say this lotion helped them build a golden brown base tan in only a couple of weeks. You can use it indoors or outdoors for tanning.
Supre Smoke Black Bronzer
Supre makes a lot of tanning lotions, but their Smoke Black Bronzer is the ultimate for advanced tanners. It has self-acting bronzers and dark tan maximizers along with vitamins and minerals. The idea is to darken your skin's pigmentation to the maximum while still protecting it from sun damage. This is a lotion for people with a good tan who desire something deeper.
Maui Babe Browning Lotion
Maui Babe's Hawaiian formula is very popular among tanning enthusiasts. It's safe for all skin types. There are two formulas: one with mineral oil for outdoors, and one with sunflower oil for indoor tanning beds. Make sure you choose the right one. The one with mineral oil will damage the acrylic of a tanning bed.
The Browning Lotion contains Kukui Nut oil from the South Pacific as well as aloe to soften your skin, plus antioxidants A, C, and E to protect it from UV damage. While it has Kona Coffee Plant extract, it's not a self-tanner or bronzer.
For outdoor tanning, use the Browning Lotion with the Maui Babe SPF 30 Sunscreen so you can enjoy the sun for longer.
Maui Babe SPF 30 Sunscreen Lotion
Swedish Beauty, Shea You Love Me, Tanning Lotion
The Shea You Love Me lotion from Swedish Beauty is perfect for tanners with sensitive skin. It has no fragrance and it's hypoallergenic. The aloe and Vitamins E and A work to keep you looking young while the shea butter and oatmeal moisturize and soften your skin.
Swedish Beauty says their proprietary BioBronze Blend has natural melanin enhancers to accelerate the tanning process. In fact, some users love this lotion because it helped them achieve a tan on difficult-to-tan parts of their bodies.
SunGodZ Apollo/Artemis 375X Bronzer Tanning Lotion with Argan, Coconut Oil and Agave
The Apollo/Artemis 375x Bronzer from SunGodZ is made for people who want the darkest tan as fast as possible. It has silicone and glycerin as its moisturizing base, and it contains agave extract, Argan, Kukui, hemp seed, olive, and coconut oils as well as caffeine. You can use it both indoors and outdoors, and it's formulated to protect tattoos from fading.
Ed Hardy Coconut Kisses Golden Tanning Lotion
Ed Hardy's Coconut Kisses Golden Tanning Lotion will help you look sun-kissed without fading the colors in your tattoos. It contains tyrosine plus a special melanin formula to darken your skin as fast as possible, but it doesn't contain a self-tanner.
Users says the coconut oil and cocoa butter add a nice scent, but don't make it feel too greasy. Unlike many lotions, you can use it in a tanning bed or outdoor in the sunshine. This lotion has ingredients that diminish cellulite and makes skin look firmer.
Brown Sugar BLACK CHOCOLATE COCONUT CREAM 200X Bronzer
If you love the smell of coconut, you'll appreciate the Black Chocolate Coconut Cream Bronzer from Brown Sugar. It contains anti-aging antioxidants from dark chocolate and Argan, plus coconut oil and silicone to moisturize your skin.
There are no parabens and there is no DHA, either. Users say if you remember to wipe or wash your hands after applying it, you won't see streaks or orange color on them. Instead, the Brown Sugar bronzer will deepen your skin tone as you tan, even if it's only for a few minutes each session.
Designer Skin Body Bronzer, Naked Ambition
The Naked Ambition lotion from Designer Skin is a bronzer that doesn't have DHA, erythrulose, or parabens. Instead it uses amino acids and shea butter to moisturize and darken your skin naturally. Fair-skinned users report that it tans slowly but effectively.
Banana Boat Deep Tanning Oil Spray with Carrot and Banana Extracts
Banana Boat's deep tanning oil Spray is a inexpensive way to get a deep bronze. It's only recommended for people who already have a base tan or who have darker pigmentation.
Accessories for tanning quickly and safely
Here are some other things you need because looking good isn't everything.
Duduma Polarized Designer Fashion Sports Sunglasses
Protect your eyes while you soak up rays.
Klean Kanteen Wide Mouth Bottle
Stay hydrated--keep a cool beverage close at hand.
Super Sunnies Evo Flex Flexible We Choose Color Tanning Goggle Eye Protection
It's smart to protect your eyes from the UV rays in the tanning bed. These flexible goggles are cheap, colorful, and just big enough to shade you without giving you tan lines.
Banana Boat Sport Performance Lip Balm SPF 50
Sunblock on your lips is something some people don't think about until they have a sunburn there.
Pasties Womens Reusable Silicone Nipple Covers Set by Pinky Petals
Protect those other sensitive areas—and men need these too.
Tips for successful tanning indoors
Try these tips to get the most out of your tanning sessions.
Tour the salon you're going to use. See what kinds of beds or booths they have and how they clean them. See if they offer samples of lotion so you can try new ones.
Exfoliate before your session, and use a tanning lotion (but not a sunscreen, except to protect delicate areas). Don't wear deodorant or moisturizers.
When you apply a tanning accelerator with bronzer, be sure to wash your hands so they don't turn orange.
If you're pale, start with short sessions of 5 minutes or less until you have a base tan.
Don't shower for at least a couple of hours after your session so your tan sinks into your skin. Then after your first shower be sure to apply moisturizer. Hydrated skin stays tan longer.
High pressure beds are better if you're pale and don't want to burn. They emit more UV-A instead of UV-B rays.
A booth is convenient if you don't mind standing for your session. It's nice if you don't like spending time in enclosed spaces like a tanning bed.
Take care of your skin to avoid sunburn and skin damage. If you're already seeing some signs of too much sun exposure, try these solutions for hyperpigmentation.
Conclusion
We hope we helped you find the best tanning accelerator lotions to make your skin look fabulous. Check back with us soon to view new reviews of the best in beauty products.