Nicole Polizzi, also known as Snooki, reality TV star and pro wrestler, has her own line of tanning lotions made by Supre Tan, a division of Sun Evolutions. These lotions speed up the tanning process while they condition skin and protect it from aging. Let's take a look at the Supre Snooki tanning accelerators in our reviews today.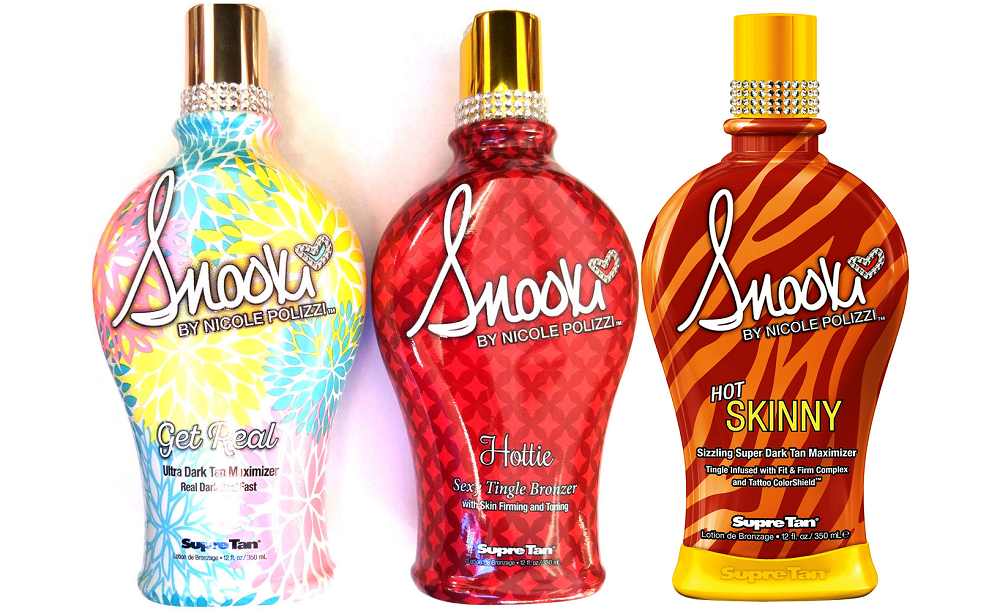 One quick note: while Supre Tan is anti-diversion, selling direct to salons only, not to the public, you can often get a great deal from a salon reselling them online.
Supre Snooki tanning lotions at a glance
| Image | Lotion | Features |
| --- | --- | --- |
| | Girl Boss | Dark Bronzer with DHA and cosmetic bronzing ingredients Tattoo fade protection Age-defying and moisturizing Matte finish |
| | Live your Dream | Natural bronzing ingredients Tattoo fade protection Age-defying and moisturizing Tan extender |
| | Bronze Shores | Indoor and outdoor lotion, no sunscreen Reduces redness DHA plus natural extracts make skin bronze after only one use |
| | Sun & Seaside | Indoor and outdoor lotion, no suncreen Tyrosine for enhanced pigmentation that lasts longer than DHA-induced color Reduces redness |
| | Ultra Dark 70X Black Bronzer | Made for advanced tanners Strong bronzers—DHA, henna, walnut oil No parabens |
| | Hottie Hot Sexy | Tingle lotion DHA blend for dark bronzing Skin-firming |
| | Get Real | Tyrosine for "real" tanning results Skin firming and conditioning Floral scent |
| | My Beaches | Indoor and outdoor use, no sunscreen Reduces redness Erythulose for instant bronze plus tanning enhancers |
| | Ultra Dark Leg Bronzer | Bronzers make legs look ready for the beach Skin firming Hair growth inhibitors |
Supre SNOOKI GIRL BOSS Ultra Dark Bronzer
The Snooki Girl Boss lotion gives your skin an instant sun-kissed glow with its cosmetic bronzing ingredients and Ultra Dark Bronzing formula. These bronzing ingredients also help you see where you've applied it. While some color will wash away in the shower later, the DHA (dihydroxyacetone) interacts with your skin to darken its tone over the next few hours while your tan deepens from UV exposure.
The lotion isn't greasy—its matte finish gives skin a natural appearance that hides fine lines. The blend of lotus and hibiscus extract reduces wrinkles and fight signs of aging while the moisturizing base of shea butter and almond and coconut oils softens and hydrates skin. Finally, the formula has ColorShield Technology, which is a mix of minerals, algae, and aloe vera that keep tats from fading under the light.
Snooki Live your Dream Tanning Lotion Bronzer
Snooki's Live Your Dream Lotion doesn't have cosmetic bronzers. Instead, the formula depends on Hyperdark Tanning Technology that contains natural bronzers for a streak-free tan. The ingredients include a Color Extending Complex to help skin retain a tan for longer, plus Tattoos Shield Technology with aloe, algae, and minerals to keep ink vibrant.
Of course, no tanning lotion would be complete without a blend of moisturizers to protect against UV damage. Live Your Dream has a delicious mix of shea butter, coconut and almond oils, and Vitamin B5 so your skin feels silky smooth and soft.
Supre SNOOKI BRONZE SHORES Bronzing Lotion
Bronze Shores is both an indoor and outdoor tanning lotion. It's safe for use in tanning beds but tough enough to take on UV rays from the sun. (But it doesn't have sunscreen.) The formula has built-in tan extenders to help your vacation glow last as long as possible.
The super dark bronzing lotion contains DHA to deepen skin color on the very first day you use it. Your skin won't be as red because the formula has matcha, a concentrated form of green tea. Other Tahitian tropical dark tanning extracts make your skin look tan and healthy during and after your time in the sunshine.
Supre SNOOKI SUN & SEASIDE Dark Tanning Lotion
Sun & Seaside is also an indoor and outdoor lotion like Bronze Shores. Instead of DHA for a surface bronze, the formula uses tyrosine to make more melanin, or skin pigment, for a real tan and longer-lasting results.
The moisturizing base blend of coconut oil, algae, and aloe keep your skin soft while matcha, a super concentrated green tea, takes away redness. Dark Tan Maximizers make your new bronze last as long as possible.
Supre - Snooki Ultra Dark 70X Black Bronzer w/ Skin Firm & Toning
When you're tan, but want to go darker, try the 70X Black Bronzer. Right from the time you rub it in, the black walnut, DHA, and henna deepen your skin color. Even hours after you leave the tanning bed behind, the DHA will continue to darken your tan.
Since the formula is made for advanced tanners who spend more time under the lamp, it contains a vitamin-enriched anti-aging blend that hydrates and protects skin. There are also no parabens in this lotion.
Snooki Hottie Hot Sexy Tingle Bronzer Tanning Lotion
If you've been tanning for a while, you may have tried a tingler. The tingle lotions like this Hottie Hot Sexy speed up blood circulation to the surface. This means you feel a hot sensation plus you get a deeper tan as fast as possible.
Snooki's HyperDark Tanning Technology with DHA immediately darkens your skin color when you put it on, and the tone deepens over the next few hours. The vitamin-infused moisturizing formula helps firm up skin and improve its look and feel.
Snooki Get Real Tanning Lotion
The Get Real lotion maximizes your tan with tyrosine so your color is real, not fake bake. Tyrosine makes for more melanin, and more melanin means a deep skin tan, not a surface shade that washes away.
Of course, the formula contains vitamins and skin conditions to protect you from sun damage and aging. Part of that skin protectant power comes from passion flower, rose, and gardenia extracts. Some users absolutely love the floral fragrance.
Supre SNOOKI MY BEACHES Dark Bronzing Lotion
My Beaches Dark Bronzing Lotion is for both indoor and outdoor use, but it doesn't have a sunscreen. Instead, it has erythrulose to bronze skin on the first use, plus tanning enhancers to help you get dark under the lamps. The blend of aloe vera and matcha green tea gets rid of redness and hydrates skin.
Supre Snooki Ultra Dark Leg Bronzer W/ Hair Growth Inhibitors
Why is it that legs have such a hard time tanning? Snooki's Ultra Dark Leg Bronzer aims to resolve that problem. It has both skin-firming ingredients and extra dark bronzers so you look ready for the beach in no time flat.
Of course, depilation is a bad idea right before tanning, so the formula has hair growth inhibitors. Your skin will stay silky soft and you might not even need a razor on your vacation.
Tanning enhancers and bronzers
In case you're new to tanning lotions, here are a few quick explanations of what tanning enhancers and bronzers are.
DHA—a colorless sugar that doesn't actually cause a tan, it darkens skin tone kind of like how an apple slice turns brown from oxidation. The results are visible in just a few hours. DHA is common in sunless tanning lotions, or fake bake products.
Erythrulose—similar to DHA, it changes surface skin color, but it takes longer to develop a bronze effect, up to three days.
Tyrosine—an amino acid normally found in humans, it leads to melanin production. Melanin is skin pigment. Some tanning lotions contain tyrosine in the belief that is can speed up the darkening of skin under UV light.
Conclusion
We hope you enjoyed our review of Supre Snooki tanning lotions today. Come back soon to see new reviews of the best in beauty products.