Designer Skin's indoor tanning lotions get a lot of positive feedback from happy customers, plus they are used by lots of celebrities. Although the company itself has an anti-diversion policy of selling to salons, not direct to the public, it's not hard to buy their products online. They have everything from bronzers and intensifiers to tingle lotions and tan extenders. Let's take a look at some of their most popular items.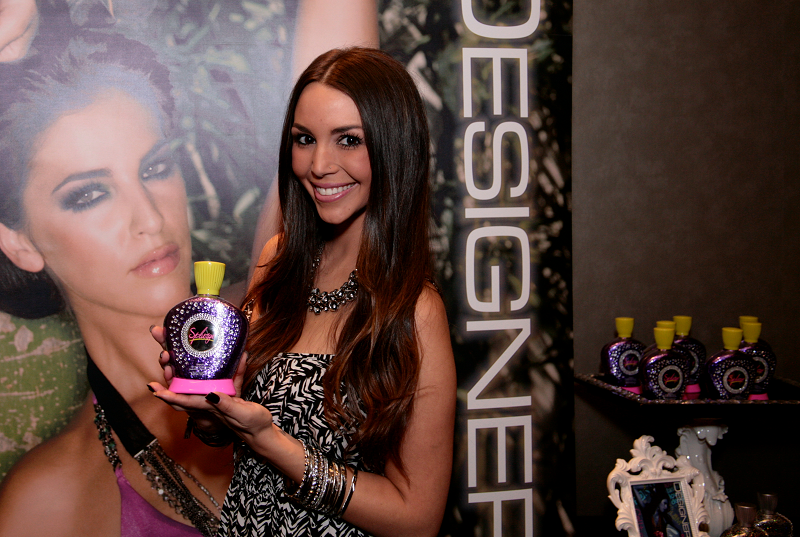 Designer Skin lotions at a glance
| Image | Lotion | Type | Features |
| --- | --- | --- | --- |
| | Black | Bronzer | Unisex 20X bronzer Protects tattoos |
| | Black Legacy | Bronzer | 35X bronzer Quick tanning for light-skinned users Extends tan |
| | Spellbound Entranced | Bronzer | 24X bronzer Extends tan Silicone emulsion hides fine lines |
| | Obsidian | Warming | 30X bronzer Minerals fight signs of aging |
| | Escapade | Cooling | Soothes and cools skin Eliminates after-tanning odor Rich oil conditions skin |
| | Picture Perfect | Facial tanning | No fragrance, no parabens, no DHA BB bronzing balm Protects against signs of aging |
| | Ruby | Tingle tanning | Very hot—but also cool 19X bronzer Silicone emulsion softens and perfects skin |
| | Modern Bombshell | Tingle tanning | 300XX hot tingle 16X bronzer Rejuvenates skin |
| | Juicy Gossip | Tanning intensifier | No DHA, uses tyrosine and peptides Anti-aging formula |
| | Luminary | Tanning intensifier, Bronzer | No DHA, uses tyrosine and peptides Ultra-moisturizing Adds shimmer |
| | Tiny Bubbles | Tan extender | Doesn't strip natural oils Softens skin Bubble bath or body wash |
| | Angel | Tan extender | Ultra-moisturizing lotion Anti-aging Softens tingle action of hot lotions |
| | Faux Natural | Sunless tanner | DHA plus erthyulose for a fast bronze Buildable coverage Pleasant scent |
Bronzers
Many tanning lotions contain bronzers, ingredients that instantly darken skin color like a sunless tanner. This serves two purposes: it makes it obvious where the lotion was applied and where it was not, and it makes the wearer look sun-kissed right away. Many tanners prefer bronzers because it disguises their winter-white skin until they are able to build a base tan.
Bronzers are made from various ingredients, from henna, caramel, and walnut extracts, to DHA (dihdroxyacetone) and erythulose. DHA is a chemical that interacts with amino acids in skin so it oxidizes and makes skin brown, kind of like a sliced apple does when exposed to air.
Bronzers make an immediate difference in a person's appearance and will continue to darken over the next few hours after they are applied.
Designer Skin Black
Designer Skin's Black is a favorite of both men and women who tan indoors. The lotion contains DHA and erythulose, bronzers that begin to darken skin from the moment it's applied. One user commented that Black's 20X formula makes for a deeper tan than any other product they tried. The silicone emulsion makes skin feel very smooth and hides uneven texture like cellulite.
But those aren't the only benefits of Black Tanning Lotion. It also has Designer Skin's SunStay Technology with Fade Defying Properties to protect tattoos from fading. Opti-Glow gives skin a little bit of shimmer, too. Finally, the lotion has a citrus smell that blocks the usual after-tanning odor.
Designer Skin Bronzer, Black Legacy
The Black Legacy Tanning Lotion from Designer Skin goes darker than Black. It's a 35X bronzer that darkens skin in just one session with MelanINK, then extends the life of a tan with ProBronze Extend. Light-skinned users have said they have great success in tanning quickly with this lotion. They love how soft their skin feels when they apply it. And advanced tanners say it helps them achieve a deeper tan than they could before using it.
Designer Skin Spellbound Entranced
The Spellbound Entranced lotion has a 24X bronzer with ProBronze Extend for a long-lasting tan. This proprietary blend contains peptides, tyrosine, and black walnut for an instantly rich color that darkens over time. The silicone emulsion formula not only softens skin and locks in hydration, it also evens out texture so skin looks and feels soft and radiant.
Warming lotions
A warming lotion isn't exactly a tingler, but is recommended for experienced tanners anyway.
Designer Skin Obsidian 30x Bronzing Matrix Tanning Lotion
The Obsidian lotion warms skin and fights signs of aging with the power of volcanic minerals. Users say it feels very relaxing, like being in a spa or sauna, but it is too hot for faces and sensitive skin. The 30X Bronzing Matrix instantly gives skin a healthy glow and helps a tan darken even after the session is over. The Caribbean Mist scent appeals to both men and women.
Cooling lotions
Some experienced tanners prefer cooling lotions. Tanning beds get hot, and cooling lotions are soothing for long sessions catching rays.
Escapade, Cooling Bronzer Tanning Lotion
Escapade packs a lot of surprises inside its bottle. One, it's a bronzer that will make you look ready for the beach even before you lay down in the tanning bed. The ProBronze tan extender instantly darkens skin with peptides, black walnut, and tyrosine, then continues to deepen your tan even after your session ends.
Two, the Dual Cooling Essences draws heat away from skin while you soak up rays. Three, the formula contains Sacha Inchi oil plus omega fatty acids and Vitamin E to condition skin to the maximum. And four, after tanning odor inhibitors take away the typical after-tan smell, leaving your skin fresh with the scent of Bermuda Breeze.
Facial tanning lotions
What bronzes your body might not be ideal for your face. Use a special facial tanning lotion for best results.
Picture Perfect Facial Tanning Lotion
UV rays can cause acne breakouts, and so can greasy formulas. Protect yourself with the Picture Perfect lotion that's light, not oily, and has no fragrance to irritate sensitive skin. It avoids both parabens and DHA.
The formula is a BB cream, or bronzing balm, that adds a sun-kissed glow to your face with brown seaweed and a cosmetic bronzer. It doesn't streak and it doesn't clog pores. The IPF Defense Complex protects against aging and the Pore Minimizing Blend regenerates skin cells for a younger appearance.
Tingle tanning lotions for experienced tanners
Tinglers, or tingle tanning lotions, are recommended for use by advanced tanners only. Tanning beds can get hot, especially during long sessions, and the added heat from a tingler may be too much for inexperienced users. These lotions, even hours after you use them, can also irritate the skin of a child or a pet you hold.
To soften the tingle action, you can take a cool shower and wash with mild soap. The Angel Moisturizer lower down in this article can also dull the heat and tingling.
With that warning explained, the rest is good news. Advanced tanners love tingle tanning lotions because they create an intense sensation on the skin. They cause an increase in circulation, open pores, and accelerate tanning.
Designer Skin Body Bronzer, Ruby
Ruby was described by one user as so hot it feels like rubbing VapoRub on a sunburn. This is not a lotion for sensitive areas! If you love the unique sensation you get from a tingle tanning lotion, try this one. It has capsaicin fruit, the spicy substance that makes cayenne pepper sting your tongue. That's combined with Designer Skin's Refreshing Emerald Cooling Essence with Licorice Extract. The combination makes for a tingle you won't forget.
But besides the skin-deep pleasure of this hot and cool lotion, it has a 19x bronzer with MelanINK to give you a golden hue as soon as you smooth it on your skin. The silicone DreamWear emulsion locks in moisture and makes skin look and feel like velvet.
Modern Bombshell 300xx Sizzle
When the label says 300XX sizzle, you know it's hot. Modern Bombshell doesn't bother to add a cooling essence like the Ruby lotion. It's all about the heat. Users say it smells wonderful and gives them a deep, dark tan.
The 16X bronzer utilizes DHA and Designer Skin's MelaINK technology to make you darker right out of the bottle. Then the Oxygen-infused Anti-Aging Emulsion brightens up and rejuvenates skin while you tan.
Tanning intensifiers without DHA
Tan naturally, tan deeper, with tanning intensifiers that interact with skin pigment. These don't have DHA that only causes a temporary tan.
Designer Skin Body Bronzer, Juicy Gossip
Users say the Juicy Gossip lotion helped them achieve a darker tan than they had before. They liked its White Peach fragrance, and felt like their skin was softer after using it.
Designer Skin says they created this lotion with a Passion Fruit Juice Base to feed skin the nourishment it needs to stay healthy and hydrated. There is no DHA, so tanning is accelerated by a blend of peptides and tyrosine. The formula also has antioxidants and vitamins to protect skin from aging.
Designer Skin Luminary Bronzer
The Luminary Bronzer also forgoes DHA for tyrosine and peptides to give skin a natural sun-kissed glow. The Ethereal Moisture Veil adds hydration so that your tan penetrates and lasts as long as possible. The Mega Magical Silicone Emulsion disguises lines and uneven texture so skin looks and feels silky smooth. Users say this lotion is light and non-greasy. It doesn't streak, but it adds a bit of shimmer to skin. They find that their tan develops quickly and their skin feels soft afterwards.
Tanning extenders
Your tan will last a lot longer if you take the time to moisturize.
Designer Skin Tiny Bubbles
Tiny Bubbles is a tan-extending body wash designed to protect skin with mild cleansers that don't strip away natural oils. The mix of vitamins and skin conditioners soften and refresh skin. Tiny Bubbles can be used in the shower or as a bubble bath.
Designer Skin Angel Moisturizing After Tan Lotion Daily Moisturizer
The Angel Daily Moisturizer has two important features. It softens the tingle action of hot lotions like Ruby and Modern Bombshell, and it extends the lifetime of your tan. Users say it leave their skin velvety smooth.
Designer Skin explains that Angel's ingredients fight UV damage and signs of aging. It uses the power of hemp seed oil to draw moisture into skin. Vitamin D protects skin because it's an antioxidant that neutralizes free radicals. Phytoage and Alpha Lipoic Acid also protect against wrinkling and age spots. And white birch extract and copper PCA renew skin to make it firmer.
Sunless tanning lotion
Self-tanners and sunless tanning lotions are handy in a pinch when you want to look sun-kissed but don't have time to get a tan.
Designer Skin FAUX NATURAL SUNLESS
The Faux Natural Sunless lotion gives a nice bronze look to fair-skinned users. You can control the color by building layers. And unlike some self-tanners, this one smells nice.
Designer Skin says they included their ProBronze Extend Technology with DHA and erythulose for the darkest "fake" tan possible.
Tanning FAQs
Some little things you may not have known about tanning.
Q: How do I protect a tattoo?
A: Protect a fresh tattoo by not exposing it to UV light until it heals. Cover it up if you need to be outdoors. You can coat it with a lip balm that has sunscreen with at least SPF15. This same trick with lip balm works on manicures so the nails don't yellow.
Q: What is a plateau in tanning?
A: You may feel like you've become as dark as you are genetically able to tan. In that case, some tanning lotions advertise themselves as "plateau breakers." They might be able to help you achieve a darker color. At the least, a bronzer will temporarily make a difference.
Q: Do I need to change lotions from time to time?
A: Some experienced tanners change lotions, especially tingle lotions. If you aren't feeling the tingle or seeing a deeper tan, it might be time for a switch.
Q: Are some tanning beds better if you're pale and burn easily?
A: Persons with pale skin are often able to tan better in high pressure tanning beds that emit more UVA rays and less UVB.
Q: What is tyrosine and why does it help make you tan?
A: Tyrosine makes melanin, the pigment that turns skin darker. It's a natural substance in human bodies, but tanners like to add more of it through their lotions and even oral supplements to increase the amount of melanin.
Q: What makes a tingle lotion "hot"?
A: Designer Skin explains that their tinglers use Benzyl Nicotinate or Methyl Nicotinate to create the hot sensation by increasing blood flow to skin.
Conclusion
We hope we helped you find the best Designer Skin tanning lotion today. Come visit us again soon to see new reviews of the best in tanning products and skin care.