Unlike some tanning lotion companies, Millenium Tanning doesn't seem to mind if you purchase their products from online retailers instead of a salon. That means better savings for you. While the company itself is rather mysterious with very little Internet presence, customers seem to love their lotions. Let's take a look at some of their most popular offerings now.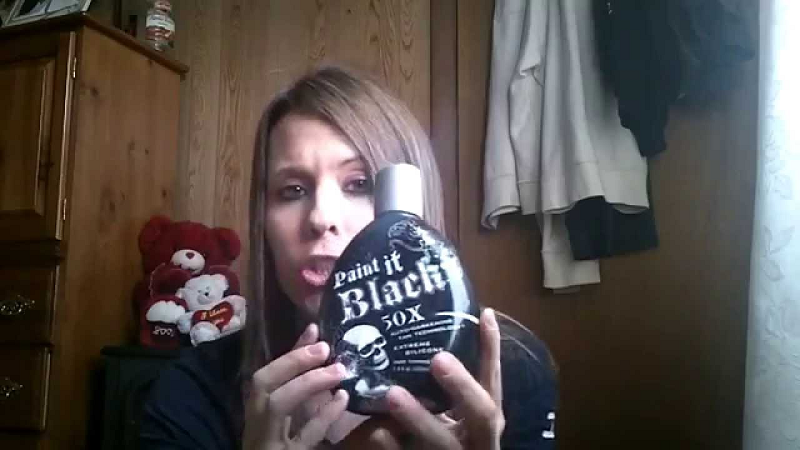 Millennium Tanning lotions at a glance
| Image | Lotion | Features | Bronzer |
| --- | --- | --- | --- |
| | Solid Black | 100X auto-darkening Orchid Blush scent | Yes |
| | Paint It Black | 50X auto-darkening Skin firming Fresh and Clean Cotton Blossom scent | Yes |
| | Paint It Black Hemp | Hemp seed oil and other natural ingredients Mango Citrus scent | Yes, very dark |
| | Black Storm | 60X auto-darkening Açai oil to fight signs of aging Fruity Honey Suckle scent | Yes |
| | Black & Tan | 75X plus tingle Skin firming Fresh Pomegranate scent | Yes |
| | Paint it Beyond Black | 100XXX auto-darkening No nut and no hemp derivatives Majestic Plum scent | Yes |
| | Black is Back | Plateau breaker Spring floral scent | Yes, extreme |
| | Once You Go Black | New auto-darkening formula After tan odor eliminator Tattoo protection Tropical Mango scent | Yes |
Millenium Tanning New Solid Black Bronzer Tanning Bed Lotion
Millenium's Solid Black Bronzer is one of the most popular lotions in their lineup. Fair-skinned users have commented that it only takes a handful of sessions wearing this lotion to give them a dark tan. They warn that, like most tanning lotions with bronzers, that it's important to wash hands immediately after applying it to avoid orange on palms and fingers.
Millenium describes the Solid Black Bronzer as a 100X auto-darkening tan enhancer in a silicone emulsion. The fragrance, which most users seem to enjoy, is Orchid Blush.
A quick glance at the ingredients listed on the label reveals walnut seed oil which is a natural bronzer, plus tyrosine which causes more melanin production to darken skin. There are moisturizers like hemp seed oil and sunflower oil, too. If you have sensitive skin, you may choose to avoid this lotion as it contains parabens, dyes, a fragrance, and propylene glycol.
Millenium Tanning New Paint It Black Auto-darkening Dark Tanning Lotion, 50X
Paint it Black takes the Auto-Darkening Tan Technology in Solid Black and adds new features to it. This lotion is also made to firm skin while it accelerates tanning. Users say it makes their skin feel silky and it has a pleasant smell for both men and women who wear it.
While it has a bronzer, it doesn't seem to be as dark as the one in the Solid Black lotion. The formula is based on caramel and green tea extracts, plus tyrosine, erythrulose, vitamins A and E, and various herbal extracts and plant oils to moisturize skin.
Millennium Tanning Products Paint It Black Hemp Bronzer Indoor Lotion
Millenium's Paint It Black with Hemp is infused with hemp seed oil to be extra-moisturizing for skin. Users says the instant bronzer is quite dark, similar to dark chocolate. They like the Mango Citrus scent and the way it helps them tan quickly. The ingredients list reveals a larger number of natural ingredients and parabens are not listed.
Millenium Tanning Black Storm Premium Tanning Lotion, Extreme Silicone Bronzer, 60x
Black Storm is the preferred lotion of some tanners. It has 60x Auto-Darkening Tan Technology plus açai oil to fight signs of aging caused by UV damage. The bronzer gives instant color to pale skin without leaving splotches or streaks.
Users say the fragrance is nice until after the tanning session is over, then their skin smells a bit like burned coconuts. But their skin is soft and their tan darkens over the next few hours after the session.
Millenium Black & Tan 75x Indoor Tanning Bed Bronzer
The Millenium Black & Tan 75X Bronzer is for advanced tanners because it has a tingle and it works best when the user already has a base tan. The tingle comes from the warming beads mixed into the creamy, smooth lotion.
Millenium says the formula is designed to moisturize skin all day long. It contains hemp seed oil, walnut and pecan seed oils, tyrosine, sunflower oil, and other natural derivatives. This is another formula with parabens, dyes, and a fragrance—not ideal for users with very sensitive skin.
Millenium Tanning Paint it Beyond Black Millenium Bronzer, 100 XXX
Paint it Beyond Black is a 100XXX auto-darkening lotion with a bronzer. It contains no nut and no hemp derivatives. Users say it darkens skin faster than Millenium's Solid Black. The instant bronzer works quickly and will discolor your hands if you don't wash them right after applying it.
Millenium Tanning Black is Back Tanning Lotion
If you've hit a plateau in tanning and can't seem to get any darker, try the Black is Back lotion. The bronzer alone is so dark that some people wear it as a sunless tanner.
One of the first ingredients on the label is aloe, excellent for taking care of skin. It also contains DHA (dihydroxyacetone) to darken skin over time, glycerin to draw in moisture, and silicone (dimethicone) to seal in hydration.
Once You Go Black Bronzer Tanning Lotion by Millennium
Once You Go Black is also designed for advanced tanners, but it doesn't have a tingle. The formula contains extra bronzers, a new auto darkening complex, tattoo protectors, after tan odor eliminators, and ingredients to help your tan last as long as possible.
The very first ingredient on the label isn't water, it's aloe. Of course, the formula also contains pigment enhancers like DHA and tyrosine, and skin softeners like hemp seed oil.
Tanning lotion secrets
What makes a tanning lotion accelerate a tan or create an instant bronze on skin? There are a few key ingredients that make skin darken faster and stay tan longer. Here's what you can watch for on the label:
DHA, or dihdroxyacetone, is the only ingredient currently approved by the FDA for sunless tanning. It interacts with amino acids in your skin to make your skin brown. You don't need to be in the sun for this to happen, so it's often the main ingredient in sunless tanners. A bronzer with DHA will keep skin looking tan for up to 5 days.
Erythulose is a fruit sugar that interacts with amino acids like DHA does. It makes skin darken without using melanin, skin's natural pigment, and without the help of UV rays.
Tyrosine is an amino acid that makes melanin, or the pigment in skin. Some tanners take tyrosine supplements by mouth to speed up their tanning.
Green tea is a helpful ingredient for tanning lotions because it neutralizes the damage that UV rays inflict. Antioxidant-bearing components like wheat germ oil, coconut oil, and carotene protect against UV damage, too.
Henna and caramel are natural skin bronzers, as are walnut seed oil and black tea.
Moisturizers are a key part of tanning accelerators, too. Hemp seed oil is very popular, as is sunflower oil and aloe. If your skin stays hydrated, it will tan better and your bronze will last a lot longer.
Conclusion
We hope we helped you find the perfect tanning lotion today. Visit us again soon to see the best in skin care, anti-aging, beauty, and cosmetics.