You just searched for "tanning bed near me" and here you are. Soon you'll be bronzing your skin in preparation for the summer months or the next big event.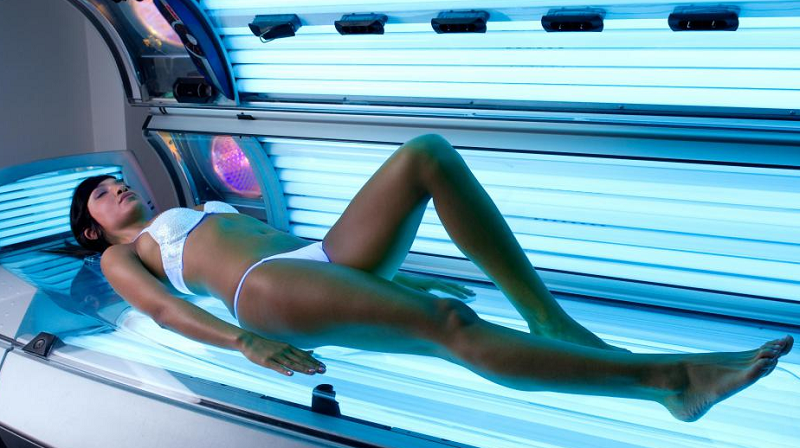 Finding a tanning salon is pretty easy. There are so many of them all around the world. The hard part is deciding which one has the services you want, an affordable price, and business hours that accommodate your schedule. Let's take a look at the map and see if we can narrow it down.
Services at a tanning salon
The tanning salons near you may offer a wide variety of services. They may have lay down tanning beds that are oh so relaxing when you have a 20-minute session planned. Or they may have stand-up tanning beds. Those are great when you begin tanning for just a few minutes at a time.
Most salons sell indoor tanning lotions. Using lotion is smart. Dry skin won't tan as well as supple, moisturized skin. Lotion protects you from peeling, and it accelerates your tan even after you've finished the session. Plus, it smells great so you don't get that after-tanning smell.
Some salons offer manicures and pedicures or sell swimsuits and active wear. They may cut and style your hair, or give you a massage. This is very convenient to have more than one service available.
You may also discover that you can tan almost any time during the day until later at night. Many tanning salons are open from 10am until 10 or 11pm.
How much does it cost to go tanning?
The cost of tanning depends on factors like the type of bed, the length of the session, whether you purchase a package deal, and if you include other services like a mani-pedi or a massage.
Some places may offer tanning visits for as low as $5 under certain conditions. For example, if you're new to tanning, you may decide to purchase minutes since you'll probably only use a few for each session until you have a deep tan.
Experienced tanners may prefer unlimited packages, where they can tan as often as they like based on time periods, like one month, three months, or a year.
What to bring when going tanning?
When you go tanning, remember to bring your lotion or plan to purchase it at the salon. Bring or buy goggles to protect your eyes. The thin skin of your eyelids isn't enough to block out all the UV rays.
A towel is very nice to have as well. If you plan to tan in the nude, consider bringing a robe if you like. You may want to place silicone protectors or stickers over your nipples and other sensitive areas. Those parts tend to burn easily. Another option is to wear a thong or bikini.
Choosing the best tanning lotion
The salon may offer you a trial size lotion to use in the tanning bed, or they may sell single-use packets. This is a fun way to experiment and find one you like. There are so many different indoor tanning lotions on the market that it may be a little hard to decide which one you want. Here are some of the kinds you'll see:
Tingle lotions that cause a warm or hot sensation on your skin because they speed up blood flow and speed up the production of pigment, or melanin
Cool lotions, often made with menthol, to soothe your skin
Lotions with bronzers that darken your skin as soon as you apply them
If you have sensitive skin, avoid the hot and cool lotions until you know how you will react. You can put a small amount on to test it for a day.
If you choose a tanning lotion that's not sold by the salon, check to make sure its ingredients won't damage the acrylic of an indoor tanning bed. The bottle should tell you if that's the case.
Here are a couple of indoor tanning lotions that are very popular and safe for use in tanning beds:
Australian Gold CHEEKY BROWN Accelerator Dark Natural Bronzers
The Cheeky Brown Accelerator from Australian Gold gives your skin a light bronze color as soon as you smooth it over your skin. It contains lots of natural ingredients like sunflower and olive fruit oil, plus aloe vera gel, panthenol, glycerin to attract moisture, vitamins A and E, plus tea tree (Melaleuca) oil for a little tingle.
People with very pale skin report success using the Cheeky Brown accelerator. It makes them look darker instantly without streaking. Then it speeds up the tanning process so they get a base tan faster.
Ed Hardy Coconut Kisses Golden Tanning Lotion—Protects Tattoos
Ed Hardy Coconut Kisses Golden Tanning Lotion is designed to help you get bronzed without fading the colors in your tattoos. It uses tyrosine plus a special melanin formula to darken your skin as fast as possible. It does not contain a self-tanner.
The coconut oil and cocoa butter make it smell great without being too greasy. Ed Hardy says this lotion also has the side effect of shrinking cellulite and making your skin look younger.
For more top indoor tanning lotions, check out this page here.
How to tan indoors without burning
Take it slow when you start tanning indoors. If you want to look like the sun god has smiled on you, plan to start tanning four to five weeks ahead of summer's start or that big event. Then follow these steps to tan indoors without burning:
Exfoliate in the shower before your first session
Wear goggles, wear indoor tanning lotion
Don't tan for longer than 5 minutes—use the tanning bed timer if there is one
Remember that you may not see the results until the next day
Wait at least 2 days before you tan again
With patience, even very pale people can see results over time. Enjoy this little bit of self-indulgence. You'll get that Vitamin D and those endorphins flowing. Have fun tanning!