Tanning outdoors is free. Your salon is wherever you want it to be. In order to bronze as quickly as possible, it's smart to use a tanning accelerator lotion. It protects your skin from drying out and helps it darken faster. In this review we'll cover the ten best outdoor oils and body bronzers that help you get dark fast.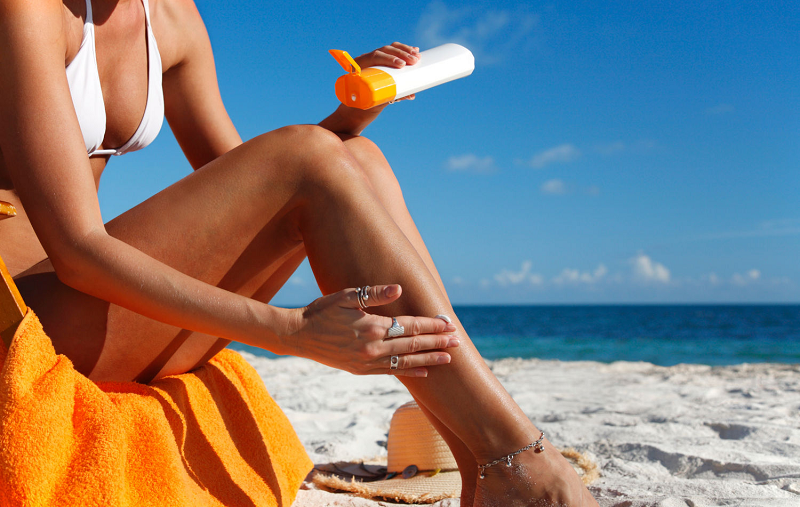 Self-tanners vs. tanning oils and lotions
Self-tanners, aka fake bake, have dyes that make you look bronzed as soon as you apply them. The coloring usually deepens over the course of a few hours, then lasts for a few days. Some outdoor lotions have self-tanner ingredients in them so you look sun-kissed before you even go outside.
Tanning oils and lotions intensify the effects of UV rays. They help your skin pigmentation darken fasten than it normally would. The best ones help protect you against dryness, wrinkles, and fine lines by keeping your skin moisturized, and protect you to some degree against burning.
The top 10 outdoor tanning oils and lotions
You're going to bronze your body no matter what so do it right with the best lotions.
Maui Babe Browning Lotion
Maui Babe's Hawaiian formula is super popular among tanning enthusiasts. You can use it in combination with a sunblock so you can enjoy sunbathing longer. There are two versions: one with mineral oil for outdoors, and one with sunflower oil for indoor tanning beds.
Besides the light oil base, the Browning Lotion contains Kukui Nut oil and aloe to make your skin soft plus antioxidants A, C, and E. While it has Kona Coffee Plant extract and it brown in color, it's not a self-tanner.
Users have commented that it may be too greasy to use on your face if you have sensitive skin. The company Maui Babe says it's safe for all skin types.
Use the Browning Lotion with Maui Babe SPF 30 Sunscreen so you can enjoy the sun for longer.
Maui Babe SPF 30 Sunscreen Lotion
Australian Gold Sinfully Black 15x Deep Dark Bronzing Tanning Lotion
Australian Gold's products are usually at the top of best-selling lists, and the Sinfully Black Deep Dark Bronzing Lotion is no exception. They have great products unless you are avoiding parabens and propylene glycol--those are both ingredients in this lotion.
Sinfully Black also contains hemp seed oil, Monoi de Tahiti, caramel, walnut shell extract, as well as Kukui nut and sunflower oils. It smells like tropical fruit, goes on smooth, and leaves your skin feeling soft.
Fair-skinned users from around the world say this lotion helped them build a golden brown base tan in only a couple of weeks. You can use it indoors for tanning as well because it won't wreck the acrylic in booths.
Another option from Australian Gold: CHEEKY BROWN Accelerator Dark Natural Bronzer
The Cheeky Brown Accelerator from Australian Gold is a self tanner as well as a tanning lotion. It will slightly darken your skin with caramel and henna when you apply it. You can use it indoors or outside because it's based on sunflower and olive fruit oil, plus aloe vera gel, panthenol, glycerin, and vitamins A and E. The tea tree leaf (melaleuca) oil will give you a nice cooling sensation when you apply it.
Ed Hardy Coconut Kisses Golden Tanning Lotion
Ed Hardy's Coconut Kisses Golden Tanning Lotion helps pale, sun-starved folks get the base bronze they crave before that beach vacation. It uses the power of coconut oil, milk, and butter to hydrate your skin while you absorb sunshine.
Although it has no bronzers, it does have ingredients that speed up tyrosine activity and melanin production to get you tan as fast as possible. It also contains secret ingredients that Ed Hardy claims will protect your tattoos from fading and help make cellulite and wrinkles disappear.
Like the other lotions above, you can use Coconut Kisses indoors or outside. It won't stain or streak, although wiping your hands after applying it is a good idea.
Fractionated Coconut Oil by Sky Organics
Why not go straight to the source and use organic coconut oil to bronze your skin? It's the base of many tanning lotions. The Sky Organics Fractionated Oil is scent-free and gentle on sensitive skin. If you miss having a perfumed lotion, it can be combined with a couple of drops from other essential oils.
Coconut oil is nourishing for your skin and protects it to a small degree from harmful UV rays. It doesn't have any unwanted chemical additives, but it softens and helps your skin retain moisture. It speeds up Vitamin D production. Plus, it has antiseptic properties that can help wounds heal faster.
Swedish Beauty, Shea You Love Me, Tanning Lotion
Not everyone from Scandinavia is pale. The Shea You Love Me lotion from Swedish Beauty is perfect for people with eczema and sensitive skin. It has no fragrance and it's hypoallergenic. The aloe and Vitamins E and A work to keep you looking young while the shea butter and oatmeal moisturizes and softens even the driest skin.
Swedish Beauty says their proprietary BioBronze Blend has natural melanin enhancers to accelerate the tanning process. In fact, some users love this lotion because it helped them achieve a tan in difficult-to-tan parts of their bodies.
SunGodZ Apollo/Artemis 375X Bronzer Tanning Lotion with Argan, Coconut Oil and Agave
The Apollo/Artemis 375x Bronzer from SunGodZ is made for people who want the darkest tan as fast as possible. It's based on silicone and glycerin and contains agave extract, Argan, Kukui, hemp seed, olive, and coconut oils as well as caffeine. You can use it both indoors and outdoors, and it's formulated to protect tattoos from fading.
The silicone base locks in moisture and keeps the lotion (and your tan) from washing off in the shower. SunGodZ doesn't use parabens and they don't test on animals.
Banana Boat Deep Tanning Oil Spray with Carrot and Banana Extracts
Banana Boat products are a fixture at beaches and pools. Their Deep Tanning Oil Spray is a inexpensive and easy way to get a deep bronze. It's only recommended for people who already have a base tan or who have darker pigmentation.
Millenium Tanning New Paint It Black Auto-darkening Dark Tanning Lotion, 50X
The New Paint It Black 50x lotion from Millenium Tanning says it will give you the darkest tan possible. It's silicone-based like the Solid Black lotion from the same company, but there's no tingle additive.
This lotion doesn't feel greasy and goes on smooth. It doesn't streak, and doesn't rub off on clothes. The silicone softens your skin to the maximum and keeps the self-tanning elements from washing away. The cotton fresh scent is very pleasant.
Unfortunately, the ingredient list contains parabens and DHA if those are a concern to you. There is some debate over the safety of DHA as it interacts with your amino acids to darken your skin. It works well, but will it be good for you long-term?
Supre Smoke Black Bronzer
Supre makes a lot of tanning lotions, but their Smoke Black Bronzer is the ultimate for advanced tanners. It has self-acting bronzers and dark tan maximizers along with vitamins and minerals. The idea is to darken your skin's pigmentation to the maximum while still protecting it from sun damage. This is a lotion for people with a good tan who desire something deeper.
Sun Bum Moisturizing Sunscreen Lotion
Tanning outdoors is unpredictable because 30 minutes one day might be too much while two hours on a different day might not do much at all. That's why tanning with a sunblock isn't such a bad idea.
The Sun Bum Moisturizing Sunscreen protects against UVA and UVB rays even if you're in the water up to 80 minutes. It's non-comedogenic and free of PABA and parabens. Plus, Sun Bum says it's gluten-free and vegan, and it has the approval of the Skin Cancer Foundation.
Accessories for tanning outdoors
Besides a good lotion, here are some other useful things.
Duduma Polarized Designer Fashion Sports Sunglasses
Protect your eyes while you soak up those rays with a sporty pair of shades.
Flying Fisherman Fowey Polarized Sunglasses with Tortoise Frames
These are reminiscent of Ray-Bans.
Large Beach and Pool Towel, in Cabana Stripe by Utopia Towels
Here's a 4-pack of simple striped soft towels measuring 30 by 60 inches in size.
Klean Kanteen Wide Mouth Bottle
Keep a cool beverage close at hand.
Coleman Converta Cot
Sure, you can lay out on the ground, or you can enjoy this multi-positional cot chair. The polyester fabric won't glue itself to your body like old school plastic chairs did.
How to tan (safely) outdoors
If you plan to tan outside, you can follow a lot of the same advice for tanning indoors.
Exfoliate so that dead, dry skin doesn't block sunshine
Apply lotion or sunblock liberally all over
Protect your eyes with goggles or glasses
Cover up those sensitive areas that haven't seen the sun for a long time or ever
Limit your time outside, especially the first couple of times because you can't see how red you are until it's too late
Moisturize afterward with a good quality lotion or cream
Tanning outside is challenging because it's hard to control how much UV light you actually absorb. Take your time and take it easy because sunburn sucks.
Conclusion
Take good care of your skin now so you can enjoy being bronze and healthy for as long as possible. It's worth it.
Come visit us soon to see more reviews of the best products for enjoying the good life.