Most of us would love to have a flawless tan. We envy those with the time and resources to enjoy the sunshine or catch rays in a tanning bed. Bronzed skin is symbolic of health and vitality. That's why sunless self tanners are so popular.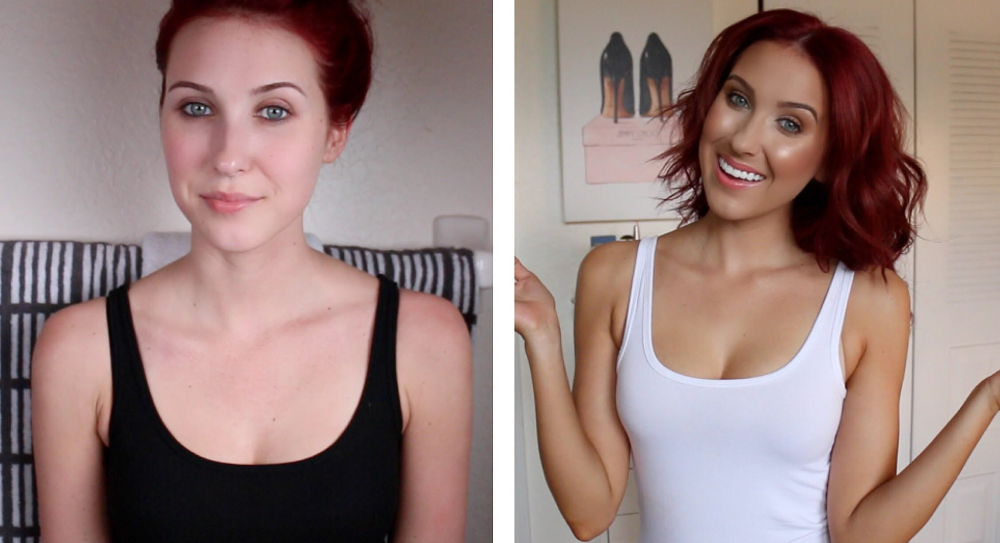 A sunless tanning lotion is perfect for starting your tan a little early. You can darken your skin tone even before you begin to bronze in earnest for the season. Now you don't have to don your swimsuit over winter whiteness. While a self tanner won't protect you from UV rays, it will disguise pale skin and give you confidence to face the beach and the pool.
What is a self-tanner?
Sunless tanning lotion isn't sunscreen, it's a substitute for sunshine. It changes the color of your skin from pale wintery whiteness to luscious sun-kissed bronze in a matter of minutes or hours.
Self tanners usually rely on the power of DHA, or dihydroxyacetone, to temporarily darken skin. DHA interacts with dead skin cells, so it tends to wear off after a few days as your skin sheds.
What is the best way to apply a self-tanner?
When you want to apply sunless tanning lotion, or self-tanners, follow these simple steps for best results:
Exfoliate dead skin, especially places like your elbows, knees, and ankles
Don't shave the same day you apply self-tanner
Make sure your skin is dry before you begin application
Work in sections, like legs, torso, then arms
Wash your hands with both soap and water after each section is complete to keep them from getting unnaturally discolored (or use protective gloves)
Dilute the tanning effect on knees, elbows, and ankles by wiping with a damp towel so they don't overly darken or else just use what's left on the mitt
Wait at least ten minutes before dressing to make sure the product dries completely
Continue to keep your skin hydrated so your new tan lasts as long as possible
For best results, consider applying self tanner at night so it has time to work
Years ago, many sunless tanners make skin turn orange. They were prone to streaking, too. But modern formulas usually provide a nice even appearance if you follow their directions. And really do wash your hands frequently so they don't end up stained more than the rest of your body.
Health concerns about sunless tanning lotions
The US FDA approved DHA for skin application, but they recommend that you don't inhale products containing it, or apply them to your lips, nose, or near your eyes. For those areas, look for a self-tanner without DHA.
Another ingredient commonly found in self tanners is erythrulose, a carbohydrate that reacts with skin in a chemical reaction similar to what browns an apple after you cut it. The bronzing effect from erythrulose takes longer to reach full strength, but it lasts longer than DHA. Unfortunately, erythrulose can make your skin more sensitive to injury from UV rays so you really need to wear sunblock if you plan to be in the sunshine after applying it.
The top self tanners
Here are our top picks for making skin look healthy and tan even if you don't get out in the sun much this summer.
Fake Bake Flawless
The top selling Fake Bake Flawless Self Tan Liquid combines the power of DHA and erythrulose for a long-lasting tanned effect. It works on any skin tone or type and dries quickly to a beautiful bronze color.
Fake Bake provides a velvety mitt to help you apply it in smooth, even coats all over your body. Simply spritz the liquid onto the mitt and glide it over your skin. It smells lusciously tropical and doesn't have any artificial preservatives or parabens in it.
After Fake Bake is dry, you can dress and not worry that your new tan will rub off onto your clothes. Since Fake Bake's color deepens over the process of a few hours, apply it before bed to wake up sun-kissed.
Tan Physics True Color Sunless Tanner
The debate rages hot over Tan Physics' True Color Sunless Tanner. This American company uses DHA to darken skin color and their product seems to work very well for many people. On the other hand, some users have reported that it fails to give them an even tan, or any tan at all.
The complaints may stem from the way DHA works. Just as it takes time for an apple to oxidize and turn brown, self tanners need a few hours to achieve their full potential after they are applied to skin.
Tan Physics' tan should last four to seven days before disappearing. Their formula also contains aloe, soybean oil, caramel, orange peel extract, Argan oil, and Vitamins A, C, and E to nourish and hydrate skin.
If you aren't satisfied with the results, Tan Physics offers a money-back guarantee.
St. Tropez Self Tan Bronzing Mousse
Lots of people are dedicated fans of St. Tropez self-tanning products. Their Bronzing Mousse is especially popular because it's very easy to apply, it dries super fast, and the color looks great on anyone. It's so good that ELLE and In Style both gave it awards.
St Tropez uses DHA to make your skin bronze for at three days and up to ten days. Although it's quick to apply and dry, it does take four to eight hours to fully develop. St Tropez says showering off the tinted guide color after 8 hours will reveal the true bronzed color that you will enjoy for the next few days.
Out of all the user comments, we didn't see anyone complaining about orange skin. Many users recommend applying this self tanner at nighttime after exfoliating. But if you want to choose how deep your tan gets, take a look at the Tan Express mousse below.
St. Tropez Self Tan Express Advanced Bronzing Mousse
If you like to tan, but have pale skin and don't want to present a dramatic change all at once, the St Tropez Tan Express Advanced Bronzing Mousse is made for you. Leave it on for an hour and get lightly bronzed. Two hours before showering will net you a medium tan. Three hours will make you dark like you've been out in the sun for days.
This mousse is just as easy and pleasant to apply as the other one. The only difference is how long you wait to wash your skin after you smooth it on with a mitt.
St. Tropez Applicator Mitt
Here is St Tropez's own brand of washable applicator mitt.
St Moriz Instant Self Tanning Mousse
Some people prefer St Moriz's Instant Self Tanning Mousse over St Tropez. They say St Moriz has a better smell. This may be the case since sunless tanning lotions with DHA cause a chemical reaction which creates a distinctive, if faint, odor. Many self-tanners have a fragrance to disguise the odor.
The Self Tanning Mousse creates a nice bronze that lasts three to four days before fading significantly. It may appear dark upon application, but after showering, the guide color washes off to reveal the actual color.
Paula's Choice SUN 365 Self-Tanning Concentrate
Again, if you're not a fan of the self-tanner smell, this is another product that has minimal to no odor, especially after it dries on skin.
The unique feature of Paula's Choice SUN 365 Concentrate is that you mix it with your favorite face or body moisturizer. You can control the darkness of your tan by adding just a little or a lot. As the manufacturer explains, add one-half to one whole pump for a light bronze. Pump the bottle twice for a medium tone, or a few times to create a deep color.
The SUN 365 Concentrate uses DHA and erythulose for the self-tanning effect. It has no fragrance and is cruelty-free. It dries in ten to fifteen minutes. Be sure to wash your hands thoroughly to avoid tanning your palms and cuticles by accident.
Skinerals Organic Californium for Safe Alternative to Sun Tanning
Why choose Skinerals Californium Self Tanner over all the other sunless tanning lotions and mousses? Their foamy tan in a bottle lasts up to a week, doesn't streak or blotch, and smells pleasant. It's based on organic essential oils and fruit and plant extracts.
Skinerals says there are three to four full body applications in each bottle. They recommend smoothing it over your skin with their own Skinerals padded microfiber Tanning Mitt to ensure the best coverage. Let it dry completely before you get dressed, then wait at least 4 hours before showering or even perspiring. Since it uses a brown tint as a color guide, you will appear to be darker than your final tan will look. Once you shower after 8 to 12 hours, your skin will show off its new tan in all its glory.
This sunless bronzer is vegan, cruelty-free, gluten-free, and does not contain nut oils. The main ingredients do not include DHA or erythrulose, but instead list substances like Indian Gooseberry, Acai Berry, Fig Extract, Goji Berry, and citric acid.
Vita Liberata Phenomenal Self Tan - 2-3 Week Tinted Mousse
How about a bronze that lasts up to 3 weeks? The Vita Liverata Phenomenal Self Tan Mousse endures longer than any other tan in a bottle we reviewed. It's odorless, dries very quickly, and free of toxic chemicals like parabens and sulfates, and it provides your skin with a perfect tan. Choose from Fair, Medium, or Dark shades.
One important note: for maximum results, don't moisturize for 24 hours prior to using the self tanner. Do exfoliate, and also apply the mousse with a mitt for best coverage.
Vita Liberata says the ingredients in their Phenomenal Self Tan hydrate your skin up to 72 hours and fight the effects of aging. They tested their product and found that 90% of users said it gave them a natural color tan that faded as if it were real. 80% said their bronze lasted longer than 2 weeks.
Vita Liberata Tanning Mitt
This is the Vita Liberata brand mitt that has a soft, velvety surface.
Beauty by Earth Dye-Free Natural Sunless Self Tanner for Bronzer and Golden Tan
The Beauty by Earth Natural Sunless Tanner has organic shea butter, coconut oil, Argan oil, and green tea extract as well as DHA so it moisturizes while it tans your skin. They say it works up to seven days, but you'll probably want to reapply it after four days.
This is a buildable tanner—you can apply it one day, take a shower the next day, then add a new layer if you aren't dark enough. If you happen to over-darken an area, you can rub lemon juice into that spot to lighten or remove the color.
Banana Boat Self-Tanning Lotion, Light/Medium Summer Color for All Skin Tones
We couldn't leave out Banana Boat's classic and inexpensive Self-Tanning Lotion. It works on all skin tones to give a light to medium bronze. Users say it has a delightful smell that disguises any self-tanning odor.
Some users mention that it streaks while others seem completely pleased with results. The tan seems to last for about three days before it fades. If you're on a budget and just want to try self-tanning, this is a great option.
Alternatives to sunless tanning lotions and mousses
Not everyone wants to spend time rubbing a mitt over their body. Here are some other options to get you tan fast.
Tan Towel Self Tan Towelette Classic 10 Count
Have you ever wanted a tan in a hurry? Maybe you weren't in a place where you could take the time to massage a mitt full of mousse over your naked body. No problem! Try these Tan Towels. They take the concept of a Wet One wipe to a whole new level.
These towelettes won multiple awards from NewBeauty and a Glammy Award, too. They are super easy to use and then toss. No mitt-washing required. They develop your tan within two to four hours. If it's not dark enough for you, simply use another one. You'll need to renew your bronze every three days, but who cares when it's this simple?
Tan Towel recommends using a circular motion to pass the towelettes over clean, dry skin. Wait to do your elbows and knees until the towel has partially dried. Wash your hands immediately afterward. They use DHA to achieve the self-tanning effect.
Tan Towel Face Tan 15 Count
The Tan Towel Face Tan is the facial version of the Tan Towel Classic. It exfoliates while it spreads self-tanner over your skin. The ingredients are also designed to hydrate skin and fight effects of aging.
L'Oreal Paris Sublime Bronze Self-Tanning Body Towelettes
Tan Towel isn't the only self-tanning wipe in the business. You can also enjoy the L'Oreal Paris' Sublime Bronze Body Towelettes. Besides DHA to darken skin, they have Vitamin E and alpha hydroxyl acid to smooth, nourish, and hydrate.
L'Oreal says the bronze you see should be about two shades darker than your normal skin tone. Apply the towels to exfoliated skin. Use less on knees, ankles, and elbows. Then let your skin dry before you dress.
LORAC TANtalizer Body Bronzing Luminizer
Instead of a self-tanning lotion or mousse, how about a deliciously powerful Body Bronzing Luminizer that not only darkens skin but also hides veins and scars. This product from LORAC does exactly that. It also adds shimmer to your newly bronzed skin.
LORAC TANtalizer Body Bronzing Spray
If you're allergic to DHA but want an effective body bronzer, take a look at LORAC's TANtalizer Spray. It dries very quickly and darkens your skin just enough that you look bronzed without looking fake. It comes with a PRO applicator puff for easy application.
Laura Mercier Oil-Free Tinted Moisturizer SPF 20 – Nude
If you just want to bronze your face for a healthy glow, you may enjoy Laura Mercier's Oil-Free Tinted Moisturizer. It not only darkens your skin tone, it protects you from UV rays with SPF 20. You can use it in combination with primer and foundation.
The Nude color is designed for fair to light-skinned people, and it's safe for acne-prone individuals.
Indoor tanning lotion has self-tanner, too
If you tan in a bed, chances are that the lotion you use has a bronzer in it. This can get a little risky as ingredients like erythrulose may actually accelerate UV damage to your skin instead of simply speeding up your tan.
That said, here is one product you can use indoors or outside in the sunshine. It temporarily darkens your skin while you catch rays.
Maui Babe Browning Lotion
This Hawaiian-born lotion has a secret recipe to make you look ready for the sun before you even bare your skin on the beach. It uses Kukui nut oil and Kona Coffee Plant extract to bronze you a bit so you aren't glaring white from the long winter months.
While it's greasy, it smells wonderful. It's not ideal as a self-tanner, but it will give you enough of a fake tan to face the summer outdoors in your swimsuit.
Other accessories for self-tanning
We've included a few mitts along the way, but here are a few items you might also want to use.
Nitrile Exam Gloves
Not latex so they won't trigger allergies, these exam gloves are great for using with a mitt and sunless tanning lotion so you don't need to wash your hands every five minutes.
La Roche-Posay Anthelios 60 Cooling Water-Lotion Sunscreen for Face and Body, Water Resistant with SPF 60
Treat yourself to a superior sunscreen with SPF 60. If you've used a self-tanner with DHA and erythulose, this is a smart way to protect yourself from burning and UV damage. The La-Roche-Posay Anthelios Sunscreen lasts up to 80 minutes in water and blocks both UVA and UVB rays.
bliss Blood Orange + White Pepper Sugar Scrub
Why not make exfoliating as pleasant as possible? The bliss Blood Orange + White Pepper Sugar Scrub sloughs off dead cells and leaves skin feeling so smooth and pampered.
Mio Body Brush
Use the Mio Body Brush and you might not want to get out of the shower ever again. Mio recommends scrubbing gently for three minutes each time, three times a week.
Aquasentials Mesh Pouf Bath Sponge (8 Pack)
Get yourself a batch of 8 soft loofah bath poufs to scrub away dead skin.
Back Massager Loofah w/Detachable Handle Earth Therapeutics
Unless you're lucky enough to always have someone handy to exfoliate your back for you, this loofah with detachable handle is going to be a great thing to have for your next shower.
AHAVA Dead Sea Water Mineral Body Lotion, Travel Size
Keep your new tan as long as possible by keeping your skin hydrated and healthy. The rich AHAVA Dead Sea Water Mineral Body Lotion absorbs quickly without feeling greasy. Your skin will feel silky like never before. And if this travel size tube isn't enough, check out the full size bottle below.
AHAVA Dead Sea Water Mineral Body Lotion, Full Size
What could be better than a 17-ounce bottle of this luscious lotion?
Recommendation
Now that we've covered the top self tanners, you may find yourself having a hard time deciding between a few of them. We have a trick that usually helps us make decisions like these. Choose one that is easy for you to use, that you will look forward to trying out and repeating. If it's simple and easy and enticing, you'll enjoy it a lot more.
Conclusion
We hope that you found the perfect self tanner to get your summer started, or to chase away those winter blues. Visit us again soon to see new reviews of the best in health and personal care products.