What if a single natural product could improve your health, inside and out? This simple food burns fat, decreases bad cholesterol, and improves digestion. It balances hormones and blood sugar.
On the outside of your body, it moisturizes skin, kills yeast infections, and erases wrinkles. You can use it on your hair to make it grow strong, soft, and shiny.
This isn't a fad. Asians and Pacific Islanders have been using coconut oil for all of those reasons and more for a very long time.
Of course, it does matter what kind of coconut oil you use. The best is organic unrefined coconut oil extracted from fresh coconuts.
Although it's an oil, you may see this substance in its solid form. It looks similar to Crisco and it melts in your hand to a clear oil.
The many benefits of organic coconut oil
There are so many benefits to organic coconut oil we'd need a book to show you all of them. In the meantime, here are some highlights:
Cooking
Coconut oil is excellent for both cooking and baking. You can use it as a salad oil, too. It replaces both butter and vegetable oil in equal amounts. You can replace one cup of butter with one cup of coconut oil, a straight across trade.
Many health experts recommend consuming at least a tablespoon per day. That's also the amount you would typically use for oil pulling.
Oil pulling
Oil pulling is the practice of swishing oil in your mouth for a few minutes each day. This kills bacteria that cause gum disease and bad breath, plus it removes particles that brushing misses.
Of course, you won't want to swallow that oil when you're done with it. That's why you'll want to include coconut oil in your diet in other ways.
Weight loss
People who consume coconut oil for weight loss report success. This substance is an ideal supplement for those who want to lose pounds without suffering hunger pangs. Coconut oil balances blood sugar levels, reduces the urge to eat in excess, and encourages proper digestion.
Cellulite is still a problem for many people who lose weight. Fans of coconut oil find that it helps them reduce the appearance of cellulite because it moisturizes their skin.
Skin moisturizer
Coconut oil is an excellent skin moisturizer found in many lotions and creams. While it softens skin, it also kills bacteria that cause odors and cures yeast infections because it gets rids of fungus. This oil is a valuable weapon in the fight against signs of aging.
Not only does it moisturize skin, it can revive dry hair.
Hair growth
You can use coconut oil on your hair as a conditioner or hair mask. It revitalizes damaged hair and makes it shiny, smooth, and soft. Coconut oil can also encourage hair growth by increasing blood circulation in the scalp.
Now that you've seen a few of the best ways to get the most out of organic coconut oil, let's look at the top brands you can buy.
The top organic coconut oils
Before we dive into the best organic coconut oils, let's go over the differences between refined, cold-pressed, and so on. That way you'll know what you're getting when you purchase it.
Centrifuge-processed coconut oil comes from fresh coconut milk spun at high speeds. The spinning separates the oil from the rest of the liquid. It's the closest in taste to the original coconut, but not always ideal for cooking. It is very tasty eaten raw.
Cold-pressed coconut oil comes from grated coconut meat that is heated to a low temperature to remove the moisture. The resulting flakes of coconut are pressed to produce the oil. This is probably the most popular type of coconut oil for cooking, skin care, and hair care.
Expeller-pressed coconut oil is more processed than cold-pressed, but not as thin and weak as refined oil. It lacks most of the healthy fatty acids found in the previous two types.
Refined coconut oil might be what flavored your popcorn at the cinema. It's low-grade and cheap, not nearly as nourishing as expeller or cold-pressed oils.
That's a quick overview of the ways coconut oil is processed. Stick to the top three if you want the most benefits for your health. Now let's look at the top brands of organic coconut oil.
Viva Naturals Organic Extra Virgin Coconut Oil
Viva Naturals Organic Extra Virgin Coconut Oil is a delicious, creamy delight to use in any way at all. It's perfect for eating, oil-pulling, hair care, cooking, baking, and moisturizing.
Viva Naturals gives a lot of information about their product that you might find interesting. For example, they explain that coconut oil stays in solid form until it reaches 76 degrees F. If it warms up, then cools down again, that process does not harm the integrity or nutritional value of the oil.
The company says they harvest coconuts from the Philippines where they are grown in volcanic soil. The fresh coconuts are cold-pressed but the oil is not refined. In this way they maintain the maximum amount of MCTs as well as the pleasant texture and aroma of coconut.
MCTs are medium chain triglycerides. These are fatty acids that are very beneficial to health. Let's take a quick detour to explain them here.
MCTs are responsible for burning fat and speeding up the metabolism
They help your body absorb vitamins and minerals from food
They penetrate hair strands to strengthen them and add shine
They are natural antibiotics, both inside and outside the body
There's more to know about MCTs than just those quick facts, but it's a start. MCTs also keep coconut oil fresh for a longer shelf life than other oils. That's why Viva Naturals says their product will stay good for up to two years when stored.
Other important features of this brand of oil is that it is USDA and QAI certified organic plus it's non-GMO project verified. It's produced in a nut-free environment and packed in BPA-free containers.
Viva Naturals gives some basic instructions for using their oil in a variety of ways. They recommend consuming one to four tablespoons per day. You can use it for cooking or baking up to 350 F, replacing butter and other oils with it. And if you want to make a nourishing hair mask, apply it to dry hair and let it sit for one to two hours before you shampoo.
Nutiva Organic Coconut Oil
Nutiva's Organic Coconut Oil product information reports that their oil is cold-pressed from freshly picked coconuts, but they don't say where they source the nuts. They say their oil is non-GMO verified and USDA certified organic, plus they are a B Corp green business.
They tested their coconut oil and found it to contain 50% lauric acid and 62% MCTs (medium chain trigylcerides.
Depending on the exact product, Nutiva packages their coconut oil in BPA-free containers. Some are white HDPE plastic, some are glass, and some are clear PET plastic.
Let's take another little sidetrack into explaining lauric acid, a saturated fat that is also an MCT.
Lauric acid is effective at lowering bad cholesterol when taken internally
The body converts it to monolaurin, which is an antibiotic that can kill strep and other bacteria
When used on skin, it kills acne bacteria and fungus
While both Nutiva and Viva Naturals are two of the best-selling coconut oils manufactured for home use, the next brand is another one you may recognize.
Nature's Way Organic Extra Virgin Coconut Oil
Nature's Way Organic Coconut Oil is labeled "extra virgin." But "extra virgin" doesn't mean much, it's more of a marketing term than an actual product description. What matters is that this cold-pressed oil is USDA certified organic, non-GMO verified.
Jarrow Formulas Coconut Oil 100% Organic Extra Virgin
Like the other brands described above, Jarrow Formulas is organic and non-GMO. The oil is cold-pressed and unrefined. No solvents are used in its processing.
Kirkland Signature Organic Coconut Oil
A favorite of cooks because of its price and texture, the Kirkland Signature Organic Coconut Oil is cold-pressed, unrefined, and not treated or processed with chemicals. It's made from coconuts harvested in the Philippines and certified organic by OneCert.
The best coconut oil for weight loss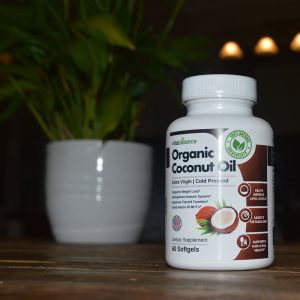 Organic Coconut Oil
If you're intent on losing weight, adding coconut oil to your diet is a sure win. It burns fat, speeds up your metabolism, helps digestion, and gets rid of bad cholesterol.
But what if you're not a fan of cooking? What if you don't enjoy coconut flavor? All hope is not lost. Instead of swallowing a couple of tablespoons a day, you can ingest it another way.
There is a supplement called simply "Organic Coconut Oil" that comes in softgels. Take one in the morning and one in the evening with meals. That's it—a very easy way to take coconut oil without cooking or eating it raw.
The best coconut oil for hair growth
People lose hair for many reasons. It could be genetic. It could happen because of illness or treatment for an illness. Over-styling and dyeing stunts hair growth. A change in hormones, too much stress, or even a change in the weather can affect hair. But coconut oil can reverse and treat hair loss.
Any of the coconut oils we listed in this review would be a good choice for treating your hair. Depending on the results you desire, here are some methods to try.
Massage into scalp to encourage hair growth
Warm up the coconut oil in your hands, then massage it into your scalp. Leave it there for at least half an hour before washing it out.
Coat the ends and lengths for softness and shine
Leave this homemade hair mask in place for at least half an hour before shampooing. Put a little bit on the tips as a leave-in conditioner.
The best coconut oil for moisturizing skin
Any of the organic coconut oils we reviewed above would be ideal for massaging into dry skin. Women can benefit from using coconut oil in their vaginal area as a moisturizer and deodorizer. Coconut oil naturally keeps bad bacteria in check.
Some users prefer to apply coconut oil on damp skin for best results. You may also like to add a couple of drops of essential oils for other health benefits. For example, a person with athlete's foot might want to combine the anti-fungal powers of both tea tree oil and coconut oil to treat their feet each morning and night.
The best coconut oil for oil pulling
Oil pulling is gaining in popularity as people experiment with it and get good results. The most common recommendation is to place a tablespoon of coconut oil in your mouth and swish it around for at least ten to twenty minutes each day.
Oil pulling is an Ayurvedic medicine technique that's been practiced for a very long time in some parts of the world. The coconut oil kills bad bacteria and cleans between the teeth. It gets rid of inflammation in the gums.
If you can't manage a whole tablespoon of coconut oil at once, start with a teaspoon. Swish for 5 minutes, then 10, until you can handle a tablespoon of oil for 20 minutes. It may take a few days to work up to this level. When you're done, don't swallow the used oil. Spit it out into the trash, then rinse or brush as usual.
If you like coconut flavor, you may prefer centrifuge pressed oil since it retains most of the aroma. But any of the cold-pressed organic oils in this article would be useful for oil-pulling.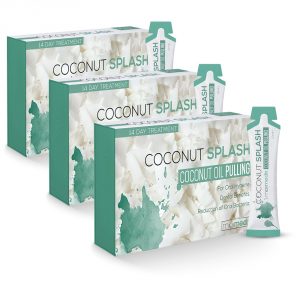 Coconut Splash
Oil Pulling in Coconut Flavour
Recommendation
When you begin using coconut oil, it's smart to use the brands that are certified organic, cold-pressed, and unrefined. You may prefer one or another because of their price or their manufacturer's business practices. Perhaps a friend can recommend their favorite brand. But whichever product you choose, coconut oil is a safe and effective way to improve your health.
Conclusion
We hope you found the perfect organic coconut oil today. Enjoy this natural product that's perfect for eating, cooking, baking, losing weight, softening your skin, and reviving your hair. Come visit us again soon to see new reviews of the best for beauty and health.