Dry skin on your face makes you look and feel older. It's hard to apply makeup, and you're prone to developing lines and wrinkles faster. You might even have acne as your skin tries to compensate for the dryness.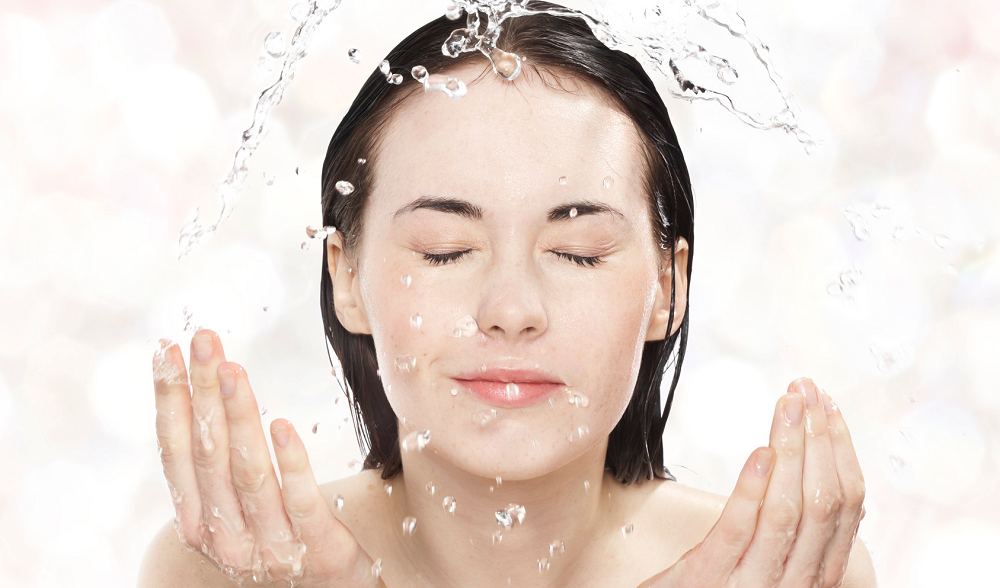 You can do a lot to help your skin improve if you use a moisturizing face wash each day, gently exfoliate on a regular basis, and apply a hydrating face lotion morning and night. You don't need soap or harsh cleansers to remove makeup, oil, and grime, or to unclog pores. There are many face washes formulated for dry skin that will do all that without stripping your natural oil.
One tip that will help you to protect your skin is to wash with lukewarm water—not hot, not cold.
What makes a face wash good for dry skin?
When you're shopping for a new face wash, take a look at the label. No matter what the ad says about the amazing qualities of that product, the ingredients will reveal its true power to help or harm you.
If the ingredients list contains SD or denatured alcohol, those will dry out your skin. Cetyl and stearyl alchohols are okay because they are "fatty" ones that condition skin.
Lots of people are avoiding products with sulfates like sodium laureth and sodium lauryl (SLS/SLES) because they can cause an allergic reaction. They make lather, but they aren't necessary to get your skin clean. When possible, we didn't choose washes with these components for our review.
Parabens and MI (methylisothiazolinone) are preservatives banned in the European Union from products that are left on skin, but are still commonly used in the USA. Since we selected face washes that are rinsed off, this concern doesn't apply, but we tried to avoid products with these ingredients anyway.
When we chose our products for this article, we looked for face washes that have a lot of positive feedback and good value for the money. We checked their labels to see if they had ingredients that moisturize and protect dry skin, like these:
Aloe vera soothes and heals irritated skin
Cucumber reduces redness and swelling
Chamomile is antimicrobial and anti-inflammatory
Vitamin E, or tocopherol, neutralizes the free radicals that cause aging
Glycerin helps skin draw in moisture from water
Jojoba oil softens skin because it's very similar to sebum, skin's natural oil
Coconut oil is naturally anti-bacterial, and it's an emollient that locks in moisture
Other natural oils like almond, olive, sunflower, and avocado are gentle, don't clog pores like mineral oil, and protect skin from losing moisture
Ceramides reinforce the skin's protective barrier to avoid moisture loss
Now that you've seen a brief overview of how we chose the best face washes for dry skin, here are the ones we selected.
The top face washes to moisturize dry skin
We'll begin with a popular Canadian product that's been delighting users all over the world.
Carapex Botanical Facial Cleanser
Carapex's Botanical Facial Cleanser is creamy and gentle on skin. It doesn't leave skin feeling dry, or like it has a residue after rinsing. Regular use seems to improve skin color and texture, getting rid of redness.
The formula uses cucumber, chamomile, and Japanese green tea extracts to neutralize free radicals, shrink pores, and fight signs of aging. The coconut, sugar beet, and corn base hydrates and softens skin. While it doesn't lather much, users say it works very well. People with sensitive skin appreciate the fact there are no perfumes and no artificial colors.
La Roche-Posay Toleriane Hydrating Gentle Face Wash Cleanser for Normal to Dry Sensitive Skin
From Canada, we'll move on to France. La Roche-Posay's products are based on thermal spring water packed with minerals, like their Toleriane Hydrating Face Wash. It won't disturb the natural pH of your skin, but it will remove makeup and impurities. The formula has glycerin, ceramides, and niacinamide to hydrate and protect skin and reduce irritation. It's gentle enough to be used twice a day, and it's free from perfumes, oils, sulfates, and parabens.
Hada Labo Tokyo Gentle Hydrating Cleanser
And now, here is a popular product from Japan. The Hada Labo Tokyo company says they have the number 1 skin care line in Japan. Their Gentle Hydrating Cleanser is making a splash in the USA. Users say it's great because it lathers up nicely and takes off makeup, but leaves their skin feeling soft and supple.
The ingredients list mentions methylisothiazolinone, but the formula doesn't contain an artificial fragrance, parabens, alcohol, dyes, or mineral oil.
Cetaphil Gentle Skin Cleanser
If you have dry skin and it's sensitive, too, try the Cetaphil Gentle Skin Cleanser. It's designed for all skin types as well as people of any age group. It's hypo-allergenic, non-comedogenic, and has no scent. In other words, you could buy this and share it with the whole family.
People suffering with psoriasis, rosacea, and eczema say they enjoy using this face wash. It moisturizes, and removes dirt and makeup, but doesn't remove all the skin's natural oil. You can use it without water because it doesn't need to rinsed away.
Garnier Clean+ Smoothing Cream Cleanser For Dry Skin
Garnier's Clean+ Smoothing Cream Cleanser sounds just as soothing as users say it is. The majority of comments report that it makes their skin feel soft and clean without causing breakouts.
The formula has jojoba and macadamia oils to nourish, glycerin to help moisture sink in, and salicylic acid to keep pores clear. Unfortunately, it also contains parabens.
Era Organics Natural Face Wash
Era Organics Natural Face Wash helps dry and sensitive skin heal and soften. It's formulated to have the same pH as your face, around 5.5. It avoids ingredients like sulfates, parabens, and fragrances. Instead, it has Vitamins A, B, C, D, and E plus aloe vera and Manuka honey. The honey is a natural antibiotic.
EltaMD SKINCARE Foaming Facial Cleanser
Users who have tried EltaMD's Foaming Facial Cleanser say their skin doesn't feel tight after they rinse it off. Instead, this wash seems to be very mild. It leaves their skin soft.
EltaMD says the formula is pH-balanced to avoid drying out skin. It has bromelain and amino acids from apples that clean off excess oil, makeup, and grime naturally. It's gentle enough to be used morning and night.
Vanicream Gentle Facial Cleanser
Vanicream's Gentle Facial Cleanser avoids all the usual suspects like dyes, fragrances, lanolin that can clog pores, parabens, sulfates, formaldehyde and formaldehyde releasers, plus other preservatives. Users say it leaves skin feeling and looking clean and soft. It's pleasant to use because it makes a light foam when mixed with water.
CeraVe Foaming Facial Cleanser
CeraVe Foaming Face Cleanser is often compared to Cetaphil's face wash. Both brands are frequently recommended by dermatologists. CeraVe is registered with the National Eczema Association as a safe product for sufferers of this skin condition.
The formula contains hyaluronic acid to moisturize skin. Hyaluronic acid is a natural component found in human skin, but its levels can diminish with age or exposure to harsh environmental factors. Putting a new dose of it on skin helps hydrate. Niacinamide, or Vitamin B3, reduces redness, while ceramides to help your skin protect itself.
Clinique Liquid Facial Mild 6F37 Soap
Clinique's Liquid Facial Mild Soap is designed to clean away the day without stripping skin bare of its natural oils. Users say it makes their skin feel very soft.
Kiss My Face Creamy Face Cleanser Clean For A Day
Kiss My Face has been in the organic product business for more than two decades. Their Creamy Face Cleanser smells like citrus and vanilla and goes on smooth. Users say it makes their faces feel clean and soft, and it even clears up acne.
The formula avoids all the problem ingredients and it is cruelty-free. It's concentrated on natural moisturizing components like aloe, sunflower oil, cassava, glycerin, vanilla, shea butter, jojoba oil, and cocoa butter.
Vichy Normaderm Daily Deep Cleansing Gel Cleanser with Salicylic Acid
Vichy Normaderm Daily Deep Cleansing Gel Cleanser will help you get rid of dry skin so your face looks and feels younger and healthier. It has 0.5% salicylic acid, glycolic acid, and LHA to exfoliate dead skin and unclog pores to get rid of blackheads. There are no parabens nor alcohol in the formula. It's gentle enough to use twice a day.
Billy Jealousy White Knight Gentle Daily Facial Cleanser for Men
Billy Jealousy's White Knight Gentle Cleanser is made for normal to dry skin and it doesn't contain sulfates, colorants, parabens or artificial fragrances. Users say just a little bit goes a long way. They've also commented that the bottle takes getting used to because of its unusual design. The formula contains willow bark extract and apple amino acids to remove grime and dead cells without stripping moisture from skin.
Simple Kind to Skin Facial Wash, Moisturizing
From the United Kingdom comes Simple's Kind to Skin Moisturizing Facial Wash. Users say it removes makeup and leaves their skin soft and clean without extra scrubbing. The formula has triple purified water as its base, something true of many Simple products. When humectants in the formula draw this into your skin, they are pulling in very pure water indeed.
The label also lists bisabolol, a derivative of soothing herb chamomile, plus Vitamins B5 and E to calm and protect your skin. There is no artificial scent, no parabens, and no sulfates.
Simple Kind to Skin Cleansing Water
Simple's Kind to Skin Cleansing Water is micellar water. It has microscopic particles of non-comedogenic oils called micelles suspended in a solution of purified water. These molecules bond with dirt and oils on skin and make it easy to wipe off makeup and grime. As a result, micellar water is like a cleanser and a toner all in one.
Micellar water doesn't dry out skin—it hydrates it. And you don't need to rinse it off afterward. Even after just one use, you'll notice a difference in the texture of your face. It's so good it won Allure's Best of Beauty Award in 2015.
Simple's formula can remove makeup while it cleans and refreshes your face. If you've had poor results and dry skin from using other kinds of face cleansers, give micellar water a try. Besides Simple's version, there are other brands on the market.
Bioderma Sensibio H2O Water for sensitive skin
Bioderma sells two kinds of micellar water: the Sensibio for sensitive skin, and the teal-colored Sébium water for combination and oily skin. There are some differences in their formulas. The Sensibio seems to work better on dry skin, and it's not quite as effective at removing makeup as the Sébium. But some people prefer the Sébium if they have both dry skin and some oily patches like their T-Zone.
Bioderma Sébium H2O Water for combination skin
The Bioderma Sébium H20 Water is formulated for combination and oily skin. Some users who tried both Sensibio and Sébium said that the Sébium micellar water keeps their oily T-Zone under control for longer.
Garnier Micellar Cleansing Water
Garnier's Micellar Cleansing Water is okay to use on your eyes and lips to remove makeup. It has no fragrance and no alcohol, and it leaves skin feeling soft and looking radiant.
Pure Body Naturals Beauty Dead Sea Mud Mask for Facial Treatment
It's not a face wash, but it's something that will help clear up your dry skin in no time. The Pure Body Naturals Mud Mask contains minerals from the Dead Sea like sodium, potassium, calcium, and magnesium. These minerals enhance circulation to renew skin. The mask lifts out impurities and toxins that accumulate in pores and exfoliates dead cells.  Plus, it has jojoba and sunflower oils to soften skin. Pure Body Naturals recommends using the mask once or twice a week after cleansing. Let it dry for up to 20 minutes, then rinse it off with warm water. Don't forget to moisturize when you're done.
Conclusion
We hoped we helped you choose the best face wash to heal and protect your dry skin. Visit us again soon to see new reviews of top personal care and beauty products.