Lots of people understand the challenges of combination skin because it's very common. Some areas like your nose and forehead are too oily. Other places like your cheeks are too dry. Some face cleansers do a good job of washing away the grease, but they leave your skin stiff. Others hydrate skin too much so your T-zone gets greasy again right after your wash.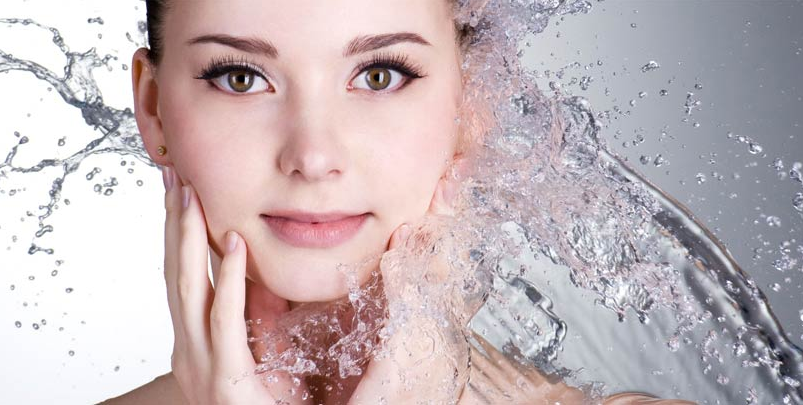 You need a new face cleanser without alcohols and harsh ingredients, something light and water-based. Some face washes include plant-based oils that lift away grime and oil and dissolve makeup. If you have problems with clogged pores and blackheads, look for washes that contain salicylic or glycolic acid to gently exfoliate dead cells. You could also try using an electronic cleansing brush to help unclog your pores. And one little tip: use lukewarm water for washing because it's less irritating to skin.
You may always have combination skin, but you can manage it with the right tools. Check out our reviews of the best face washes for combination skin below.
The top face cleansers for combination skin
We'll start our reviews with some of the gentlest face washes on the market. If you have combination skin that's prone to breakouts, try these first as they won't cause extra oil production, or over-dry the rest of your face.
Cetaphil Gentle Skin Cleanser
Cetaphil's Gentle Skin Cleanser is formulated for all skin types and people of all ages. It's hypo-allergenic, non-comedogenic, and has no scent.
People suffering with psoriasis, rosacea, and eczema have reported success using the Gentle Skin Cleanser. It moisturizes and removes dirt and makeup, but doesn't strip off all the skin's natural oil. if you're camping, you can use it without water because it doesn't need to rinsed off—but it's best if you are able to rinse away all the impurities.
CeraVe Foaming Facial Cleanser
This is another gentle face wash. The National Eczema Association recommends CeraVe Foaming Face Cleanser to people suffering with many kinds of skin disorders like eczema. It contains hyaluronic acid to moisturize, niacinamide (Vitamin B3) to reduce redness, and ceramides to help your skin form a natural barrier to protect itself and stay hydrated longer.
Since it moisturizes as it cleans, your skin won't feel the need to overproduce oil. Many users report that their skin feels very clean, but a little stiff, after they use it. Remember to apply moisturizer after you rinse and dry your skin.
La Roche-Posay Effaclar Purifying Foaming Gel Cleanser for Oily Skin
La Roche-Posay's Effaclar Purifying Foaming Gel Cleanser is also very gentle and effective. It doesn't change your skin's pH balance, and it doesn't contain oils or alcohols that would cause more oil production.
They say their key ingredient is zinc pidolate that lifts impurities from your skin and clears up excess oil. For best results, wet your skin with lukewarm water and massage the gel onto your face. Let it sit for a few minutes, then rinse it off, again using lukewarm water.
EltaMD SKINCARE Foaming Facial Cleanser
EltaMD's SKINCARE Foaming Facial Cleanser is also oil-free and pH-balanced. It doesn't have parabens, MI, or sulfates. It's safe for all skin types and made for both men and women. You can use it twice a day.
The formula contains apple amino acids and bromelain to dissolve mascara and foundation, plus remove excess skin oil and dirt. Users say it leaves their skin soft and feeling clean.
Vanicream Gentle Facial Cleanser
Vanicream's Gentle Facial Cleanser is often recommended by dermatologists to patients suffering with psoriasis and dermatitis, but it's made for all skin types. Users with combination skin report that it removes makeup with a nice light lather and leaves skin feeling soft, not stiff.
Micellar (miracle) water
We're going to interrupt our regularly scheduled reviews to discuss water. If you haven't tried micellar water yet, please do. It feels amazing on skin, it revives dry skin to look dewy fresh and radiant, but keeps oily skin under control, too. You're likely to find a travel size bottle and end up wishing you'd bought the quart-size.
What is Micellar water? It's a miracle solution for people who have problems using other kinds of face cleansers. People with combination skin find it especially soothing. It contains microscopic particles of non-comedogenic oils called micelles that are suspended in a solution of purified water. These little particles bond with dirt and oils on skin so it's easy to wipe off makeup and grime. The process doesn't dry out skin at all—it hydrates it. And you don't need to rinse it off afterward. Even after just one application, you'll see a visible difference in the texture of your face.
Bioderma Sensibio H2O Water
Bioderma sells two kinds of micellar water: the Sensibio for sensitive skin, as well as the Sébium water (reviewed below) for combination and oily skin. There are some differences in their formulas. The Sensibio seems to work better on dry skin, and it's not quite as good at removing makeup as the Sébium. But skin looks and feels softer after just one use, plus aging skin seems to age backward with continued use.
Bioderma Sébium H2O Water
The Bioderma Sébium H20 Water is formulated for combination and oily skin. It's quicker at removing makeup, although it takes longer on waterproof mascara. You make have to hold a cotton pad soaked in the water against your lashes for up to 30 seconds.
Some users who tried both kinds of Bioderma's micellar water said that the Sébium water keeps their oily patches under control for longer. You can use moisturizer over the top once the water has dried. If the water alone isn't doing enough for your oily skin, use their Foaming Gel cleanser as a second cleaning after you wipe away the day with micellar water.
Bioderma Sébium Foaming Gel Pump
Combine the Sébium micellar water with the Sébium Foaming Gel to slow down the production of sebum, the "oil" on your face.
Sebium Gel has two ingredients not often seen in face washes: zinc sulfate and copper sulfate. These purify skin and help it faster. These are not the infamous sulfates (like SLS, or sodium laureth sulfate) that can irritate skin.
Garnier Micellar Cleansing Water
The Garnier Micellar Cleansing Water is safe to use on your eyes and lips, as well as the rest of your face. It has no fragrance and no alcohol.
Garnier says the method for using it is, "Pour, Press, Proof," or putting it on a cotton pad, pressing it against your skin, then wiping gently. You'll see the proof that the water works when you look at the cotton pad. Users say their skin feels refreshed and soft after using it.
CLINIQUE Take The Day Off Micellar Cleansing Towelettes for Face & Eyes
Instead of soaking cotton pads with Micellar water, use these pre-moistened wipes from Clinique instead. They aren't designed to replace a regular face care regimen, but are super handy for using on the go.
Amara Organics Facial Cleanser with 15% Vitamin C
If you choose the Amara Organics cleanser, you'll notice that it doesn't lather up much because it doesn't have sulfates in its formula. (Yes, those sulfates—SLS, the skin irritant.) It doesn't have parabens, dyes, or artificial fragrances either. It's vegan and cruelty-free. And it can even remove long-wear makeup.
The main ingredients are aloe to soothe skin, rosehip oil to nourish, and the tea tree (melalueca) oil that gives it a little tingle as it fights inflammation or acne. Amara Organics offers a 100% money-back guarantee if you're not satisified with their product.
Vichy Normaderm Daily Deep Cleansing Gel Cleanser with Salicylic Acid
Vichy Normaderm Daily Deep Cleansing Gel Cleanser has 0.5% salicylic acid plus glycolic acid and LHA to exfoliate dead, dry skin and clean pores. There are no parabens nor alcohol in the formula so you can wash with Normaderm twice a day.
Neutrogena Oil-Free Acne Wash Pink Grapefruit Cream Cleanser
This is a new version of Neutrogena's famous Pink Grapefruit face wash. This Cream Cleanser lathers up nicely to remove oil, dirt, and makeup. It unclogs pores to get at the root of blackheads and acne with the power of 2% salicylic acid. And it still smells like pink grapefruit.
Olay Foaming Face Wash
Olay's Foaming Face Wash is inexpensive but it works very well. Some people have used it for more than a decade to care for their skin. It's great for combination skin because it contains witch hazel. That's a natural astringent that will shrink your pores and reduce inflammation.
St. Ives Naturally Clear Blemish and Blackhead Control Scrub, Apricot
St. Ives Naturally Clear Scrub is very popular because it's gentle but it does a great job of exfoliating. You might not want to use it every day, but add it to your face care regimen for twice a week treatments.
Conclusion
We hope you found the perfect face wash today. It's fun to try something new. Check back soon to see new reviews of the best in beauty and skin care products.