It's difficult to deal with combination skin on your face. Some parts, like the T-zone, are too oily. Other areas, like cheeks, are too dry. Some creamy moisturizers seem to make the oily parts even worse, while other lightweight lotions don't hydrate the dry patches enough. That's why you need the best moisturizers made especially for combination skin.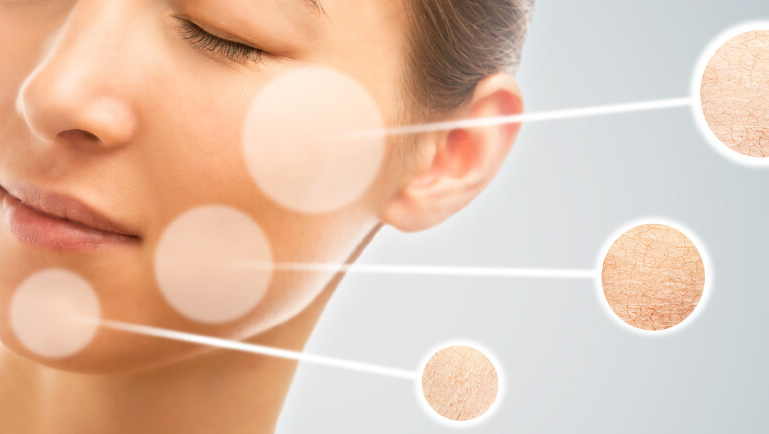 Most of these moisturizers will have one thing in common—they are water-based so they don't clog pores or aggravate acne. Their other ingredients vary. Some have sunscreen, some are lightly tinted to serve as foundation. But all of them are formulated to evenly moisturize your face.
Do you have combination skin?
Combination skin is very common. Besides having a greasy T-zone and dry as the desert cheeks, here are other indications that you have it:
Within half an hour after you wash your face, some parts are shiny while others are not
The pores on your nose are larger than the pores on your jawline and cheeks
Your T-zone reacts to the weather, so hot weather means even more oil
You've witnessed acne breakouts and dry spots on your skin at the same time
If those things describe you, here's a little advice on how to stop the see-saw of face care and bring your face into balance.
The best way to care for combination skin
Although it's tempting to wash away the oil with harsh soaps or dry them up with alcohol-based toners, you'll only irritate your skin. Irritating your skin will result in a greasier T-zone and acne outbreaks.
The same goes for your dry patches—putting oily creams on them won't stop the problem either because you can cause acne there, too.  Invest in a gentle cleanser and gentle moisturizers (take a look at the reviews below). Then try these steps:
Morning and night, cleanse, tone, and moisturize. Use a toner with witch hazel instead of alcohol. (A gentle one is listed at the bottom of these reviews.)
Your daytime moisturizer should contain sunscreen if you're outdoors. Gel moisturizers are refreshing, they don't clog pores, and they mattify the oily spots. Your night cream or serum can be heavy-duty, but avoid oily ones. Try one with retinol if you suffer with acne.
Take off makeup at the end of the day, even if it's "long-wearing." Get some decent makeup remover so you're not tempted to skip this step when you're tired.
Exfoliate once or twice a week to open pores, clear away acne, and stimulate circulation. Your skin will absorb the moisturizer better afterwards.
Stick with the program and you'll see pleasing results within a few days or a couple of weeks. And now, to help you choose one of the top moisturizers, here are the reviews.
The top moisturizers for combination skin
If you have combination skin and it's very sensitive, this first one may be your best bet for daytime use.
Cetaphil Fragrance Free Daily Facial Moisturizer, SPF 15
Cetaphil is made by pharmaceutical company Galderma and it's a brand that's often recommended by dermatologists. The Fragrance Free Daily Facial Moisturizer is very light and non-greasy. You can wear it under makeup with no problems.
The lightweight SPF 15 formula shields you from both UVA and UVB rays as you go about your everyday life (but you might want something stronger for a vacation at the beach). The active sunscreen ingredients are Avobenzone 3% and Octocrylene 10%. When you apply the moisturizer to your face, just keep it away from your eyes because of these two chemicals that can irriate them.
While the Cetaphil formula hydrates your face, it also helps reduce the appearance of fine lines and wrinkles. It contains the humectant glycerin and Vitamin E, but doesn't contain parabens.
Paula's Choice SKIN BALANCING Invisible Finish Moisture Gel Moisturizer
Paula's Choice products are popular in part because the company does a great job of explaining what their ingredients are, what they do, and why they work. If you read the label on the SKIN BALANCING Gel Moisturizer, you'll see what we mean. You may also notice that there are no parabens in this formula, no fragrance, and no alcohols, either.
The Gel Moisturizer is designed to hydrate your face in a balanced manner and make pores less visible. It feels light and refreshing. Use it as your night-time moisturizer to keep your skin happy while you sleep.
Själ Cela Intuitif Light Cellular Renewal Crème
Själ Cela's Intuitif Crème is another excellent night-time moisturizer, but you can also use it in the morning. It's packed with anti-oxidants to reverse signs of aging. The formula stimulates collage production to erase wrinkles. The natural fruit acids exfoliate dead, dry skin to unclog pores and make skin feel soft and look young. It also evens out skin tone with pearl and licorice.
Philosophy Renewed Hope In A Jar Moisturizer for Unisex
Fans of Renewed Hope In A Jar love the way their skin feels fresh, soft, and healthy when they use it. The ingredients include alpha hydroxy acids to shrink pores and fine lines while it hydrates skin. You can use it both morning and at night. The formula doesn't have parabens, sulfates, or phthalates.
L'Oreal Paris Hydra Genius Daily Liquid Care for Normal/Oily Skin
L'Oreal Paris' Hydra Genius Daily Liquid Care is made for combination skin. One application can last up to 72 hours—but that doesn't mean you shouldn't use it every day. It actually means the effects last up to 3 days.
The formula contains aloe and hyaluronic acid for a blast of nutrients and hydration. Customers love its soothing effect on their skin, plus its price is considerably lower than some of the moisturizers we've reviewed up to this point.
The Body Shop Seaweed Mattifying Day Cream
The Body Shop's Seaweed Mattifying Day Cream keeps oily areas under control without making the rest of your face look too dry. It absorbs into skin quickly and feels lightweight. Just a little goes a long way.
La Roche-Posay Toleriane Fluide Daily Soothing Oil-Free Facial Moisturizer for Sensitive Skin
La-Roche Posay is another brand often recommended by dermatologists. Their Toleriane Daily Soothing Facial Moisturizer is based on thermal spring water and made especially for sensitive skin. There are no fragrances or preservatives to cause irritation. Some users find it to be the only real solution for managing their combination skin.
Christina Moss Naturals Facial Moisturizer
Christina Moss' Naturals Face Moisturizer can be used both day and night by both men and women. It's free of parabens, petrochemicals, sulfates, dyes, synthetic fragrances, synthetic preservatives, and propylene glycol. It's also cruelty-free.
The moisturizer has a natural scent of licorice because that's the natural preservative they use. The other ingredients sound just as tasty: (certified organics) aloe barbadensis leaf (aloe vera) juice, prunus armeniaca (apricot) kernel oil, vitis vinifera (grape) seed oil, persea americana (avocado) oil, glycerin (vegetable), stearic acid (vegetable), emulsifying wax made from organic coconut oil and organic almond oil), and pimpinella anisum (star anise) seed oil.
Olay Hydrating Gel
Oil of Olay's Hydrating Gel is super lightweight and refreshing on skin. It has essences of honeysuckle and white tea to soothe skin and shrinks pores. The gel includes a powder that helps control oil and brighten without changing skin tone).
Origins VitaZing SPF 15 Energy-Boosting Moisturizer with Mangosteen
Origins' VitaZing is a lightly tinted face moisturizer that evens out your skin tone and makes your skin look radiant. Users say they can go all day without oily zones getting greasy and yet their skin feels hydrated.
The formula does not contain parabens, sulfates, synthetic dyes or fragrances, petroleum derivatives, GMO products, or triclosan. It does contain sunscreen against UVA and UVB based on Avobenzone 3.00%, Octisalate 3.00%, and Octocrylene 2.70%.
Jolie Mineral Sheer Tint SPF 20 Tinted Moisturizer (Medium)
Jolie's Mineral Sheer Tint is also a tinted moisturizer with sunscreen like the Origins product above. This formula is designed to serve as a foundation if you choose to wear it as such. It comes in 7 shades to match light to dark medium-tone skin.
The moisturizer has antioxidants like Ginkgo Biloba, Ginseng, and Vitamins A and E that protect against aging while it hydrates your skin.
Mineral Fusion Facial Moisturizer, SPF 40
Instead of depending on chemical sunscreen ingredients like avobenzone, the Mineral Fusion Facial Moisturizer offers heavy-duty SPF 40 protection with the power of minerals. It uses zinc oxide and titanium dioxide to protect your skin from UV rays.
The formula has collagen-boosters and anti-oxidants to make skin look younger, plus other hydrating ingredients in a formula appropriate for sensitive skin. There are none of the usual irritants here, no gluten, parabens, talc, synthetic fragrances or dye, SLS, or phthalates. It's also cruelty-free.
Mario Badescu Oil Free Moisturizer SPF 17
Mario Badescu's Oil Free Moisturizer plus SPF 17 has no fragrance and protects against both UVA and UVB rays. It soothes skin with balsam peru, an extract from a South American tree. This ingredient is mildly antiseptic and helps heal dry or irritated areas.
Simple Gel Moisturizer, Ultra Light
For a very lightweight moisturizer, try this gel from Simple. It doesn't contain oils, perfumes, or parabens. Instead, it's built on glycerin and Vitamins B5 and E.
Users say it's very light on their skin, it doesn't feel oily at all, and it doesn't doesn't cause breakouts or irritation. It's good for all-day hydration.
Face Cream Moisturizer Natural Anti Aging Skin Care from LilyAna Naturals
LilyAna Naturals takes their commitment to healthy ingredients seriously. They use organic components whenever possible and they leave out parabens and artificial fragrances. Their Face Cream Moisturizer is aimed at adults who have begun to see signs of aging and want to erase those lines and wrinkles and age spots. It can be applied both day and night.
The formula is made to be non-irritating and safe for all skin types, even sensitive skin. You can place it in the refrigerator for an even more refreshing experience. It contains rose distillate, aloe vera, Vitamins A, B5, B3, E and C, orange extract, kosher vegetable glycerin, avocado oil, meadowfoam seed oil, and Coenzyme Q10. If the ingredients seem to have separated, it's because there's none of the usual chemicals in the jar. Simply mix it up before you apply it.
Aveeno Positively Radiant Daily Moisturizer with Sunscreen Broad Spectrum SPF 15
Maybe you've been using Aveeno since you were a kid. In that case you already know their Positively Radiant Daily Moisturizer is good stuff. It works on all skin types, not just combination skin (although combination skin is basically all skin types rolled into one).
The ingredients don't just hydrate your face and protect it from the sun, they make your skin tone look more even. Those reddish areas and those brownish areas fade so your face looks brighter and healthier.
Carapex Botanical Facial Moisturizer
Users who wear makeup have said this Botanical Facial Moisturizer from Carapex makes their makeup go on easier. They like its smooth, lightweight feel, and the way their skin feels softer.
Carapex says the moisturizer is free from dyes, sulfates, fragrances, parabens, and was never tested on animals. Its water-based formula contains all natural plant oils like avocado, olive, sunflower, grape seed, mango seed, and almond, that don't clog pores or make skin greasy. It also contains shea butter and hyaluronic acid to help skin hydrate and retain moisture longer.
Thayers Alcohol-free Unscented Witch Hazel Toner
At the beginning, we mentioned using a toner to keep an oily T-zone under control. Thayer's Toner is made from Witch Hazel, a natural astringent, that shrinks pores. It feels refreshing if you apply this right after washing and drying your face.
Conclusion
We hope you discovered the ideal moisturizer for your combination skin. Stick with your determination to take care of your face the way it deserves and you'll see results in time. Come back again soon to view new reviews of the best and newest products in beauty and personal care.