If you are suffering from hair loss, for sure, you have tried several approaches in the past. Among others, one of the most promising is the use of a shampoo that is designed specifically to encourage growth of thicker and longer hair. Nonetheless, keep in mind that not all shampoos are created the same. You need to look at their ingredients and formulation to be assured of their effectiveness.
On the lookout for the best DHT blocker shampoo for hair growth? I got you covered for the rest of this post. In this buying guide, I will let you know what exactly is DHT and what it can do to combat hair loss. The main section, meanwhile, will identify some of the top products that you might want to include in your list of choices.
What is DHT?
DHT is short for Dihydrotestosterone, which makes it a derivative of testosterone, a male hormone. For this reason, DHT hair loss is a problem in which men suffer. It can lead to a condition known as male pattern baldness. It is not exactly testosterone. Rather, it is a modified and more active form of the male hormone.
While DHT can be the culprit, it is important to take note of the fact that the latter is not that bad at all. In fact, it is needed by men to become men. It is known as a sex steroid, which makes it assume a significant role in puberty. It is the one that is responsible for the growth of facial hair and lowering voice, among other changes that can be experienced by male adolescents.
How Does DHT Blockers Work?
When you age, one of the things that you can experience is having more prominent DHT. When DHT is blocked, it stops connecting to the hair follicles, and this is one of the reasons by which damage will be less likely to happen. With this, the DHT will only be floating in your body or bloodstream and will not reach your head, which allows it to prevent hair loss.
In addition, the DHT blocker also inhibits the production of its by-product. It prevents the conversion of testosterone to DHT. It also reduces the production of substances with alpha-5.
If there is one important thing that should be noted about the use of DHT blockers shampoo, however, it would be the fact that it only prevents hair loss from getting worse. It does not replenish hair that you have already lost. For the hair to regrow, the use of shampoos that block DHT should be complemented with taking certain vitamins and undergoing effective treatments.
Possible Side Effects
DHT is a hormone that is healthy and normal. Despite this, however, it is inevitable that there are still common side effects. The good thing is that most of these side effects are minor and will not cause too much of a problem.
Because DHT is basically a male testosterone, blocking it from the body can cause problems like lower libido, weaker erections, penile shrinkage, and decreased sperm volume. These side effects, however, will only be common if you take DHT blockers in the form of medicines. When used in the form of a shampoo, DHT blockers will not have significant adverse effects.
Top Picks for Shampoos that Block DHT
If you are unsure of which shampoo will prove to be the best choice, below are some of the products that you might want to consider.
Art Natural Argan Oil Shampoo
With multiple DHT blockers, this is one of the top picks for an effective shampoo against hair loss and to promote hair growth. Some of the ingredients that make this possible include argan oil, aloe vera, green tea, and lavender. To add, it should also be noted that it is free of parabens and sulfates.
To be specific, this shampoo is a great choice in combatting male pattern baldness. It has oils and extracts, which help to restore thinning hair. More so, with DHT blockers, the shampoo improves the supply of blood in the hair follicles to avoid hair loss.
Argan oil is the main ingredient in this shampoo. It has Vitamin E and fatty acids, which deliver an abundance of benefits to promote healthier hair growth. Along with other ingredients with cooling and anti-inflammatory functions, this oil can make your hair thicker and healthier.
Hair Restoration Laboratories DHT Blocking Shampoo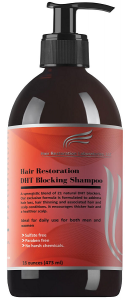 This sulfate and paraben-free shampoo is specially formulated for daily use. It contains an impressive blend of 21 DHT blockers, which is significantly higher compared to what you can find in most of its competitors.
One of the key ingredients in this shampoo is salvia miltiorrhizia root extract, which can help improve the circulation of the blood in your hair follicles. It also has camellia japonica seed oil, which is a potent antioxidant that blocks DHT.
Lastly, if you are still unconvinced, one thing that can change your mind is the fact that the manufacturer is offering a 30-day money-back guarantee.
Majestic Pure Hair Loss Shampoo
This shampoo is made of 14 broad-spectrum DHT blockers, which can be attributed as one of the reasons why it can deliver a high-level of effectiveness. It provides natural nourishment with the use of herbal products that will be gentle on the scalp and hair.
To block DHT, it uses nourishing ingredients with a critical role to play in hair growth. For instance, it has biotin, which can help to make the hair strand stronger. To add, there are also botanical extracts for the healthy growth of your hair. Other notable ingredients include saw palmetto, B-vitamins complex, and nettles extract.
Taking a look at the ingredients that are used, you will also see that there are no parabens and harsh chemicals, which can provide you with the confidence that it can promote healthier hair without using toxic ingredients.
Pura D'or Anti-Hair Loss Shampoo Gold Label
This shampoo, which is specially formulated to fight hair loss, contains 15 DHT blockers. It is also vitamin-infused, which makes it more effective in promoting healthy hair. Some of the key ingredients that are used in this shampoo include biotin, argan oil, pumpkin seed, nettle, and black cumin seed.
One of the best things about this product is that it has undergone a clinical study, which means that its effectiveness is backed with facts. A research has been conducted, proving that this shampoo is indeed capable of doing the things that the manufacturer claims.
This shampoo is gentle, but effective. It relies on the use of natural ingredients that will not have adverse effects due to chemical content. Aside from hair growth, they can also help in preventing the hair from being frizzy.
Pura D'or Organic Argan Oil Shampoo
This hair loss prevention therapy shampoo comes with 12 DHT blockers. It is made of natural and organic ingredients that can help to nourish the follicles and prevent hair from thinning, especially as a result of aging.
Aside from DHT blockers, it has a wide array of ingredients that are effective in improving absorption and maximizing effectiveness. For instance, it also has biotin, which can make the hair strands stronger, and niacin, which can improve circulation.
Another ingredient that is worth giving emphasis is argan oil, which is referred to as liquid gold. The latter contains Vitamin E and essential fatty acids, which are the reasons why they are effective in triggering hair growth.
Ultrax Labs Hair Surge Stimulating Shampoo
The main ingredient in this shampoo that is capable of blocking DHT is saw palmetto, which has proven to be effective in several clinical studies. It blocks 5-alpha-reductase, which is basically the one that aids in the conversion of testosterone to DHT.
Another ingredient worth noting is caffeine. According to several studies conducted in the past, caffeine helps in the extension and stimulation of the life cycle of the hair follicles, which is why it can help against hair loss. It will make the hair thicker and stronger.
More so, this shampoo also contains ketoconazole. It is a common ingredient in anti-dandruff shampoos. It has also been proven to be effective in fighting thinning hair.
Lastly, it is a good shampoo because of the 100% satisfaction guarantee offered by the manufacturer.
Vitamins Hair Growth Shampoo
Among others, one of the reasons for the effectiveness of this DHT-blocking shampoo is the use of Procapil, a patented formula. The latter is the one that is responsible for growing hair by up to 121% and stopping hair loss to up to 47%. This is backed by a clinical study.
As a DHT blocker, there are different ways by which it will act to fight hair loss. For instance, it will reduce the production of DHT. More so, it will also aid in the improvement of the blood supply to your hair follicles.
Lastly, to be convinced that this is indeed an excellent alternative, it is also good to know that the manufacturer is offering 100% money-back guarantee. This will be an assurance of your satisfaction. If you are unhappy in any way with the product, the manufacturer will issue a refund.
Groganics DHT Grow Thick Shampoo
With this DHT blocker shampoo, you will have healthier and thicker hair in no time. This is considered as a hair fattening shampoo, which will be effective in increasing volume and thickness to combat hair loss.
The product is manufactured in the United States, which can provide you with an assurance that it has top-notch quality. It is made in such a way that it can work even in color-treated hair and will not cause damage in any way.
This shampoo works not only by blocking DHT, as the latter will not be enough for invigorating hair growth. It stimulates the hair follicles by blocking DHT, and hence, prevents baldness. It also provides the essential nutrients that are needed by your scalp and hair.
Sovanni Hair Loss Shampoo
This 2-in-1 shampoo promises to prevent hair loss while also promoting hair growth. To make this possible, the manufacturer uses a long list of ingredients that are effective in blocking DHT. Some of the best examples of the latter include saw palmetto and organic tea tree oil. It also has biotin, keratin, and caffeine.
If you have a colored hair, there is no need to worry about using this shampoo. It is safe for color-treated hair. To add, it is also hypoallergenic, which lessens the likelihood that there will be adverse effects from the use of this shampoo. More so, it is sulfate-free and does not contain parabens.
Lastly, it will also be good to know that the manufacturer is offering a 100% satisfaction guarantee for up to 30 days upon purchase.
Hair Stem DHT Blocking Hair Growth Shampoo
This shampoo makes use of herbs with the main function of suppressing DHT, which can improve circulation and the hair follicles. It has liquid formulations, which are also anti-microbial and anti-inflammatory.
Some of the main ingredients that are used in this shampoo include tea tree, L-arginine, biotin, and saw palmetto.
Lastly, the company has invested in more than 14 years of research to come up with this shampoo. It is also clinically-tested, which is why there is no reason to doubt that it is indeed capable of delivering excellent outcomes.
Conclusion
At this point, I hope that it is already easier for you to choose which shampoo can be effective in blocking DHT and helping in hair growth. There are many products that are available on the market, but you have to be a responsible buyer to determine how one is different from the other.