Dip powder nails are making a big comeback. Everyone is realizing that their durable gel-like finish lasts for two weeks or longer. And they are an especially good polish for nails that are weak and brittle.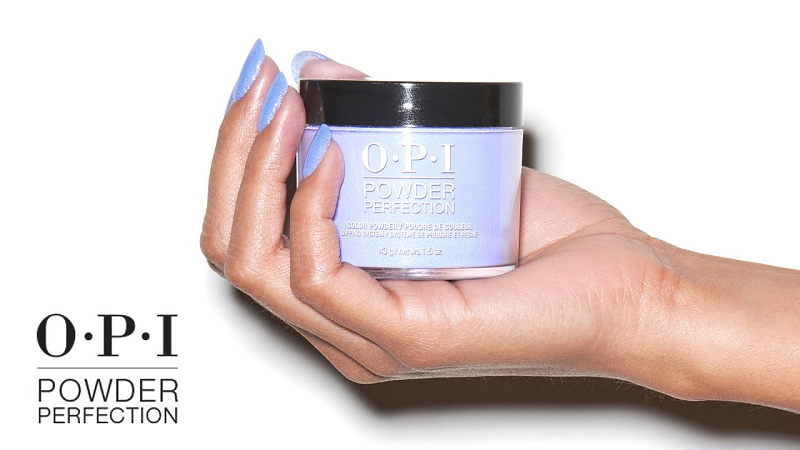 The OPI Powder Perfection system is growing in popularity. Their liquids and powders don't have the strong odor of acrylics, and they don't require UV light to cure. As a result, OPI's dip powder nails are healthier for both the client and the manicurist.
What is Powder Perfection?
OPI's dip powder system relies on a series of coats to build up the finish on nails. Their dipping powder is made from polyethyl methacrylate and polymer powders instead of acrylate copolymers like acrylic nail polishes. OPI also uses a resin as a base coat, and an activator to cure the base coat, the powder coatings, and the top coat.
How does the OPI dip powder system work?
In other words, once the nails are prepped and ready, the OPI process goes like this:
Brush the liquid base coat onto a single nail, then dip that nail at a 45-degree angle into the colored powder
Tap off the extra powder, then move on to the next nail
Use a dry brush to remove excess powder from that hand, then repeat the above steps (can use clear set powder too)
Apply the liquid activator and let it dry while working on the other hand
Return to the first hand and lightly contour and buff
Apply one more coat of the activator and let it dry
Finish by applying the liquid top coat twice to each nail, allowing it to dry between coatings
An experienced nail tech can complete an OPI manicure in 30 minutes, including prep time to remove any old polish. But professionals aren't the only people interested in OPI. Many customers love being able to do a salon-quality manicure at home with these excellent products.
French tips and ombre, not just single colors
Not only can you create a solid color finish, with OPI's Powder Perfection collection, you can do a French manicure or give yourself an ombre look. They have a growing range of colors to help you match your mood, your outfit, and more.
The basic necessities for an OPI manicure
When you begin working with OPI, there are a few products you must have for a Powder Perfection manicure. Here they are:
Base Coat—the foundation for the dip powder color
Activator—cures the base coat and dip powders
Top Coat—gives a final glossy shine and protects the nail
Colored Powder—for the perfect look
Clear Set Powder—sets colored powders and gives additional wow power to each shade
Fortunately, OPI sells a Liquid Essentials Kit with the base coat, the activator, and the top coat, plus a brush cleaner liquid, too.
The 29 eye-catching colors of the Powder Perfection Collection
From Funny Bunny's soft white to solid Black Onyx, you'll be sure to find a shade you'll love. Choose Creamy Nude for neutral nails. Or go with Big Apple Red when you're ready to power through a new day. Periwinkle Shimmer might be the perfect combination for that wedding reception. Or you can welcome springtime at long last with Gelato on My Mind's gentle pastel hue.
According to OPI, their most popular colors are:
Bubble Bath
Russian Navy
Worth A Pretty Pene
I'm Not Really A Waitress (Chianti red)
Lincoln Park After Dark
You Don't Know Jacques
Do You Lilac It
Cajun Shrimp
Samoan Sand
Here Today Aragon Tomorrow
Rich Girls Like Po Boys (Glacier blue)
Taupeless Beach
Do You Have This Color In Stock (Icy blue violet)
While not all of those are available in dip powder form, many of them are, like "I'm Not Really A Waitress". In fact, you might find that it's hard to choose between all these shades. Lucky for you, there are big discounts when you buy multiple colors together, like their 24-powder pack.
If you want to apply the OPI lacquer over the top of a dip powder manicure, you can buy mini kits with both powder and polish in the same shade. For example, take a look at "Got Myself into a Jam-balaya".
There are also kits with only five colors that will save you money over buying individual powders. Take a look at KIT 2, with wildly different neutral and cool shades. Or KIT 1, with all the bold basics you need.
If you're a fan of French manicures, check out the OPI Pink & White colors collection. It includes the Clear Set Powder plus Funny Bunny, Alpine Snow, Bubble Bath, Samoan Sand, and Passion. And while you won't need a drying lamp, you will want the French Dip Mould. It will help you perfectly shape your nails with white smile lines when using dipping powder.
Finally, you can get started with OPI the easy way by purchasing all the necessary liquids, like top coat and activator, in one pack. Of course, each is also sold separately so it's easy to replenish your supply.
Conclusion
Get ready to enjoy a new kind of manicure. You won't need your UV or LED lamp for this one. Dip powder nails are taking the beauty world by storm. It's because they're surprisingly easy to apply, they are practically odorless, and they last for two weeks or more.
You'll also find that dip powder doesn't destroy your nails like acrylics can. But it still provides a durable, shiny finish that resists the wear and tear of everyday life.
While there are at least two other big brand names in the dip powder world, OPI has done something unique. You won't have to give up their traditional lacquers for dip powder. Instead, you can combine the best of both worlds.
Check back with us again soon to see the latest and greatest products to enhance your natural beauty and take good care of your body. We love helping you stay happy and healthy!