You just did your nails and they look fabulous. How can you make this perfection last as long as possible? How can you avoid chipping and peeling and yellowing? The answer is very simple—use a top coat.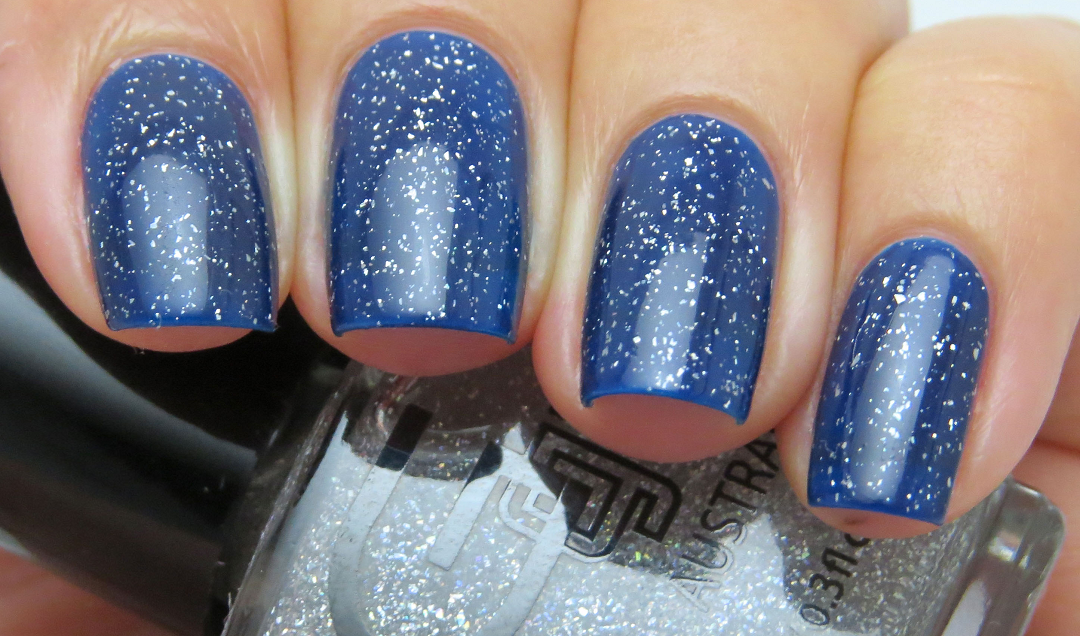 If you've got a lot of experience doing your own nails or getting manicures, this is old news to you. But a lot of people don't know that painting your nails can involve a lot more than simply slapping down a coat of polish.
Layers of a good manicure
When you want to have a professional-looking manicure, you'll prepare your nails by pushing back cuticles, shaping the nails, and sanding the surfaces. Then you'll paint at least one base coat, put on clear or colored polish, then apply a top coat or two to seal your work of art.
A base coat fills in surface imperfections like ridges. It also protects the nail itself from the damaging effects of nail polish. A base coat is like primer for paint—it makes the polish stick better and go on smooth.
Two coats of polish go on top of the base coat. Then it's time for a top coat. If you've ever stained wood and put varnish or shellac on top, it's similar to that. The best top coats seal the nail polish and protect it from chipping. They keep water out of your new manicure and protect the polish from discoloration when you're out in the sunshine. Many times they create a high gloss finish on your nails, although you can also use a matte top coat.
A high quality top coat can extend your manicure for up to two weeks. In reality, this is probably rare unless you touch it up every three or four days with a new application of top coat. But many people are delighted to extend the life of their nail polish even just three to five days, and one application of a top coat should accomplish that.
The best top coat nail polishes
We went on a hunt for nail polish top coats that received the most recommendations and positive reviews. Here is our collection, beginning with the top pick.
Top Pick of the Top Coats: deborah lippmann Addicted To Speed Ultra Quick-Dry Top Coat
Deborah Lippman is a celebrity manicurist who has her own line of nail products. Vogue Magazine likes her Addicted to Speed Ultra Quick-Dry Top Coat, and so do lots of customers. This top coat dries to a high gloss hard finish in only one minute. It doesn't bubble and it doesn't peel.
But wait, those aren't the only benefits. The Addicted to Speed Top Coat is manufactured 7-free. 7-free means it does NOT have any of these dangerous chemicals: no toluene, dibutyl phthalate (DBP), formaldehyde, formaldehyde resin, camphor, TPHP or xylene. Deborah Lippman's products are also vegan and cruelty-free.
To use this top coat, wait 2 minutes after you apply the second coat of polish. Then let it air-dry for one minute. If you want to extend the high gloss shine of your manicure up to 2 weeks, reapply the top coat every three days. The day after you do your nails, massage a high quality oil or hand cream into your cuticles.
If you're still thinking about whether this can actually be a 7-free product, here is the list of ingredients: Butyl Acetate, Ethyl Acetate, Nitrocellulose (for high gloss shine), Acetyl Tributyl Citrate, Phthalic Anhydride/Trimellitic Anhydride/Glycols Copolymer, Isopropyl Alcohol, Stearalkonium Hectorite, Adipic Acid/Fumaric Acid/Phthalic Acid/Tricyclodecane Dimethanol Copolymer, Citric Acid, Biotin, Butylene Glycol (AND) Water (AND) Camellia Oleifera Leaf Extract, and Aucoumea Klaineana Oleo-Resin Extract.
LONDONTOWN Kur Gel Genius Top Coat
If you love your gel manicure, use the LONDONTOWN Kur Gel Genius Top Coat to keep it ultra-shiny for about a week. You can reapply it as need to maintain your nails. You don't need UV light to set it and it won't lift or bubble on top of a gel polish.
What's the magic ingredient in LONDONTOWN's Gel Genius? They use Rapeseed Flower Oil to create a protective barrier.
ZOYA Armor Top Coat
ZOYA Armor Top Coat requires just one layer applied every two days to maintain the color and flexibility of your nail polish. Users say it helps them maintain their nails for up to a week. Plus, it's 10-free, containing even fewer harmful chemicals.
Seche Vite Dry Fast Top Nail Coat
Seche Vite's Dry Fast Top Nail Coat is a favorite product that dries quickly, doesn't yellow, and stays shiny for days. It penetrates the layers underneath and bonds with them to make a durable finish. It helps fill in little mistakes as it works. While it doesn't have formaldehyde and dibutyl phthalate (DBP), it's not Big 3-free as it has toluene.
OPI Top Coat Nail Polish
Like many of the top coats in this review, OPI's product works best when applied to the surface of polishes made by the same company. It's not a quick-drying top coat, unless you don't mind waiting up to 15 minutes for each one of the two recommended coats. But it is an award-winner and quite popular.
CND Vinylux Weekly Top Coat Nail Polish
This is CND's Weekly Top Coat for its line of Vinylux polishes. It only works if you use it within that ecosystem. It takes about ten minutes to dry to a hard finish.
CND Shellac Original Top Coat
The CND Shellac Original Top Coat was created as a finish for their Shellac 14+ Day Nail Color System and it requires UV light to set.
CND Super Shiney Top Coat
Fans of CND's Super Shiney Top Coat say its super glossy finish extends manicures up to 2 weeks without chipping or scratching, plus it's Big 3-Free.
Julep Go the Distance Oxygen Performance Top Coat
Julep's Go The Distance Oxygen Performance Top Coat is unique. It's 5-free, plus it's breathable, and it uses an extract of caviar plus platinum. Julep recommends applying it twice a week to keep your nails shiny.
Julep Freedom Polymer Top Coat
Julep also makes this Freedom Polymer Top Coat that needs curing in natural light for 5 minutes or under a lightbulb for 2 minutes. It sets into a glossy, hard, gel polish-like finish and must be reapplied every 2 to 3 days for best results.
essie Nail Polish, Top Coats
essie's No Chips Ahead Top Coat is Big 3-Free with no toluene, no formaldehyde, and no DBP. It has protection against UV light built into its glossy formula. It works best when applied on top of other essie products.
butter LONDON Hardwear Shine UV Topcoat
butter LONDON has a delicious name, doesn't it? Their Hardwear UV Topcoat is a fast-drying high-gloss finish that protects against smudging and chipping as well as yellowing from UV light. It's 8-Free with no formaldehyde, formaldehyde resin, DBP, toluene, camphor, ethyl tosylamide, xylene, or TPHP. Of course, it's designed to be used over the top of their own line of polishes.
Sally Hansen Ultimate Shield Fortifying Base & Top Coat 2655
Sally Hansen's Ultimate Shield is a top-selling favorite for two reasons: it's cheap and it works. Beauty bloggers love it, customers love it. It keeps manicures from fading in sunshine or chipping and peeling from everyday wear. The micro-polymer formula uses nitrocellulose to keep nails super shiny for days. Meanwhile, this top coat can also help nourish your nails with
Sally Hansen says you can use this as a nail polish all by itself if you like, or use it as a base coat, too. It's a very versatile product for something in this price range.
Sally Hansen Treatment Big Shiny Top Coat
Sally Hansen's high gloss Big Shiny Top Coat is great for protecting nail art on manicures. It even protects the texture, not just the colors. Some users have said it protects regular nail polish for up to one week.
Poshe Super Fast Drying Top Coat
Shoppers on a budget flock to buy this top coat from Poshe. It's less expensive than the low-priced Sally Hansen. It dries to the touch in 60 seconds without the help of a dryer or UV light. Plus, it's Big 3-Free.
How to maintain a manicure to the maximum
How can you keep those shiny nails looking fresh for longer? Well, besides a top coat, consider these ideas:
Before you get a new manicure, do those tasks that will probably wreck your hands, like weeding the garden
Invest in and use gloves for work like washing dishes and scrubbing the bathtub
Do a good job of removing old polish and preparing your nails for new polish
Use the base coat and apply at least two coats of polish before you top coat
Let things dry—only do a manicure when you have time to relax
Conclusion
Your beautiful nails deserve a top coat to keep them flawless. Not only are you protecting your finish, you're protecting the actual real nails underneath. We hope you found the perfect product today to preserve your manicure. Come visit us again soon for more reviews of the best in personal care.