The right eyeliner will enhance your eyes' appearance, making them pop and grab the attention of those around you. Once upon a time, there was just one choice of eyeliner types--pencils. Now you can choose pencils, liquids, and gels. We'll cover the best waterproof eyeliners from each of these categories in this review.
Waterproof eyeliners will last longer and need less touching-up, if any at all. Of course, they can be a little harder to remove, too. Ah, the price we pay for beauty. But now let's dive into the top pencil eyeliners first.
Pencil eyeliners
Pencil eyeliners are a beloved favorite makeup tool because they are simple to apply and easy to smudge for a sexy, smoky look. Pencils are the easiest to control and make the least mess. Just ask anyone trying to put on eyeliner at a stop light. (That's not you, is it?) And now, instead of wax and pigment, you can purchase silicone formulas that last longer and go on smoother.
Some pencil eyeliners are the traditional, wood-cased kind that require sharpening. Others are mechanical. While they don't always provide as dark and thick a line as gels and liquids, pencils are easier to manage. On the downside, some are painfully poky when sharp, and others (like the mechanical ones), are never sharp enough. That's why we searched for the best waterproof pencil eyeliners that are a pleasure to apply and look great for hours.
Too Faced Perfect Eyes Waterproof Eyeliner
The Too Faced Perfect Eyes Waterproof Eyeliner is like a silky crayon for your eyelids. Its silicone-based formula glides on creamy and smooth and stays on for up to 8 hours. If you want a smoky look, it has a plastic "smudger" on the upper end to help you blur the edges.
The Too Faced Eyeliner comes in 6 waterproof colors. It doesn't contain parabens, paraffin, or mineral oil. You can sharpen it in most kinds of eyeliner pencil sharpeners like the one at the end of this section of the review. Pro Tip: Place the pencil in the freezer for at least an hour before you sharpen it and it's easier to sharpen and a lot less likely to break.
Revlon ColorStay Eyeliner with SoftFlex
The Revlon Colorstay Eyeliner Pencil has double the durability of the Too Faced pencil. Revlon says it's waterproof and smudge-proof for up to 16 hours. But even though it's super-durable, most users find it easy to remove at the end of the day.
The main criticism we saw about the Colorstay is that it's not a deep black, but more of a dark gray. Its application isn't quite as smooth as the Too Faced. It's a mechanical pencil, so you only need to click it to advance the point.
L'Oreal Paris Voluminous Smoldering Liner
Although L'Oreal doesn't specifically state that their Voluminous Smoldering Liner is waterproof, we couldn't resist including it here. As soon as you pick up this thick pencil with its cone-shaped tip, you can see that it's perfect for thick, intense lines. It goes on rich and smooth, perfect for dramatic lines or blending into a smoky, sultry look.
L'Oreal says this eyeliner is based on the ancient kajal formula used for centuries in India and the Middle East. If you love cat eyes, this is the perfect pencil for making them. They even give these simple tips for how to do it:
Use the eyeliner to make tiny dots along your lash line, from the inside to the outer edge
Prop your elbow on a table and draw lines to connect the dots
Use the side of the pencil point to make a thick contour line
Having a Q-Tip handy with one end dry and the other soaked in makeup remover takes care of mistakes
If you desire cleaner lines and even more staying power, check out the liquid eyeliners below.
Liquid eyeliners
A lot of people have a love-hate relationship with liquid eyeliner. On one hand, it's easy to get precise lines. You can get it in matte, satin, or glossy finishes. On the other hand, it takes more skill to apply liquid eyeliner than a pencil.
Liquid liners may be packaged with brush tips that make them similar to markers, or they may come with brushes to dip into a reservoir. Brushes may be thick or thin for bold lines or precise accents. Since the liquids need to dry and set quickly, one of their main ingredients is usually some kind of polymer.
The Number 1 Waterproof Eyeliner: Our top pick
In our searches, we discovered the stila Stay All Day Eyeliner was the top choice of beauty bloggers and very popular with customers.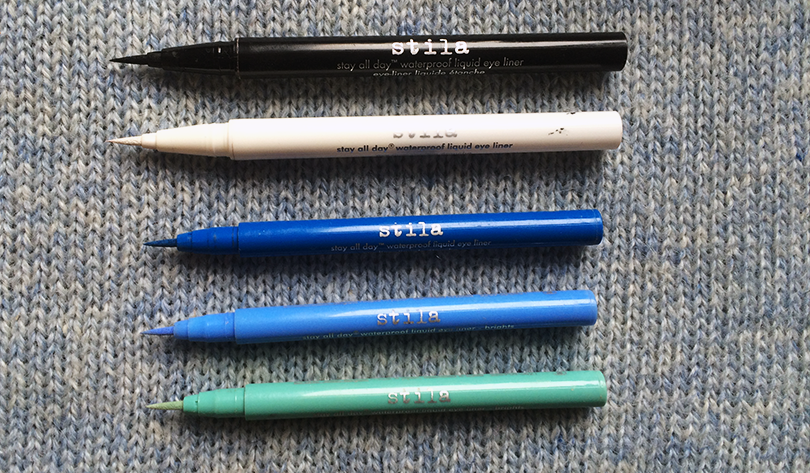 stila Stay All Day Waterproof Liquid Eye Liner
The stila Waterproof Liquid Eye Liner goes on super smooth and sticks around all day long. Depending on how much pressure you use, you can paint thick or thin lines with the marker-type tip. In fact, the tip is a hybrid of a marker and a brush so you can apply exactly the right amount of eyeliner.  You may want to practice a little if you're new to this type of liner.
Users say the formula seems to sink right into their skin. It doesn't flake, smudge, or melt off even under duress. Persons with oily skin have no problem with it running. It's so good that it's won awards from places like Redbook Magazine, Essence, and Total Beauty.
Choose any one of 13 colors, from Intense Black, Cobalt, Amber, Teal, Olive, Alloy, Indigo, Dark Brown, Midnight, Moss, Periwinkle, Emerald, and White. Combine it with other products from Stila like their All-Day Waterproof Mascara and Waterproof Brow Color.
LORAC Front of the Line PRO Liquid Eyeliner
LORAC's Front of the Line PRO is a close runner-up for best liquid eyeliner in our review. LORAC is a company created by a well-known Hollywood makeup artist. It has brush tip so it's easy to lay down smooth hair-thin or very thick lines.
Like the stila, the LORAC PRO doesn't smudge or budge or pull when you apply it. It's water-resistant and won't flake off or melt. This eyeliner contains no parabens, synthetic petrochemicals and dyes, sulfates, and phthalates.
blinc Ultrathin Liquid Eyeliner Pen
The blinc Ultrathin Liquid Eyeliner Pen has a teeny tiny thin brush tip. As blinc puts it, their brush measures 0.00876mm, and it's the most precise brush in the cosmetics industry. If you have a steady hand, you can make incredibly exact lines with it.
With this kind of applicator, it's important that the eyeliner liquid be able to resist running, smudging, and fading. And it does—customers say blinc's intense color glides on and stays on for hours with no problems.
The main complaint is that the ultrafine brush can clump if the eyeliner dries on it. The solution is to wipe the brush with makeup remover, rinse it, and let it dry.
Gel eyeliners
Gel eyeliners are perfect for applying thick, precise lines that are more intense that a pencil can give you but easier to control than a liquid. Of course, some of the result depends on the brush you use. But these creamy little pots of eyeliner are definitely a makeup guru's delight.
Bobbi Brown Long-Wear Gel Eyeliner
Bobbi Brown's Gel Eyeliner goes on creamy and smooth, doesn't flake, doesn't crack or crumble, and it dries quickly to a matte finish. The finish is water-resistant; it doesn't smear or crease. Although it seems like a small container, the fact that you don't have to constantly touch it up during the day will save you money in the long run.
The only problem with this gel eyeliner is that you'll need to supply your own brush. Check lower on this page for our recommendation.
VINCENT LONGO Crème Gel Liner
If you love shimmer, this is the gel eyeliner for you. The VINCENT LONGO Crème Gel Liner includes a pearlescent ingredient to add a subtle amount of shine. It goes on smooth and resists water, flaking, and smudging. In fact, some customers say it lasts longer than the Bobbi Brown gel eyeliner even right at the waterline.
L'Oreal Paris Infallible Lacquer Eyeliner 24H
Let's say your budget doesn't include premium eyeliners. That's not a problem for L'Oreal. Their 24H Infallible Lacquer even comes with its own brush so you don't need to buy a separate one.
The Infallible Lacquer quickly dries to a high gloss that stands up well to hours of wear. Users who say their wear contacts have had success with this gel eyeliner. They say it doesn't irritate their eyes.
L'Oreal includes a brush that can be used for both thick and thin lines depending on the angle of application. The eyeliner comes in 5 shades total.
Pro Precision Gel Eye Liner Makeup Brush with Thin Angled Bristle from Beauty Junkees
If your gel eyeliner didn't come with its own brush, or if your brush has seen better days, this one from Beauty Junkees is a top seller. It has soft, silky bristles angled perfectly so you can lay down thick or thin lines. They say it also works well as a eyebrow brush.
L'Oreal Paris Dual Eye/Lipliner Sharpener with Cover
If you have a wood-case eyeliner pencil, you need a sharpener.  This one from L'Oreal lets you put a point on both an eyeliner and a lipliner, whether regular or jumbo-size. The clear cover helps you keep shavings under control.
Neutrogena Makeup Remover Cleansing Towelettes
At the end of the day, these Neutrogena Cleansing Towelettes gently remove even the toughest waterproof eyeliner and mascara.
Pencil vs Liquid vs Gel: which is the best eyeliner?
We think it's worth it to try pencils, liquids, and gels to see which kind you like the best. But if it's not possible to do that, how do you choose between them?
Pencil eyeliners are the traditional choice. They are usually the easiest to apply, and are especially nice if you like to smudge them for a smoky look. All you need to take care of them is a sharpener if you don't have a mechanical pencil. The downsides are that you can't always get the same amount of intense coverage as you can with a liquid or gel, and it's also hard to get fine, precise lines. Pencils that lay down fine lines generally don't go on thick and strong, and thicker pencils with intense coverage are more prone to smudging.
Liquid eyeliners generally dry and set very quickly. They can provide all-day resistance to smudging and fading. Depending on the brush you use, you can get very sharp and clear lines. Liquid eyeliners may also come with a marker-type tip. The cons are that the liquid itself can dry out and get clumps, you need to keep your brush clean to avoid infections, and it's hard (or impossible) to make a smudged, blurred look on purpose.
Gel eyeliners are fast growing in popularity because they go on creamy and smooth and can create thick or line lines with great intensity. They set quickly and last all day, and are resistant to smudging and running. Of course, you'll need a brush. Like liquids, applying a gel takes more skill and precision than using a pencil (in most cases).
In the end, the best eyeliner is the one that delivers the look and durability you desire. If you have fussing with touch-ups, invest in a waterproof gel or liquid liner like the Bobbi Brown or the stila. If you want an exotic look, take a look at the L'Oreal Smoldering pencil.
Conclusion (with a few pro tips)
If you want your eyeliner to last even longer without fading, you can dust your liner with eye shadow. You can use a pencil to line first, then fill in or trace over it with a liquid liner. The edge of a spoon can help you design the perfect cat eye. And a white eyeliner can give the illusion of extra lift under your eyebrows.
We hope this article helped you find the perfect eyeliner that will make your eyes pop. Check back soon for more reviews of the best in personal care products.