Eyeshadow can make your eyes more attractive, and eyes are usually the first thing people notice on a face. That's why choosing the best eye shadow to emphasize your eyes is important.
The right eyeshadow color varies depending on fashion and your skin and eye color. But the best eyeshadow will always have certain features no matter what brand you choose.
Top eyeshadows have good pigment with intense color so a little goes a long way
They go on smooth and blend easily even if you're not a makeup artist
The company will have a high level of quality control so the color you get today will be the same when you buy more of it three months from now
You know that statement, "you get what you pay for"? In many cases, that's true. If you want to look your best, it's worth your money to get a better eyeshadow. It will last longer because you won't have to cake it on and then deal with all the extra powder fallout on your face.
The Best Matte Eyeshadow Palettes Online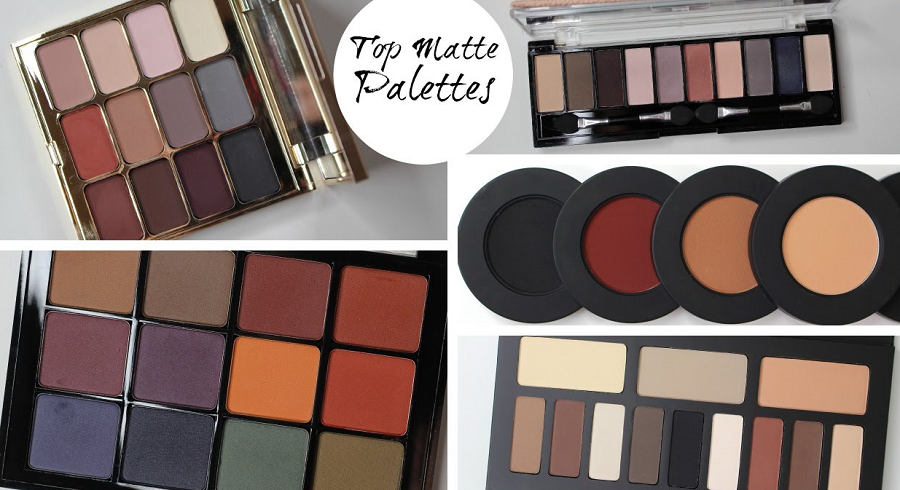 In our review today, we're covering some of the top names in eyeshadow brands. Let's take a look at the best ones now.
LORAC Pro Matte Eye Shadow Palette
LORAC's Pro Matte Eye Shadow Palette contains the following colors: Bare, Latte, Corduroy, Chocolate, Linen, Pink Mauve, Burgundy, and Jet Black. These gorgeous modern shades look fabulous on darker skin tones. The matte texture makes them ideal for any age, and especially elegant on women 40+.
If you've never used LORAC eyeshadow before, you'll be pleasantly surprised with their velvet texture. Use them dry, or dampen your brush to apply them wet like a smooth cream. Their ultra-pigmentation means a little goes a long way. They blend very well indeed.
How does LORAC manage to create such high quality eye shadow? Their company was founded by a celebrity makeup artist named Carol Shaw. They say their products are designed to "put red carpet beauty into the hands of any woman." Plus, their products are made without sulfates, petrochemicals, phthalates, GMO ingredients, or even triclosan.
One step that pro makeup artists use is first applying primer to eyelids. LORAC recommends their own Behind The Scenes Primer so you get maximum wear out of their eye shadow and eliminate creasing. Then they suggest the following application sequence:
Highlight the zone from the brow bone down to the lash line of the upper lid with the shade Linen
Apply Latte to the crease as a transition shade
Place a little Jet Black in the outer corner and blend it in
Wet your brush to apply Jet Black along the top lash line as if it were a liquid eyeliner
If you love the LORAC Pro Matte Eye Shadow Palette, but hoped for a little shimmer, too, check out the next set below.
LORAC Unzipped Eye Shadow Palette
The Unzipped Eye Shadow Palette offers 4 matte and 6 shimmer shades, all in nude colors. You can give your eyes a beautifully subtle makeover with all these buttery shadows.
Oh wait, you wanted more than ten? No problem, just take a look at the next two palettes.
LORAC PRO Palette
The PRO Palette is just what it says—a professional palette with 16 super-pigmented shades plus a sample size Behind The Scenes Primer. This is a very versatile item to have in your makeup kit.
The colors can be used as highlighter, brow, and liner shades plus cheek highlighters. They can be applied with a wet brush or dry. Take a look at these luscious shades (the top row is all matte): White, Cream, Taupe, Light Pink, Mauve, Sable, Espresso, and Black. The bottom row contains shimmers: Nude, Champagne, Gold, Light Bronze, Pewter, Garnet, Deep Purple, and Slate.
LORAC PRO Palette 2 Eye Shadow
The LORAC PRO Palette 2 is also a mix of 8 matte and 8 shimmer shadows complete with a mini bottle of Behind The Scenes eye primer. See what you think of the new assortment of colors. The top row are matte shades: buff, light brown, cool gray, nectar, plum, navy, charcoal, and black. The bottom row are shimmers:  snow, beige, rosé, mocha, chrome, silver, jade, and cocoa.
LORAC Behind The Scenes Eye Shadow Primer
Eye primer is used by the pros when they want eyeshadow to last for hours without creasing. The LORAC formula glides on smoothly and hides color and texture imperfections on eyelids. It helps keep oil under control so your makeup stays on without melting off. The primer has no oils, no fragrance, and no parabens.
LORAC products are some of our favorites because they are high quality but very user-friendly. If that appeals to you, you may enjoy theBalm's eye shadow palettes below.
theBalm - Meet Matt(e) Nude Eyeshadow Palette
One look at theBalm's packaging of their Nude Eyeshadow Palette and you're tempted to giggle. What madness is this? Colors named after some guy Matt? And he's Nude?
Yep, it's crazy. Choose from Matt Rosen, Matt Wood, Matt Abdul, Matt Singh, Matt Hung, and more—nine Matt(e)s total. All the shades are ultra-pigmented and buttery. Apply them with a dry or wet brush, it's up to you. Use the handy mirror inside the lid to help you enjoy them on the go.
TheBalm's products are paraben and cruelty-free. The company itself was started by a woman named Marissa Shipman just over a decade ago. She actually began mixing up her first cosmetic products in her kitchen. The company has skyrocketed in popularity since then and their eyeshadows are sold all over the world.
Part of the appeal of the Matt(e) Nude Palette is that the shades look great on any skin tone. Women with darker pigmentation are delighted to see that a single application shows up well on their eyes.
If you're not sure that these shades are perfect for you, take a look at the other palettes below.
The Balm Cosmetics Meet Trimony Matte Eyeshadow Palette
Continuing the same chuckle-worthy naming scheme, choose from creamy matte shades like Matt Lin, Matt Lopez, and Matt Ahmed. There are nine total.
theBalm in theBalm of your Hand Face Palette
Now we've left Matt behind and ventured into theBalm's in theBalm of your Hand Palette. It's actually not just eye shadows, although it has 4 of them. It also contains a bronzer, a highlighter, 3 blushes, lip color, and lip and cheek cream. Think of it as the perfect all-in-one makeup kit.
You may notice the thoughtful design that places two separate cover flaps over the powders and the creams so you don't mix them by accident. Of course, there's also a mirror inside the lid.
theBalm La Balmba Steal the Spotlight Eyeshadow Palette Volume 2
Blue-eyed blondes can still Steal the Spotlight! TheBalm's LaBalmba palette contains blue eyeshadow as well as three neutral shades. Two are shimmers, two are mattes.
theBalm Powder to the People Powder/Blush Brush
While theBalm recommends their Powder to the People Power and Blush Brush, you may prefer the set of brushes below. This single brush is convenient if you can only bring one with you as it works to apply highlighter, shadow, and blush.
BESTOPE Makeup Brushes 8 Pieces Makeup Brush Set Professional Face Eyeliner Blush Contour Foundation Cosmetic Brushes for Powder Liquid Cream
This 8-piece set of brushes from BESTOPE may be just what you need for applying wet and dry shadows, liner, and blush. There are 4 types—angled, round, flat, and tapered. Users say that the synthetic bristles are soft and don't shed.
VINCENT LONGO Baby Dome Baked Eyeshadow Palette
VINCENT LONGO cosmetics company was being in 1995 by a celebrity makeup artist named Vincent Longo. Their products are known for trendy shades and high-quality formulas. Again, you can apply their eye shadows dry or wet, just like the other two brands we reviewed above.
The Baby Dome Baked Eyeshadow Palette contains a selection of three colors that flatter any skin tone and eye color. You can apply the darkest shade wet as an eyeliner if you like. All the shades are ultra-pigmented and contain essential oils. It's the perfect size to travel with you wherever you go.
Typically, the way you would use this tri-color palette would go like this: Apply the highlighter from your lash line up to your eyebrow. Apply the mid-shade along the crease of your eyelid. Then layer the darkest shade along the outer corner of your eye,
VINCENT LONGO One Two Three Eyeshadow Trio
Here is another trio of matching colors from VINCENT LONGO. They are buttery, streak-proof, and crease-free when you blend them together on your lids. You can apply them wet as creams or dry.
How to select the best eyeshadow
The first step: choosing a color or palette of colors
There are several websites that can help you choose the best color palettes for your skin tone and eye and hair colors. You choices may depend on the colors of clothing you typically wear, and whether you're dressing up for a night out or simply going to work in the office.
Silvers, grays, and charcoals look great on all eye colors, and make blue eyes pop. Persons with dark skin often get the most enhancement from rich shades like emerald green, burgundy, or bronze. Pale skin looks fabulous with tawny beige and soft pink, and those shades make green eyes stand out.
Second step: to shimmer or not to shimmer?
Sometimes a palette of colors will offer both matte or shimmer shades. Sometimes it's one or the other. Which one is the best? Besides your personal preference, you may decide to follow these guidelines.
Shimmer is great in small quantities unless you're a ballroom dancer. Then feel free to glitter all you want. If you use other shimmer products like blush, take it easy on your eyes. Generally, shimmer is great for nighttime adventures and less cool for days at your desk. Spend some time looking up close at celebrity photos to get a feel for what works.
Third step: quality matters
Thick, velvety smooth, buttery eye shadows are a pleasure to apply. They blend well. And they can be used dry, or with a wet brush, too. The idea is to draw attention to your eyes, not to your makeup.
If you have good brushes and some skill, you can make a cheap shadow look great. It may take some time and effort, but it's definitely possible. But you may end up using a lot more cheap powder than you would if you had a high quality shadow.
If you have oily eyelids, it's worth it to invest in both a primer and better quality shadow so your makeup stays on without melting and smudging. And while you're at it, get some good brushes, too.
Which brushes are best for eye shadow?
Your eyeshadow may come with its own brush or sponge applicator, but that might not be the ideal tool for you to use. If you're excited about makeup, you deserve good brushes. Depending on your eye shape, you may have more than one to help you shade your lids perfectly.
First, figure out what eye shape you have so you can focus on the best techniques. Look at some photos to help. Most eyes fit into one of these categories: monolid, double lid, hooded, upturned, downturned, deepset, protruding, wide-set, and close-set.
Once you've got your eye shape, here are the main brushes you might need: large shadow brush to apply highlighter, a precision shadow brush to put on pigment, a blending shadow brush, a blending tip brush, angled liner brush, precision liner brush, and a smudger brush. A decent set of synthetic brushes won't break the bank and are great for practicing.
Conclusion
We hope we helped you find the perfect eye shadow that will make each day feel special. Check back soon for more reviews of top products in personal care.