You're in good company if you have cellulite. Almost every woman in developed countries has it. Some are only teens, and some are well past menopause. Even ten percent of men have cellulite, but their tissue structure and testosterone protects them from getting it as easily.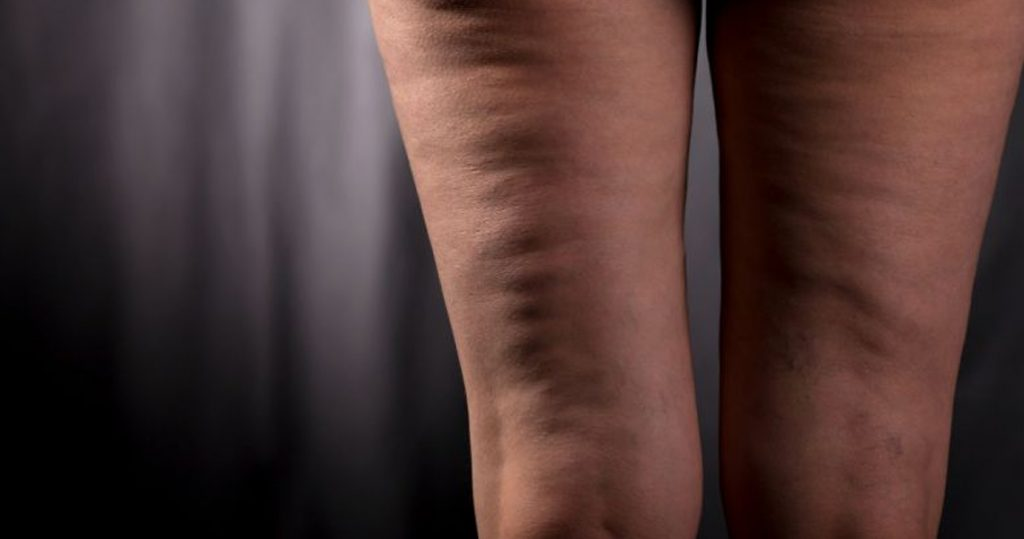 So you're not alone in having it, but you probably hate it. It tends to worsen as we age because our connective tissue breaks down. Less collagen and weaker elastin means that fat cells begin pushing through and making dimples on the surface of our skin.
There are things that can speed up the appearance of cellulite, like gaining weight, hormonal changes, less physical activity, and dehydration. Even having your summer tan fade can make cellulite more obvious. Therefore, the way to make cellulite disappear is to create conditions that oppose all that.
Tan skin, even sunless tans, can help hide cellulite. A better diet helps skin stay young-looking and healthy. Physical activity builds muscles and reduces fat. Wearing a thong eliminates elastic lines where cellulite likes to form. And the best anti-cellulite creams hydrate skin and stimulate circulation, reducing the dimples and cottage cheese look.
Do anti-cellulite creams actually work?
Creams that advertise an ability to fight cellulite work to some degree to temporarily hide or fade dimpling. There doesn't appear to be a skin cream that can actually remove cellulite. For that, you need laser or radio frequency treatments or vacuum rolling. They increase circulation and literally melt fat. Some creams say they can do the same thing, but they aren't as effective because they are external treatments.
Some topical creams and serums have caffeine or aminophylline to block the creation of new fat. L-carnitine helps fat turn into energy for cells to use. Other natural ingredients increase circulation, help rebuild collagen and elastin, and hydrate skin. All of these techniques make skin firmer, at least temporarily.
So yes, anti-cellulite creams work, if you understand what you're getting. They will not make your cellulite go away. Your diet and exercise and any treatments you get at the dermatologist can do that. But a good cream will make cellulite less noticeable and your skin will look and feel younger and healthier. Some may even shrink the size of your cellulite for a day. If you keep using the cream, your skin may improve over time, especially if you exercise more.
The top anti-cellulite creams
Why not enjoy the experience? For maximum results, give yourself a good massage when you rub in these creams. Or try the massaging tool we list at the bottom of this review.
Brazilian Bum Bum Cream by Sol de Janeiro
The Brazilian Bum Bum Cream smells like a cross between summer by the pool and a really tasty dessert. While users don't claim it has removed their cellulite, they do say it makes their skin feel super smooth. The texture isn't greasy and it sinks in fast.
The secret ingredient is guaraná, a powerful natural caffeine from a plant in the Amazon jungle. It helps block the formation of fat and stimulates circulation to tighten skin. A touch of mica makes skin glow. The other ingredients like coconut and acai oils, Cupuaçu butter, and Brazil nut soften and nourish skin with vitamins. This helps cells regenerate faster to rebuild skin tissues.
This formula doesn't have petroleum derivatives, synthetic dyes, phthalates, parabens, propylene glycol, PEGs, or animal by-products.
Cellulite Defense Gel-Cream - Cellulite Cream Caffeine + Retinol + Seaweed from Body Merry
Body Merry's Cellulite Defense Gel-Cream is cool on skin when you rub it in. It has a formula packed full of natural ingredients that increase blood circulation and hydrate skin. Both of these effects reduce the appearance of cellulite.
The label lists healing ingredients like MSM (Methylsulfonylmethane) and aloe that reduce inflammation, vegetable glycerin that draws in moisture, and organic coconut oil that locks in hydration and makes skin smooth. The algae extract is full of antioxidants that neutralize free radicals that make skin age. The caffeine and green tea leaf extract tighten up sagging skin. Users say that this cream helps their skin look younger and firmer even in dimpled spots.
NIVEA Skin Firming & Smoothing Concentrated Serum
Nivea's Skin Firming Serum contains Coenzyme Q10. This is an antioxidant that occurs naturally in your body and in some foods. As you age, you have less of it. Rubbing it back into your skin as a topical treatment helps fight signs of aging like fine lines and wrinkles. It can help your skin build more collagen and elastin.
The L-Carnitine in the formula is there to help convert fat cells into energy, thereby shrinking the amount of fat in skin. Less fat means less pressure on the connective tissue, and less dimpling. Some users say that Nivea's serum really does seem to make a difference in the way their skin looks.
NUXE Body-Contouring Serum for Embedded Cellulite
NUXE's Body-Contouring Serum is designed to break down excess fat and burn it while other ingredients tighten skin to make it firmer. NUXE says the fat is broken down with cocoa polyphenols and caffeine while Yacon Leaf slows down how fast fat is formed. The micro-algae help burn the excess fat while the Brazilian Mimosa and Glaucine extract tighten and firm up skin.
NUXE points out that these claims were tested clinically. Seventy-two percent of their participants noticed that they had less cellulite visible. The recommended method for applying the serum is to massage it with circular motions, then grip and release skin to release fat. Note that it has a light color-correcting pigment that also helps disguise cellulite.
Clarins Body Lift Cellulite Control Cream
Clarins Body Lift is the one cream that almost every beauty site and magazine recommends. Some users say they can see a difference after only using it for one week. It feels cool on skin, and it's packed with natural ingredients to build collagen and make skin look younger.
Clarins says their active ingredients are blue button flower to get rid of fat deposits, baccharis to build up collagen, maritime pine to increase circulation, and sunflower oil and horse chestnut to help the caffeine penetrate better into skin.
ReduxCell Paris Anti Cellulite Cream with Double Caffeine + Hyaluronic Acid + Sea Grape
Users say the ReduxCell Paris Anti Cellulite Cream tightens up their skin to make their cellulite disappear. They also comment that it's not greasy. But in order for it to work, you need to work when you put it on your skin. It's recommended that you massage with circular movements for 15 minutes without stopping.
The manufacturer claims you can lose up to one inch of belly fat in one hour with their cream because it reduces water retention. It has two kinds of caffeine, sea grape, and hyaluronic acid in order to build up connective tissue and fight signs of aging.
NuElle Triple Action Anti Cellulite Concentrate, with Caffeine, L'Carnitine, CoQ10, Seaweed+
NuElle's Triple Action Anti Cellulite Concentrate aims to reduce fat and cellulite by working as a diuretic and detoxifier. They say you'll see results in two to three weeks.
The plan is to apply it twice a day, two hours after eating or on hour before having a meal. Massage the cream in circular motions over any affected areas like thighs or stomach. NuElle says it has a sauna effect that may cause you to perspire more in places where you put it because it's helping you burn fat.
Caudalie Contouring Concentrate
Caudalie's Contouring Concentrate is full of botanical oils and extracts to attack cellulite and signs of aging. The company says it can reduce the size of your thighs up to one inch. This was proven in clinical trials. Users say it makes their skin soft and takes away all or most of the orange peel appearance of their cellulite.
Instead of trying to pack in a lot of moisture, the formula has juniper oil to eliminate extra water, which could be why users see a reduction in size. But don't worry that it will dry you out—it has rosemary and grape seed oils that condition skin.
Slim Extreme 4D Slimming And Firming Serum Anti-Cellulite Fitness from Eveline Cosmetics
Eveline Cosmetics Slim Extreme Serum contains L-Carnitine and their own proprietary Lipocell-Slim Complex to increase circulation and get rid of extra fat. It also helps build collagen and elastin fibers to make skin firmer and smoother. It should be applied twice a day with a firm massage using circular movements until it is fully absorbed. They say it works best if used right after a workout.
Tools for reducing cellulite
Try using this massager to get the maximum results from your cream.
Scala Cellulite Massager and Remover Brush Mitt
It may hurt and it may seem harsh, but fans of the Scala Massager say it makes all the difference for them. Rub that cellulite cream into your skin and use the massager to help you do it. Or use the massager in the shower. Either way, you'll be stimulating circulation and encouraging new collagen and elastin to make your skin firmer.
Tripollar Stop & Pose: Anti-Aging RF Treatment Machine for Face, Neck Firming
The nice thing about the Tripollar Stop is that you can use it at home, no prescription needed. It's a radio frequency device that heats up skin tissue to regenerate it. It doesn't hurt and it costs less than a series of visits to the dermatologist.
While the Stop is made for treating faces and necks, RF is a valid treatment used by dermatologists to eliminate cellulite. Of course, a home use device isn't as powerful as one in a doctor's office, so it may take longer to get the same results.
Other ways to make cellulite go away
We want to give you an easy answer like, "Just apply that cream each day and magic will happen." Even the best cream may not reduce your cellulite's appearance enough to please you. Even if you don't want to invest in RF or laser treatments or surgery, you still have some good options. They aren't quick fixes, but they will have a lasting positive effect on your health.
Cardio
Exercise burns fat. Less fat means less cellulite. Yes, if you watch programs like The Biggest Loser you see that radical weight loss can mean a lot of sagging skin. But you don't need radical weight loss to reduce cellulite. Gradual progress lets your body adapt to less fat and more muscle so it gives you firmer skin.
Strength training
Lifting weights or practicing calisthenics builds muscle. More muscle means fat burns faster. And skin stretched over hard working muscle sure looks nice, doesn't it? There are many places you can learn exercises to firm up thighs and all the areas where cellulite tends to form. Give yourself the gift of 15 to 30 minute workouts to build strength and you will definitely lose some of that cellulite.
Water
Yes, water retention can make you look swollen. The cure for that is, oddly enough, drinking more water. Your body won't feel like it has to hang onto every ounce if it's properly hydrated.
Sleep
While you sleep, your body makes repairs. That's good news when you want to build more connective tissue (AKA collagen and elastin) to make cellulite disappear. It's called "beauty rest" for a reason.
Hide it or forget about it
No one will know about your cellulite if you don't tell them about it and they don't see it. There's nothing wrong with strategically placed clothing. Getting a tan can help disguise cellulite too. And of course, you can simply accept the fact that most women are prone to having cellulite and just stop worrying about it. Simply enjoy your new cream, exercise, sleep, and take care of yourself.
Conclusion
We hope we helped you discover a new anti-cellulite cream to help you look and feel beautiful. Come visit us again soon to learn about the newest and best in skin care and cosmetics.