Acne is ugly. No one wants to have it. And hormonal changes in teenagers mean they get the worst of it. It's hard to avoid breakouts when you're dealing with puberty. So what's the best way to make acne go away? Just two simple things can do it.
The best acne treatments for teens are the main problem-solver. The second one solution is simply being consistent with using them. If you keep on top of cleansing your skin and moisturizing it, you'll have fewer pimples. Then the ones you do get can be zapped with spot treatments.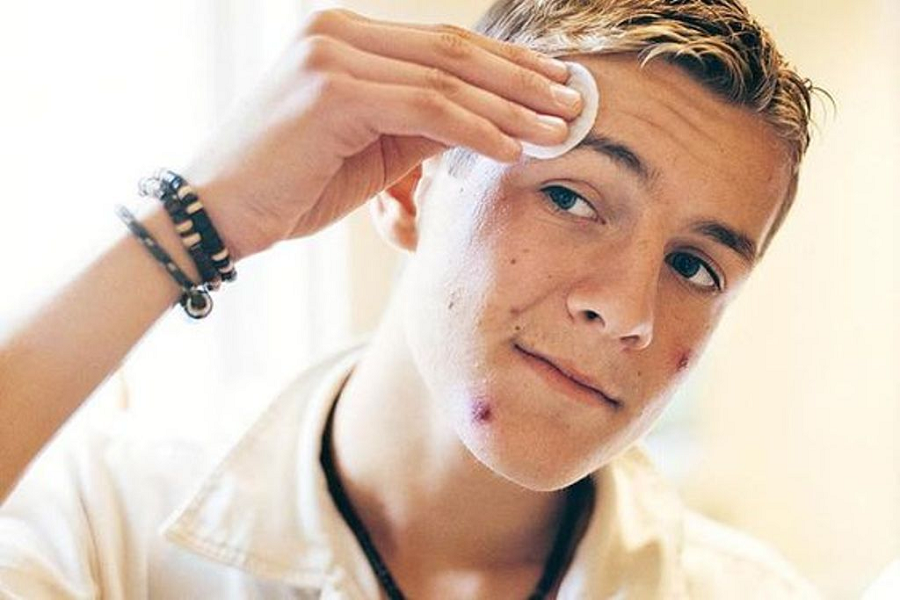 Where to begin with acne treatments
You don't need to spend lots of money to get rid of acne. You can try over-the-counter treatments first. If you use them every day, you may be able to avoid doctor appointments altogether.
What kind of treatments are the best?
The best treatments have ingredients like benzoyl peroxide and salicylic acid. These unclog pores, kill bacteria, and calm down inflamed skin. Use them as recommended so you don't dry out your skin.
Skip using alcohol-based products and be sure to moisturize. The key to avoiding breakouts is to not irritate your skin. That means taking off makeup, wearing sunscreen to avoid sunburn, not scrubbing too much, not popping zits, and not letting your skin get too dry. Keep your skin happy and it won't freak out on you.
3 minutes a day to make acne go away
In three minutes a day, you can make acne disappear. Here's how it works:
Wash your face with lukewarm water and a gentle face cleanser
Pat it dry, don't scrub your skin
Apply a spot treatment on pimples
Put on an oil-free moisturizer
Do this in the morning and again at night.
It can take a couple weeks to get acne under control, so keep at it. You can help things along by exfoliating. And now here are some of the best acne treatments for teens.
The best stuff to get rid of acne
It's nice to get an all-in-one kit like this first one.
The Acne.org Regimen - Complete Acne Treatment Kit
The folks at Acne.org sell this complete kit with a gentle pH-balanced cleanser, a benzoyl peroxide spot treatment, and a great moisturizer. They say the kit lasts one to two months and will help most people get completely clear skin.
Clinique Acne Solutions 3 Steps Clear Skin System All Skin Types System *Full Size Kit*
Clinique is a brand that uses dermatologists to develop and test their products. This is the full-size kit of Acne Solutions and it's great if you already know and trust Clinique. Otherwise, there is a travel-size Starter Kit, too.
Clinique Acne Solutions Clear Skin Starter Kit Cleansing Foam + Clarifying Lotion + Clearing Moisturizer 3 pc set Cleansing Foam + Clarifying Lotion + Clearing Moisturizer
Both kits come with three step products: a cleansing foam, a clarifying lotion, and a clearing moisturizer. The clarifying lotion has a confusing name—it's really an exfoliator that clears out pores and gets rid of dead skin.
Both the cleaning foam and the lotion have salicylic acid, which is great at getting rid of blackheads. The cleaning foam also has ingredients that soothe red, irritated skin.
The moisturizer has benzoyl peroxide that kills the bacteria that causes acne. (If you have dark-toned skin, you may not be able to use benzoyl peroxide because it can actually bleach your face.) All three products together can help clear up a breakout and keep acne away.
Burt's Bees Natural Acne Solutions Pore Refining Scrub
Burt's Bees makes the Natural Acne Solutions Pore Refining Scrub. It has salicylic acid plus jojoba beads and fruit acids to exfoliate dead skin and clean out pores. Ninety-nine percent of the ingredients are natural. If you like this, they have other products to treat acne like the kit below.
Burt's Bees Natural Acne Solutions Regimen Kit
The Acne Solutions Regimen Kit contains a cleanser, a moisturizer, and a spot treatment. They're almost 100% natural and made with salicylic aid from willow bark. Use this kit and then use the Pore Refining Scrub once or twice a week.
The Body Shop Tea Tree Oil, for Blemish-Prone Skin
The Body Shop's Tea Tree Oil is simply pure, concentrated melaleuca oil. You can use it as a spot treatment to zap zits out of existence.
La Roche-Posay Effaclar Dermatological Acne Treatment System
La Roche-Posay says their Effaclar Acne Treatment System gets rid of up to 60% of acne in 10 days. You can see a positive difference after just one day.
This product may be just as spectacular as they claim because it's won awards from Allure and TotalBeauty.com. The Effaclar kit contains a face wash, a toner, and a cream. You can use all three steps twice a day.
The gel cleanser uses salicylic acid and lipo hydroxy acid to get rid of dirt and oil. The toner unclogs pores with glycolic acid and makes them look smaller. Then the cream is a spot treatment with benzoyl peroxide to kill pimples as fast as possible.
Benzac Skin Balancing Foaming Cleanser
Benzac's Balancing Foaming Cleanser is pleasant to use and gentle to skin. It contains salicylic acid and East Indian Sandalwood Oil. Together, these two ingredients clear away excess oil, soothe and heal irritated skin, and clean out clogged pores. Once you've washed your face with it, use the Blemish Clearing Hydrator and the Intensive Spot Treatment below.
BENZAC Blemish Clearing Hydrator
Benzac Intensive Spot Treatment
Benzac is part of Galderma, the pharmaceutical company, but you don't need a prescription for their products. A lot of people with sensitive skin like them because Benzac doesn't put sulfates, artificial dyes, or fragrances in their products.
Humane Benzoyl Peroxide 10% Acne Treatment Body & Face Wash
Humane's Benzoyl Peroxide 10% Acne Treatment Wash is powerful stuff. They warn you right at the outset that it's not good for sensitive skin. But it will kill acne bacteria and prevent future breakouts.
They say to test it on a small area for two to three days before washing a larger section. It may cause a larger breakout at first, plus your skin may turn red and peel. If that happens, use it only every other day instead of every day. Plus, after you've washed and dried your skin, use a moisturizer.
Their formula doesn't have parabens, phthalates, sulfates, fragrances, triclosan, dyes, alcohols, or GMO products, and it wasn't tested on animals.
Clean & Clear Advantage Acne Spot Treatment
Clean & Clear is a brand you've probably seen a lot. Their spot treatment is an inexpensive way to get rid of individual pimples. The active ingredient is salicylic acid. But be careful if you have sensitive skin because the formula also contains alcohol and other skin irritants.
If you want to try the whole kit, check out the next product below.
Clean & Clear Advantage Acne Control Kit
This kit is nice because it has a cleanser, an acne treatment, and a moisturizer. You don't need to hunt down a separate lotion or cream to hydrate your face.
It's based on benzoyl peroxide, a very effective ingredient against acne, but not so good for people with sensitive skin or dark complexions.
Proactiv 3 Step Acne Treatment System Starter Kit
The Proactiv 3-Step Acne Treatment System Starter Kit has a month's supply of Renewing Cleanser, Revitalizing Toner, and Repairing Treatment. The cleanser is based on benzoyl peroxide, the toner on glycolic acid, and the spot treatment on benzoyl peroxide. Do plan on using a moisturizer with this kit because it's powerful and can dry out skin.
Neutrogena Complete Acne Therapy System
Neutrogena's Complete Acne Therapy System is another 3-product kit. It has a salicylic acid cleanser, an acne control lotion with benzoyl peroxide, and a moisturizer with sunblock.
Clearasil Ultra Rapid Action Clear Skin 3 Piece Kit
If you want pimples to disappear ASAP, you can try Clearasil's Ultra Rapid Action Clear Skin Kit. It has a daily face wash with salicylic acid, Rapid Action Pads, and Vanishing Treatment Cream. The pads and cream can shrink pimples in 4 hours.
St. Ives Naturally Clear Blemish and Blackhead Control Scrub, Apricot
St. Ives Naturally Clear Scrub is super popular because it's cheap, it's gentle, and it works well. You can use it every other day and it leaves your skin soft. Exfoliating with products like this helps get rid of dead skin cells and oil buildup so your pores don't clog and you don't get pimples.
If you don't want the Apricot scent or salicylic acid in your scrub, check out the next one below.
St. Ives Even & Bright Face Scrub, Pink Lemon and Mandarin Orange
This scrub doesn't have salicylic acid (which is important if you're allergic to aspirin), but it still clears out the junk from pores, leaves your skin soft, and helps keep acne under control
Carapex Natural Acne Treatment Set, for Teens
Canadian-made Carapex Natural Acne Treatment is packed with botanicals that get rid of acne, reduce oiliness, and soothe and soften skin. Their formulas are free from parabens, artificial fragrances, and are cruelty-free.
The cleanser has Spanish Rosehip Oil and Tea Tree Oil to wash away oil and dirt without drying out your skin. The tea tree oil is very good at getting rid of pimples.
The toner doesn't have any alcohol to dry out skin. Instead, it contains aloe, cucumber, chamomile and green tea to shrink pores and control oiliness.
Then the moisturizer has a blend of shea butter, Mango Seed Oil, Avocado Oil, Sweet Almond Oil, Vitamin E, and more to hydrate your face to the maximum.
Biore Deep Pore Charcoal Cleanser
If you want a deep, deep clean, use the Bioré Deep Pore Charcoal Cleanser. It's strong and it tingles, so people with sensitive skin should test it on a small area first.
Do be aware that the formula contains parabens and Methylisothiazolinone, a preservative that may have adverse effects on your health.
Thayers Alcohol-free Unscented Witch Hazel Toner
If you hate blackheads or want your pores to be smaller, use Witch Hazel, a natural astringent, to tone your skin. Thayer's Toner is alcohol and paraben-free. It feels refreshing if you apply this right after washing and drying your face.
Conclusion
We hope you discovered the perfect acne treatment today, the one that will get rid of pimples and keep them away. Give it a couple of weeks to see results. Then keep taking care of your skin to keep acne away. Come visit us again soon to see new reviews of the best products in skin care.