Thinning hair would be a minor disaster for most of us. Unfortunately, it's a fairly common condition, even for women. But there are effective ways to slow down and reverse hair loss.
==>Recommended: Folexin
We've tracked down the best hair growth products to review for you here. In order to help you choose the best ones to maintain your mane, let's first go over what causes hair to fall out in the first place.
What causes hair loss?
There are lots of things that cause hair to thin and fall out. Take a look at this list:
Medications
Illnesses like anemia and thyroid disorders
Skin problems like psoriasis
Genetic conditions like androgenetic alopecia
Chemical products like dyes
Age
Menopause
Stress
Overstyling
Sudden weight loss
Environmental conditions
Malnourishment or lack of essential vitamins
Too much Vitamin A
Pregnancy
If you are able to determine what causes your hair loss, you're more likely to treat it successfully. An experienced hair stylist and a medical doctor may be able to help you decide if you don't know the cause already.
How much hair loss is normal?
Hair typically grows about 6 inches per year. A person loses about 50 to 100 strands per day. Washing your hair can cause you to lose up to 250 strands at once, but not washing it doesn't necessarily help stop hair loss.
Does hair ever stop growing?
Many people don't know this, but hair can actually stop growing. But normally this is only about 10% of your hair at any one time. The other 90% is still getting longer.
There are three cycles to hair growth. The first growing cycle lasts from 2 to 8 years. Then that hair goes into a transition phase for two to three weeks. Each strand's follicle shrinks. The non-growing phase is when your hair takes a break and rests for 2 to 4 months.
What about hereditary hair loss, like guys sometimes have?
Women can inherit a condition called androgenetic alopecia. About 30 million Americans suffer from this. Most of them are 50 or older, but some are only teens.
Androgenetic alopecia means that as hair falls out, the new hair that grows in will be thinner and finer in texture. As this progresses, the follicles are also getting smaller in size. In the end, the follicles stop producing new hair.
This condition is linked to a hormone imbalance caused by a testosterone derivative called dihydrotestosterone, or DHT. The level of testosterone increases in post-menopausal women. If it converts to DHT, the DHT binds to hair follicles and kills them. That's why female pattern baldness usually strikes women over 50.
What is the best way to halt hair loss?
As we mentioned, just not washing your hair isn't enough to stop hair loss. You'll need to get to the root of what's causing the problem, whether it's a thyroid condition, another illness, or overuse of styling products and stress. The sooner you get help, the better your chances of stopping and reversing it.
Many doctors don't like to prescribe pills to fix skin problems, they prefer topical treatments. Many doctors will tell you to try the one and only FDA-approved treatment for female hair loss, which is Minoxidil. This drug was invented to treat high blood pressure, but causes extra hair growth as a side effect. Someone figured out that instead of ingesting it, applying it to skin can make hair grow.
Research is showing that a 5% concentration solution of Minoxidil is more effective than 2%. Although to shows promise, keep in mind that clinical trials saw "moderate regrowth" in just 19% of the patients treated with it. No one had amazing success with it.
Another product that may slow hair loss is used in shampoos that fight dandruff. It's called Ketoconazole. It slows down the damage that DHT does to hair follicles by reducing the production of testosterone. Although a 1% solution is easy to find, you'll need a prescription to purchase the more effective 2% concentration.
What is the best way to grow more hair?
We mentioned Minoxidil above as a topical treatment to encourage new hair growth. It works moderately well in about 19% of users. Hair transplants may work for some people, but if you have female pattern hair loss, that's usually not an option.
Besides those treatments, you can take vitamins, use light therapy, apply other kinds of natural topical treatments, and treat any illness that might be causing your hair loss.
Now let's get into the best hair growth products, starting with vitamins that enhance healthy hair and skin.
Best vitamins for faster hair growth
Sometimes a little extra vitamin in your diet can help make your hair grow faster, stronger, and longer.
Folexin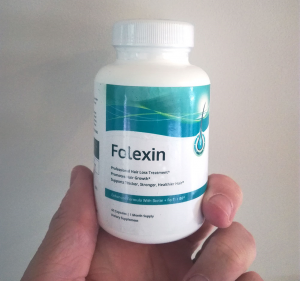 Folexin is a vitamin-packed formula designed to stop hair loss and speed up new hair growth. It contains biotin for healthy hair, nails, and skin, plus folic acid to regenerate dead follicles. Besides Vitamins A, B, C, D, E, and minerals like iron and magnesium, it has traditional herbal remedies for hair loss like horsetail extract and saw palmetto. If you're already taking a supplement, check that Folexin won't overdose you because it's powerful!
The manufacturer is a company called Vita Balance Ltd, based in the UK and the USA. They explain that their formula is made to help people in the early stages of hair loss attain fuller, thicker hair without the major side effects suffered with other treatments.
Customer comments have been encouraging so far, reporting that they see a noticeable positive difference in their hair.
Biotin (High Potency) 5000mcg Per Veggie Softgel; Enhanced with Coconut Oil for better absorption; Supports Hair Growth, Glowing Skin and Strong Nails
Biotin are B-complex vitamins. They boost your metabolisom and help your body produce keratin, which is essential for healthy skin and hair.
These Biotin Softgels contain a solution of 5000iu of Biotin in cold-pressed organic coconut oil. There are no preservatives, no GMO products, no soy, stearates, or gluten in them. You only need to take 1 softgel per day.
They come with a 90-day money-back guarantee. If you aren't satisfied with results, send them back for a refund.
Dr. Formulas Hairomega 3-in-1 DHT Blocker with Biotin Hair, Skin and Nail Growth Support Formula
Dr. Formulas Hairomega is a comprehensive combination of DHT-blocker with nutrients that encourage hair growth. It contains their own DHT-blocker plus Biotin B-Complex, Vitamin C, Vitamin A, MSM, Silica, and Zinc.
What do all these ingredients do? Biotin/B-complex vitamins help build healthy skin, nails, and hair. Combined with MSM, a kind of sulfur, it improves the production of keratin.
Vitamin C stimulates collagen production to help connective tissues like cartilage in joints, and it helps hair follicles, too. Vitamin A works to keep skin healthy.
Silica can make your hair stronger and longer. Zinc has an important role in many body functions including cell reproduction, vitamin absorption, and hormonal balance.
With all these ingredients, it might be best to check with a health care professional to make sure that taking Hairomega won't interfere with any other medicines or supplements you're taking.
Dr. Formulas recommends taking two tablets in the morning and two in the evening for best results. There are 120 in the bottle, so this ends up being a one-month supply.
But if you're not a fan of taking pills, there are other treatments you can try. One of them, light therapy, is proving to be quite successful.
Best hair growth device
Studies are showing that certain light wavelengths in concentrated doses can encourage hair growth.
How does low-level light therapy work?
Low-level light therapy makes skin and hair cells grow faster. It puts hair follicles into the anagen phase, or growth stage. The devices that do this use a wavelength of 630 to 670 nanometers.
A study published in 2013 found that using red light with a wavelength of 655 nm "significantly improved hair counts in males with androgenetic alopecia."
Does it work for both men and women who have hair loss?
Clinical studies that show that low level light therapy helps both men and women regrow hair. It didn't matter if the hair loss was from chemotherapy or alopecia.
iRestore Laser Hair Growth System
It's not easy to get FDA-clearance on hair growth treatments. iRestore achieved it. Their device offers low level light therapy with 51 clinical-strength medical lasers and LEDs. It doesn't hurt, it isn't toxic, and there aren't side effects.
The laser uses a 650nm wavelength of red light to speed up cell metabolism and reactivate hair follicles. While you're treating your hair with light therapy, you can also take vitamin and supplements, use hair restoration shampoos, and also apply topical treatments. Combining light therapy with another method usually speeds up the growth.
Of course, this is not an instantaneous solution. It takes a while to see results. iRestore offers a 6-month money-back guarantee so you can try it for a long enough time to see a change in hair growth. It typically needs to be used for at least 12 weeks.
iRestore recommends using their system for 25 minutes, every other day. If you are taking medications that increase your skin's sensitivity to light (like some acne meds), double-check with your doctor before trying the iRestore.
While you're treating your scalp with light therapy, try washing your hair with an essential oil-based shampoo to maximize benefits.
The best shampoos to stimulate new hair growth
If you would like to stimulate new hair growth, it's worth looking into shampoos with Argan oil like this one below. Argan oil is great for a number of reasons. It helps produce keratin, enhances blood circulation, moisturizes the scalp, and gently helps balance hormone levels in the skin.
Hair Restoration Laboratories DHT Blocking Hair Loss Shampoo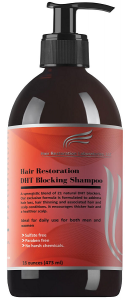 Since DHT is what's making your hair weaken and fall out, it's the enemy you need to beat. This DHT-blocking shampoo from Hair Restoration Laboratories contains 21 ingredients that literally remove DHT from your scalp and strengthen your hair. You should notice a difference in the way your hair feels after the first use, then continue to witness improvements over the next 3 to 5 months.
How does this product manage to get such great results for both men and women? For one, it doesn't contain hair and skin-destroying components like sulfates, silicones, or parabens. Instead, the formula has healthy natural ingredients like tea tree, Argan, and rosemary oils, biotin, and Vitamin E. These stimulate new growth, protect your scalp, and strengthen your existing hair, too.
Plus, you can take minoxidil or other supplements that also fight hair loss while you use the Hair Restoration Laboratories shampoo. There's no conflict caused by combining these allies in the war against baldness.
Simply let the shampoo work on your hair for three to five minutes while you shower. Then rinse well with warm water. The DHT-Blocking Hair Loss Shampoo comes in a convenient 16-ounce pump bottle for easy use.
PURA D'OR Anti-Hair Loss Premium Organic Argan Oil Shampoo (Gold Label), 16 Fluid Ounce
Besides Argan oil, this shampoo contains PURA D'OR's DHT blocker formula. DHT is a hormone that causes hair loss. This shampoo works to limit DHT so hair doesn't thin and fall out as fast. It keeps follicles healthy.
PURA D'OR recommends at least three months of daily use to see the best results from their shampoo. It's safe for use on any hair type, as well as colored-treated hair. It does not contain sulfates or parabens.
Other active ingredients include a plant-based natural preservative as well as coconut derivatives, tea tree oil, elderberry, willow bark extract, black cumin seed oil, nettle leaf extract, green tea, and sage oil.
Apply and let it sit for two minutes before rinsing for maximum absorption into follicles.
Art Naturals' Argan Oil Shampoo Hair Growth Therapy
Besides Argan oil, Art Naturals packs their shampoo with other natural ingredients to increase hair growth and build a healthy scalp. It has aloe vera, rosemary, thyme, burdock root, and white willow bark. It's also designed to make your hair look fuller and healthier.
White willow bark and aloe sooth your scalp and fight inflammation. Rosemary increases blood flow. And Argan oil is full of omega-3 acids and Vitamin E for fuller, thicker hair.
Art Naturals Argan Shampoo can be used every day on any kind of hair.
Ultrax Labs Hair Surge - Caffeine Hair Loss Hair Growth Stimulating Shampoo
Studies are showing that applying caffeine to your skin can help hair follicles stay active and healthy longer. The Ultrax Labs Hair Surge Shampoo contains both caffeine as well as a 0.2% solution of Ketoconazole and Saw Palmetto, both of which block the follicle-killer DHT.
While you use the Ultrax Labs shampoo, it can help fight dandruff, too. No matter why you wash with it, massage it in and leave it on your hair from 2 to 5 minutes before rinsing for best results. The manufacturer also recommends using it at least 5 times per week.
Nizoral A-D Anti-Dandruff Shampoo
The Nizoral A-D shampoo may be labeled as a dandruff fighter, but it also contains Ketoconazole in a 1% concentration. That means it blocks DHT, the testosterone derivative that kills hair follicles in female pattern baldness (or androgenetic alopecia).
Nizoral recommends using their shampoo twice a week to fight dandruff. If you choose to try this to help stop hair loss, you may want to use it more often than that simply because this is the over the counter strength version. Talk to your doctor to get the prescription-strength 2% kind.
Hair growth conditioners
Hair growth shampoo will wash away the day's oil and debris, and it may get rid of that pesky hormone, DHT. But will it leave your hair silky smooth? Probably not, so use one of these hair growth conditioners afterward.
Hair Restoration Laboratories DHT-Blocking Hair Loss Conditioner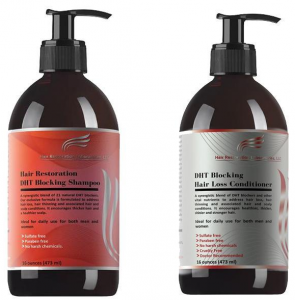 Even if you haven't tried the shampoo from this company, you can use this DHT-Blocking Conditioner without it. You can also treat your hair with Minoxidil at the same time.
The rich conditioner packs a punch with the combined power of caffeine, saw palmetto, cayenne fruit extract, cumin, silk amino acids, Argan, and rosemary leaf oil.
With all those ingredients, the conditioner removes DHT from your scalp and nourishes your follicles. As a result, you'll see thicker, healthier hair within three to five months when you use it daily. Just let it sit up to five minutes before you rinse it.
ArtNaturals Argan Oil Conditioner for Hair Regrowth
The Argan Oil Conditioner from ArtNaturals amplifies the power of their shampoo to encourage new hair growth. Besides Argan oil, it contains fortifying and regenerative ingredients like aloe vera, green tea, Kukui seed oil, and algae extracts.
This conditioner is practically guaranteed to restore shiny, thicker, and silkier hair to your head. It also heals your scalp and relieves itching and dryness.
Hair growth oils
If you suffer from especially dry skin or hair, you might benefit from one of these hair growth oils. They encourage new hair and moisturize your scalp, too.
USDA Organic Cold-Pressed, 100% Pure, Hexane-Free Castor Oil
Castor oil is a traditional remedy for hair loss. And for best results, use cold-pressed organic oil since it is the purest. It naturally fights fungus and inhibits bacteria, and it encourages hair growth.
Apply a few drops to problem areas and massage it in before going to bed. Then wash it out in the morning. Or you can add castor oil to your favorite conditioner and enjoy the benefits all day long.
Radha Beauty Essential Oil - 100% Pure Rosemary
Rosemary essential oil soothes dry skin while keeping the skin's natural oil under control. It also stimulates hair follicles to produce new strands and encourages healthy blood circulation.
Add rosemary oil to your conditioner or massage it into your scalp to reverse hair loss. As a side effect, rosemary also improves mental focus.
Hair growth serums
Serums are a good solution if you don't want to put oil on your scalp.
Grow Gorgeous Hair Density Serum
The Grow Gorgeous Hair Density Serum is packaged in a bottle that lasts for about two months of daily use. Apply twenty drops to your head once a day and massage it until your skin absorbs it.
It contains a seven-part formula that activates hair follicles to produce thicker and longer hair. It also moisturizes your scalp. The main ingredients include soy and wheat sprout extract, plus Chinese skullcap and hyaluronic acid.
Cherioll Hair Growth Serum
The Cherioll Hair Growth Serum relies on natural ingredients like ginseng, angelica, black sesame, and ginkgo to stop hair loss and encourage healthy, new locks. This serum is versatile because it works when you add it to your shampoo, or if you massage it into your scalp.
Best topical treatments for hair growth
Besides supplements, vitamins, special shampoos, and light therapy, you can also apply topical treatments to your scalp. Here is the one that comes most recommended.
Women's Rogaine Once-A-Day Foam
Women's Rogaine contains a 5% concentration of minoxidil. Minoxidil opens up blood vessels which seems to help hair follicle function. This is possibly the best treatment if you have genetic female pattern (or male pattern) hair loss.
This foam formula only needs to be applied once a day. Don't wash your hair for at least 4 hours after applying it. Once it's dry, you can style your hair as usual. It's also safe to use on color-treated or permed hair.
It can take up to 12 weeks to see a noticeable increase in hair growth. But don't stop using the Rogaine when you see results if you want the growth to continue. You'll need to keep on applying it once a day.
If you have hair loss from childbirth or illness, Rogaine probably isn't the answer for you.
Best hair brushes to take care of your hair while it's regrowing
Vegans and vegetarians, look the other way for just a moment. We're about to recommend something that contains an animal product because it's one of the best solutions out there on the market.
Boar Bristle Brush by Beauty by Earth
The Boar Bristle Brush mixes real boar hair interspersed with nylon pins (or bristles). It's made to be very gentle on your mane and stimulating to your scalp. It comes with a sustainably-harvested bamboo handle.
The Detangling Brush from Crave Naturals
If tangles are a problem for you, this Detangling Brush from Crave Naturals will help stop the ouchies. It fits nicely in the palm of your hand and glides smoothly through your hair to release knots.
Paddle Hair Brush by Beyond 100 Naturals
Both the bristles and the handle of this Paddle Hair Brush are made out of bamboo. There are advantages to this. One, it won't melt when you're using it to style your hair. Two, the bristles are widely spaced so you end up yanking tangles a lot less. And three, it stops that annoying static that some plastic and nylon hair brushes seem to encourage.
Now you've seen it all. So which products do you choose? Here are our recommendations.
Recommendation
If you have female pattern balding, or androgenetic alopecia, your best bet is Rogaine or another product that contains 5% Minoxidil. But you can also combine this treatment with other options like supplements, shampoos, essential oils, and light therapy.
If you have hair loss due to other issues like pregnancy, childbirth, or illness, you have a lot of treatments to choose from (like anything but Minoxidil). Do keep in mind that if you are ill or pregnant, it's a very good idea to speak with your doctor before taking anything or starting a course of treatment.
As always, start as soon as you can to halt hair loss and grow your locks back.
While you wait for your new hair growth products to arrive
Take good care of your hair. Regular cuts can control split ends and encourage new growth. Plus, the right cut may help hide how thin your hair is.
There's nothing wrong with styling and color-treating your hair, just do it sparingly and use high-quality products instead of the cheap stuff that can fry your locks.
Some people swear that washing your hair every day can cause hair loss, but there's no solid scientific evidence for this. Yes, you can lose a few more hairs while washing it, but serious hair loss and balding doesn't come from a daily shampoo. Again, use better quality products that won't dry your hair. Try avoiding ones that contain SLS (sodium laureth sulfate) because it might be causing damage to your scalp and hair.
Of course, the usual health advice applies. We aren't medical professionals, and we can't give you actual medical advice. But you know the drill: De-stress, eat well, sleep enough, and avoid ponytails, braids, and cornrows if you're experiencing hair loss.
Literally pulling your hair out
You know what? Some people literally pull their own hair out. It's called Trichotillomania. People with this disorder hard a hard time controlling the urge to pull out their own hair, whether from their heads or another part of their body. Sometimes they do it without thinking about it, like automatically. Other times they do it on purpose to relieve stress or tension. They may remove hair in specific ways or patterns. They may even eat the hair once they've pulled it out. If this describes you, talk to a medical professional. There are ways to get help if it's become a serious problem for you.
Covering up the thin spots
Although wearing hats and caps may increase hair loss, we understand that it might be necessary sometimes. Choose comfortable headgear that isn't too tight and breathes well.
For further research
Besides the shampoos we listed above, there are several excellent organic shampoos on the market. Check out our top picks here.
You can also learn more about light therapy to treat hair loss as well as skin problems like acne and see which devices are worth the investment.