Oily skin happens for two reasons: it's caused by your genetic makeup, or your skin is overly sensitized and reacting to a problem by making more oil. Either way, being too greasy leads to all sorts of challenges. You may feel like you need a second bath midway through the day. Your makeup may be melting off by lunchtime. Or you could be dealing with acne breakouts all over your body.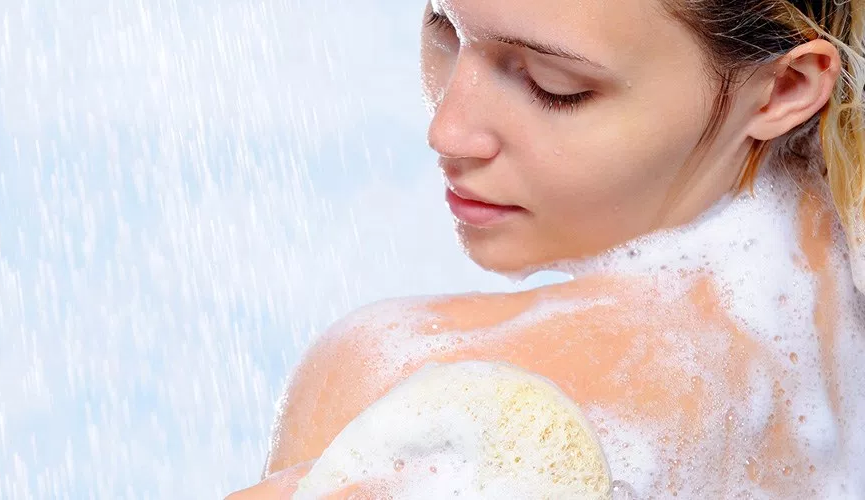 As much as you may want to dry out your skin and get rid of all that oil, harsh soaps aren't the way to do it. It's best to take care of the problem gently. Avoid cleansers with alcohols and other irritants and stay away from oils and products with heavy emollients. You don't want to clog your pores or make your skin overreact and produce more oil.
Instead, use one of the best body washes for oily skin that remove dirt without destroying your pH balance. Take baths in warm water, nothing too hot or too cold. Exfoliate regularly with a loofah or brush, or with a scrub. Even though it seems odd to put moisturizer on oily skin, try using a lightweight, oil-free formula for a week and see if it helps. Carrying blotting papers with you to soak up any extra oil during the day. And be patient because getting the oil under control may take a couple of weeks of determined effort.
Now let's take a look at the best body washes for taking care of your oily skin.
The top body washes to control oil
We'll begin with one that's helpful if you suffer from body acne. The salicylic acid in the formula cleans out pores and clears up pimples.
Neutrogena Body Clear Body Wash for Clean, Clear Skin
Neutrogena's formula has 2% salicylic acid that chemically exfoliates dead cells and oils from your skin to get rid of acne-causing bacteria. The rest of the ingredients include glycerin, aloe, and chamomile to soothe and calm irritated skin without drying it too much.
Users seem to be generally pleased with the Body Clear Wash. They say it's cleared up their acne and it rinses away clean. There is a scent, but it's not overpowering. Both men and women enjoy this wash.
Proactiv Deep Cleansing Wash
Proactiv's Deep Cleansing Wash also contains 2% salicylic acid for the purpose of clearing up body acne and even making acne scars fade away. It's a non-drying formula, too.
Cetaphil Gentle Skin Cleanser
Cetaphil's Gentle Skin Cleanser is often recommended by medical professionals to people with sensitive skin. It's designed for all skin types, and it's non-comedogenic and unscented. People suffering from psoriasis and eczema say that it cleans well and still moisturizes. People with oily, sensitized skin may also find that this is the perfect cleanser to get back in balance.
Sensitive and sensitized are different terms, but the results may be similar. If your skin is upset over environmental pollution or an illness, you may be producing more oil than you need. Try this gentle body wash to restore your skin to normal operating conditions and it will stop over-producing oil on its own.
Sebamed Face and Body Wash
One of the best features of Sebamed's Face and Body Wash is that it is pH-balanced at 5.6. That's the normal acidity level found in skin. Keeping the pH balance can help your body stop overproducing oil.
Puracy Natural Body Wash, Citrus and Sea Salt scent
Puracy's Natural Body Wash formula was made for any skin type, on men or women. It doesn't contain skin-irritating sulfates, hormone-disrupting parabens, triclosan, or pH-balance destroying phosphates. The citrus and sea salt scent comes from natural ingredients, not artificial fragrances. People with sensitive skin love it.
It cleans and moisturizes skin with coconut and Himalayan Pink Salt, plus pink grapefruit essential oil and vegetable glycerin. It has a pleasant lather and exfoliates dead skin gently. There is no residue left after rinsing, just soft skin.
Dove go fresh Body Wash, Revive
Dove's body washes are inexpensive and very popular. The Revive wash is recommended because it's refreshing and moisturizing to skin without leaving any residue. Users say it smells great and leaves skin feeling soft and clean.
St. Ives Even & Bright Body Wash, Pink Lemon and Mandarin Orange
Exfoliating is pleasant when you use the Even & Bright Body Wash from St. Ives. It has a lightly grained texture that gently removes dead skin and oils in a foaming lather. You can use it every day to maintain soft, healthy skin.
NIVEA Care and Coconut Moisturizing Body Wash
NIVEA's Care and Coconut Moisturizing Wash replenishes dry skin with jojoba oil. This is an oil derived from plants, but it's very similar to human sebum. As a result, jojoba oil won't clog pores as it moisturizes.
Users say it smells nice and lathers up well. Their skin feels soft after bathing but there's no residue or greasiness.
Aveeno Daily Moisturizing Body Wash
Oatmeal is surprisingly healthy when used on skin. Aveeno's body wash is based on their Active Naturals Colloidal Oatmeal formula that hydrates and softens skin without clogging pores.
Dial Body Wash, Spring Water
Fans of Dial soap will be pleased to know that the Spring Water scent of their body wash rinses clean without leaving a film and without drying skin. Users love it because it lathers up well, gets rid of odors, and makes their skin soft.
Dial Acne Control Deep Cleansing Body Wash
Dial's Acne Control Deep Cleansing Body Wash uses the power of orange, passion fruit, and grapefruit juice to exfoliate dead skin cells and clean out pores. It's been clinically proven to reduce body acne within 3 days. It's gentle enough to use every day, even with a scrub glove or loofah.
bliss Soapy Suds
If you've stayed at hotels that have bliss products in the bathroom, you may already favor this lineup of personal care goodies. This Soapy Suds body wash comes in Lemon and Sage scent. It creates a gentle foam that leaves skin feeling very clean and soft.
Crabtree & Evelyn Moisturising Body Wash
Crabtree & Evelyn is another luxury hotel favorite. Their Moisturising Body Wash is based on oat amino acids and jojoba oil to soften and hydrate skin. Users say they enjoy the citrus scent and feel like their skin is perfectly conditioned after bathing.
Tea Tree Oil Exfoliating Scrub with Activated Charcoal, Neem Oil & Natural Pumice by Oleavine TheraTree
Oleavine's Tea Tree Oil Scrub is perfect for removing extra oil, gunk, and dead skin without irritation. It contains microscopic particles of volcanic pumice, white willowbark (similar to salicylic acid), and activated charcoal to smooth the surface and draw toxins out of pores. The tea tree oil helps clear up acne and other inflammations. Some people use it only on their feet, others use it on their whole body to get a deep, invigorating cleanse.
Oleavine Antifungal Soap with Tea Tree and Neem for Body
Athletes and gym members will love Oleavine's Antifungal Soap that lathers away bacteria, dirt, sweat, and oil. It soothes itchy skin to clear up jock itch, yeast infections, and acne. Users say it feels very refreshing and leaves their skin soft and clean.
Shower to Shower Absorbent Body Powder, Sport
Shower to Shower's corn starch and talc formula is a classic way to stay fresh and dry between baths. The Sport scent is mild but modern. Users say they seem to sweat less and smell better for hours.
Dr. Bronner's Castile 18-in-1 Hemp Tea Tree Liquid Soap
Dr. Bronner's Castile soap is vegan and organic, and a little bit goes a long way. It doesn't create as much lather as some body washes because it lacks the artificial ingredients that make that happen. Instead, this is a natural product based on tea tree (melaleuca) oil, coconut oil, hemp oil, and jojoba and olive oils plus Vitamin E. It feels a little tingly while it's working. Squirt a couple of drops on washcloth or poof to gently scrub yourself clean, then rinse well. It can also serve as a shampoo.
Dove Men + Care Oil Control Body Wash
People with a lot of excess oil on their skin may love the Dove Men + Care Oil Control Body Wash. It has Kaolin clay that soaks up excess oil and impurities without stripping skin and drying it too much. It rinses clean and leaves skin soft.
AHAVA Dead Sea Purifying Mud Soap
Do you prefer bar soap over liquid washes? Try AHAVA's Dead Sea mud bar. The natural minerals are good at scrubbing dirt from skin without being harsh. Users say that it cures body acne and leaves their skin soft, but not stiff.
Conclusion
We hope we helped you select the perfect body wash for your skin today. Come visit us soon to see new reviews of the best in beauty and skin care products, and cosmetics, too.